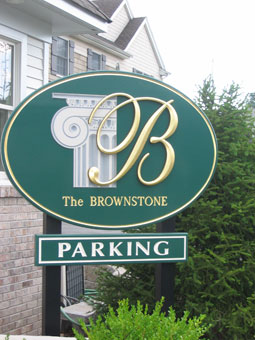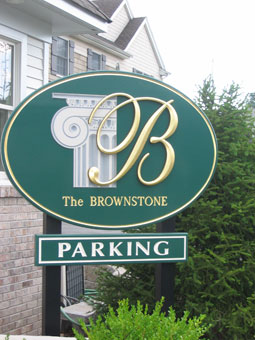 Lori Shridhare
In an economy where customers want to ensure their dollars go a long way, options for affordable signage allow all businesses—large and small—to add this necessary component to their advertising strategy. While a corporation or chain might prefer an electric sign, "mom & pop" businesses might choose a classic carved sign made of wood or, more often these days, high-density urethane (HDU).
Known originally as "sign boards," signs made of wood were the first commercial choices for signage. As early as the 1650s in New England, carved signs made of wood identified inns and taverns, as well as advertised trades. In fact, signs were mandatory in the Colony of Massachusetts, which decreed in 1647 that every establishment "shall have some inoffensive sign, obvious, for the direction of strangers, posted within three months of its licensing."
In the meantime, an east coast sign company is carrying forward the tradition of carved signage into the twenty-first century. Based in Tenafly, New Jersey, Fitzgerald Design, LLC was founded as a family-owned business by its two partners, Jack and Bob Fitzgerald, in the summer of 2000. Marrying traditional methods with modern technology, the company's staff of designers, sign craftsmen, artists, carvers, and technicians rely on standard computer equipment (including software systems and CNC routers) to suit today's customer base.
When approaching carved signage projects, the two options for substrates—wood and HDU—pose different issues. Wood offers an authentic, classic look—with traditional options such as mahogany, cedar, and redwood.
While wood has an aesthetic appeal, there are disadvantages to the customer (especially regarding maintenance). In manufacturing a sign from wood, the quality can be unpredictable and cracks can occur. Once the sign is up, the elements can then take their toll on it, requiring annual repainting. (Note: Wood sign making also depletes tree reserves, as history has shown with the deforestation of redwoods.)
In 1953, HDU was first used in commercial purposes, and today it's considered a common substrate for traditional wood signage. Because of its structure as a "closed-cell" foam, HDU is impervious to the elements and allows customers to own an HDU sign for many years without maintenance issues, while still enjoying the look and feel of wood.
Jack Fitzgerald can attest to the longevity of HDU, as his company offers carved and flat-raised prismatic and dimensional signs—mainly to wholesalers. One of their first clients, Petruzzelli Realty of Hoboken, New Jersey, called the company recently for a new sign. The original sign was made for them in 2000 and still looked great, but the company was requesting a new one because they were changing their name.
"The owner really loved his old sign and wanted to keep it," says Jack. "This is the miracle of working with HDU; he'll have this new version for another ten years." (Note: Jack adds that a staple of his business are the many repeat customers who turn to them when they need additional signs or a change in look as their business grows.)
In working with HDU, Jack designs and fabricates the sign in layers. "Sometimes we add reverse halo-lit lights in the channel backs of our raised prismatic letters that then get mounted to the multi-layer sign," he says. "The aesthetic possibilities are endless. We use aluminum and PVC for the backs of our signs to add support."
After working with HDU for ten years, Bob Fitzgerald can attest to its advantages. "The pros of using HDU are extremely low expansion and contraction rates," he says. "When the sign expands and contracts, it breaks the paint seal and destroys the finish.
"High-density urethane expands at such a low rate that this is never a problem. We use industrial enamels, two-part auto paints, and a slew of accent finishing materials. We mainly use 23K gold leaf and aluminum leaf for our gold customers."

Another one of Fitzgerald Design's recent projects actually involved a more traditional substrate for carved signage: cherry wood. A sign company that was working on a project for Pendleton Savings Bank asked Jack and Bob to propose a sign after three other sign companies had tried and failed to meet the client's standards.
The sign that the Fitzgeralds created was multi-layered, using cherry wood stained to the bank's specs. The borders were 23K gilded and completely separated from the cherry border. "Rising from the border is a mirror-polished HDU jewel finished with two-parts auto paint and clear-coated four times for a mirror finish," says Bob. "On top of this was 23K gold leaf raised-prismatic lettering made from 1/4-inch Komotex and affixed to a milled out section."
When finished, the Fitzgeralds marveled at the effects of cherry wood, HDU, and gold leaf. "Imagine spending close to a week cutting and perfectly finishing the jewel, putting a paint mask on it, and cutting into the week's work with an engraving bit just to mill out the section that the gold letters would sit into," says Jack Fitzgerald. "We painted this milled out section black prior to fitting the gilded letters."
When it comes to the installation of carved dimensional signs, Fitzgerald Design's team has run the gamut—installing signs as large as seven feet tall and thirty-five feet in length. "We use an aluminum angle that's mechanically and chemically bonded to the backs of our panels," says Bob. "Steel shoes go on the wall according to the local building department code, which is usually a 3/8-inch rod thru-bolted to the inside of the building.
"This method makes the signs appear to float on the wall with no visible attachments."
When asked how he thinks carved signs fit into the current sign industry, Jack says that he has seen an increased interest, especially because they have no electrical components. "We get orders from major sign companies that need carved signs for large corporations in historic areas where zoning prohibits the use of channel letters and neon," he says. "Recently we've seen that there's a move among certain owners to use carved signs as the primary choice for signs in all districts."
He adds that many companies feel strongly that large dimensional carved signs translate their brand well.
Looking ahead, Jack believes the demand will remain steady, especially for those customers whose budget and aesthetic needs are well suited to this type of signage. "The field of carved dimensional signs will continue to expand. There is a timeless element to dimensional signs," he says. "In today's market, it's an excellent choice for the business owner who doesn't want to break the bank on a full-blown, illuminated project but yet doesn't want a simple vinyl sign either.
"When the right materials are used—and when the sign is made the right way—it's pound-for-pound the best buy for your dollar and attracts more customers than any other conventional signs today."