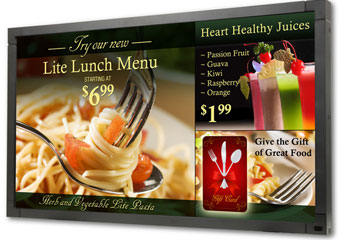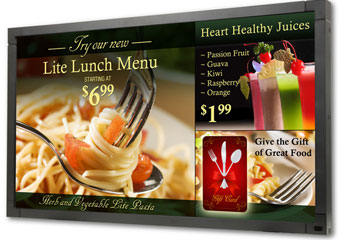 ViewSonic Corp., a leading global provider of computing, consumer electronics, and communications solutions, announced new Open Pluggable Specification (OPS) commercial displays, which are a new standard in digital signage created by Intel.
The 46-inch CDP4635 (pictured) and the 42-inch CDP4235 are full, high-definition commercial displays, each boosting 1920-by-1080 resolution. The units are video wall-ready with up to 5-by-5 tiling function, and the adjustable bezel adds easy touch panel integration. Multiple video inputs, including HDMI, DVI, VGA, and CVBS are included, and the VGA and CVB inputs allow up to nine units to be displayed through one video source. The display's OPS slot ensures easy installation of any OPS compatible media player.
The OPS was developed to standardize the design and development of digital signage devices, addressing the market fragmentation and simplifying device installation, usage, maintenance, and upgrades. By adopting the specification in ViewSonic's new commercial displays, the company can deploy interchangeable systems faster and in higher volumes, ultimately lowering costs for development and implementation.
"At ViewSonic, we pride ourselves in being at the forefront of advanced technology and over the past year, the expansion of our digital signage portfolio and alignment with key industry players is proof we are leading the pact. We are one of the first companies to develop displays that support Intel's specification, which we consider an industry game changer," said Gene Ornstead, director, DTV and business development at ViewSonic. "The newest commercial displays provide great value to complex environments, such as those experienced by the retail market, that wish to maximize ROI and promote visually compelling messages in high-traffic areas."
The CDP4235 and CDP4635 will be available in Q2 with an MSRP of $1,299 and $1,499, respectively.