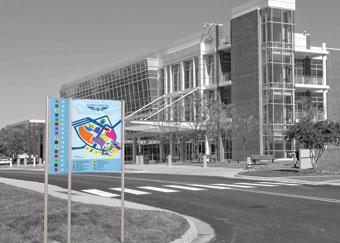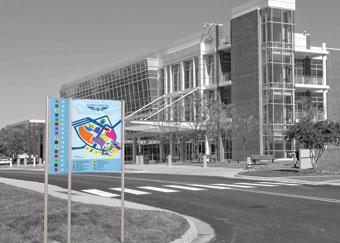 Vista System International, a world leader in Modular Curved Frame Technology (MCFT), now offers a complete selection of easy-to-use, install, and update sign solutions designed specifically for healthcare institutions. This is the second sector covered in an on-going project aiming to cover the entire market of wayfinding signage.
Vista System is the first in the world to offer a unique line of sign products designed specifically for healthcare institutions. The result is a flexible, modernly designed system that covers all the signage needs of any healthcare facility.
Vista System Healthcare Line offers the largest variety of wayfinding solutions, including: directories, suspended signs, table stands, wall frames, projecting signs, as well as triangular, post, double-sided, and illuminated pylons.
The entire line has been designed to accept an array of substrates and inserts; anywhere from plastics, metals, and paper to laminates, veneers, and more; thereby providing healthcare institutions with an easy and inexpensive solution for in-house upkeep of the signs.
Vista System International employs a team of highly knowledgeable designers who are ready to answer any general or technical questions regarding the Healthcare Line. Vista System is ready to recommend local sign shops, designers, and architects in one's area. Vista System gladly offers custom-designed products to verify that you can use one system for the entire project. Finally, Vista System will gladly assist in the construction of signage tenders as well as adaptation of one's existing tender to include Vista System solutions.