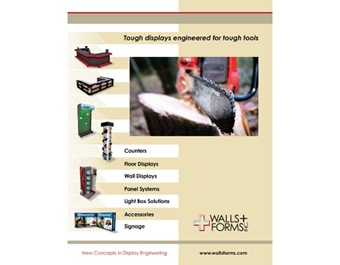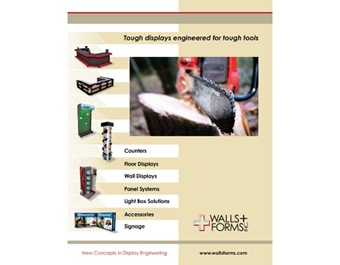 Walls + Forms, Inc., an innovator in displays, wall systems, and signage, recently introduced a new tool display catalog. The catalog contains a wide range of tough displays engineered for tough tools and can be downloaded at http://www.wallsforms.com/industries/tool.
It features modular heavy-duty heavy tool counters, thirty-inch-deep modular millwork counters designed in four-, five-, and six-foot sections with a corner unit, allowing users to create point-of-sale merchandising counters in varying lengths and configurations to accommodate one's specific counter needs. A twelve-inch-deep modular millwork façade counter is designed to attach to the face of existing counter systems, or install against open wall areas to re image, re brand, and extend your merchandising areas.
Tool cribs are manufactured to create a branded presence anywhere in a retail environment that the eight-foot-tall-by-four-foot-wide space is available. They can be wall mounted, attached to gondolas as an end cap, and mounted in a back-to-back configuration creating an outpost in the middle of a room. Units ship flat and assemble in minutes. Standard units use slatwall for the main panel. A backlit header provides optimum branding.
The catalog also has grid panel floor displays and grid panel wing wall displays, both comprised of grid panels and a variety of connecting hardware, with or without fixed bases. Twenty-four-inch-wide panels in four-, five-, six-, and seven-foot heights are available. Graphic header options combine to give you flexible display platforms to configure and re configure unique merchandising solutions.
Lights Alive light box solutions are illuminated displays that grab attention and sell more product. They allow you to create your own powerful in-store message. The proprietary Lights Alive frame design from Walls + Forms allows for light boxes to be produced in a multitude of sizes, single or double sided format, including wall mounted, free standing, or window hanging display styles, plus illuminated logos printed on side panels are exclusive to this system, attracting attention from all angles. These light box solutions are top, side, or front loading.
The catalog also contains the Wall + Forms t-shirt cube dispenser, which was originally designed for "conversational print and embroidery items" such as shirts, caps and bags. It is an effective fixture for merchandising a variety of products for tool and hardware markets.
Slatwall floor displays are floor merchandisers in various sizes and shapes. Their "Cornerform" designed components allow units to ship flat and assemble in minutes.
Hanging bracket accessories are designed for specific products, or multi product use to allow retailers the best product merchandising assortments. Slatwall, slat grid, and gridwall versions are available.
Profile headers for gridwall and slatwall are durable plastic constructed profile header signboards featuring a top and bottom track with an open face design allowing quick and easy insertion of graphic card material to channel.
Walls + Forms' HeaderSigns are the perfect graphic tool for specialty dealer shop, and temporary retail.