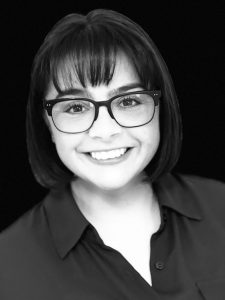 Our fifth-annual spotlight profiles select professionals thirty-five years old or younger who are enjoying their careers in the sign industry—whether through management, design, production, or installation. These are their stories, their projects, and their challenges, as well as their thoughts about the industry in general.
Elisha Gordon, 34, tells the by-now familiar story of falling into the sign industry by accident thanks to a job lead from a friend of a friend back in 2017.
What's different about her story, however, is the role she plays in the industry.
Instead of designing, fabricating, installing, or selling signs and their components, Gordon helps sign companies across the country fill critical roles within their organizations—from project management through C-suite and everything in-between—as a national search consultant at MetroSeek. She's even partnered with a number of different sign companies and assisted in launching new divisions, growing and developing sales teams, and creating operational infrastructure.
Gordon says her job is more than finding candidates and sending out resumes—she has to know the industry inside and out. "I certainly don't know exactly how to build or install a sign, despite the countless YouTube videos I've watched," she says, "but I do understand how to help build and grow a sign company and how it operates. Understanding the process of how my clients operate, both independently and with others, is key to making a successful match.
"The better I understand my clients and their issues, the easier it is for me to do my job."
Gordon's role has afforded her a unique view of the sign industry. "I get to look at the industry from the outside, how companies interact with each other and their clients," she says. "Then I get to take a look from the inside, learning about my individual clients on both a personal and professional level, what keeps them up at night, what do they love, what works, and what doesn't."
While Gordon has amassed a variety of industry accolades—the first and only recruiter ever to be selected to the ISA Elite class, invitee for the ConnexFM Young Professional Committee, etc.—it's not these accomplishments that she counts as her top professional highlights. For her, it's all about the success stories she's had a hand in.
"Just last week I was speaking with one of my clients, and he was talking about a candidate I placed with him a few months ago," she says. "He told me that, from day one, it felt like he had worked there forever, and he was doing an amazing job for them. That is a professional highlight.
"Seeing folks I've placed getting promoted or landing that really big account and seeing my clients growing—those are professional highlights. I don't take this lightly. There are so many variables when it comes to making a great placement, and there is nothing better than getting it right and seeing everyone succeed."