Our fifth-annual spotlight profiles select professionals thirty-five years old or younger who are enjoying their careers in the sign industry—whether through management, design, production, or installation. These are their stories, their projects, and their challenges, as well as their thoughts about the industry in general.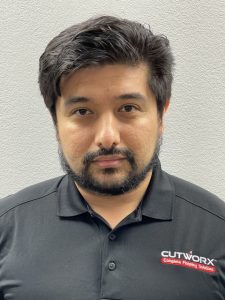 When he was nineteen years old, Leon English, 32, left his birth home in Colombia to reconnect with his mother here in the United States. After taking several miscellaneous jobs in several different industries during this time, he also was able to settle into a new career opportunity when he joined Yunkers, a printing company in Wisconsin that specializes in custom signage. He worked with their CNC and finishing equipment.
"I've always been technologically inclined," says English. "As a kid, I really enjoyed tinkering with clocks, electronics, and computers."
The first flatbed cutter he put his hands on was a Kongsberg iXL24. "I experienced a sort of magical moment," he says. "There is something awe-inspiring about the movement of a machine that is calibrated to work with such precision; it was sort of hypnotic."
He soon started playing around with all the cutters that were available to him—a Biesse router, the Kongsberg C64, an all-purpose MultiCam Digital Express, and a Zund. Five years later, he moved into packing and logistics teams and being a customer service rep.
However English was looking for a new challenge when his friend, Raum Divarco, technical director at CUTWORX USA, reached out to him and brought English onto the technical side of operations. CUTWORX USA is a manufacturer of finishing equipment with over 150 years of combined experience of solutions in this field.
Today English has advanced at the company to become one of their lead service engineers on flatbed digital cutters. He is heavily involved in designing and producing a lot of different things. Some of his favorite projects have involved creating hours-of-operation signs for Ross Department stores and graphics displays for West Marine and Tractor Supply stores.
"One of the most interesting things about being on the technical services side of things is that I can share the information and assist people all over the country with the projects that they are working on," says English. "I really love the concept of building things from scratch. There is this endorphin release the moment you complete a task and you see it function properly.
"Finishing a build for a flatbed cutter or just creating or executing a file for a simple 3D puzzle and seeing them work correctly brings me joy."
English feels blessed to have found a field where he can learn more every day. For example, he states he is coming across some cut-out displays that require light, which means there is a need for him to study and understand electrical components. "[Being] able to experience this new wave of technologies at my age definitely takes away the dullness of an average routine," he says. "This is a good career path to grow in that isn't going anywhere anytime soon, with all the print and signage needed out there."