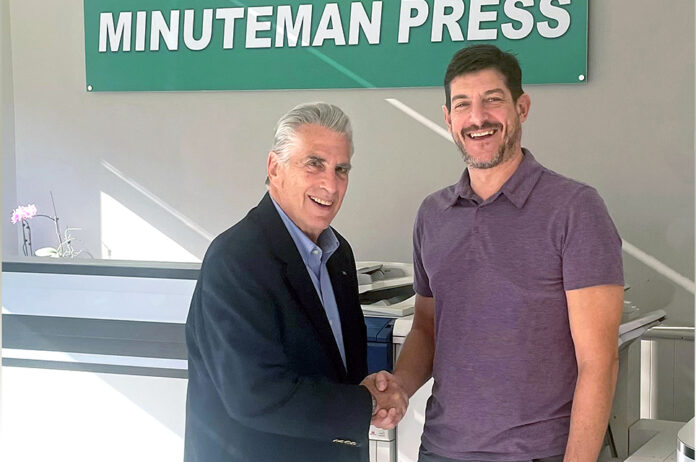 In April of 2023, Chris Greene made the decision to switch gears and become a business owner. That is when Chris purchased over-forty-year business Alloy Printing from Mary Jane and Alan Goldman, which is now operating as the new Minuteman Press franchise in White Plains, New York. The business remains located at 190 East Post Rd., White Plains, NY 10601, a 6,000-square-foot facility where it has been operating since 1995.
Since buying the business, Chris has already hit several key milestones for Minuteman Press in White Plains. He attributes his sales growth to picking up where the previous owners of Alloy Printing left off—by joining local business organizations and maintaining existing client relationships. Chris has also been building on his established client base by marketing additional products and services such as custom branded apparel.
History of Alloy Printing
Mary Jane Goldman first joined the printing industry in 1979 when she opened a PIP Printing location in Yonkers. She moved the center to its current location at 190 East Post Rd. in 1995, and then eventually transitioned the business to an independent operation, Alloy Printing.
Prior to owning the business, Mary Jane worked as a nurse for eleven years before looking for a change.
In a previous interview with The Examiner, Mary Jane explained, "My options were open. I was taking a sabbatical. I could always go back to nursing. My parents had friends that were in printing and did very, very well. And I decided that would be a challenge that I would like to take on."
After initially expanding to three locations, the Goldmans decided to focus only on their White Plains location, where they had been residents since 1987. "Sometimes more isn't always better," shared Mary Jane.
"[White Plains] is the center of the county," noted Alan. "It's the county seat. It's where all the action is."
During their years in business, Mary Jane and Alan were active in several local groups including the White Plains Downtown Business Improvement District and many more.
New owner Chris Greene has followed their lead, saying, "I was just appointed to the Board of the White Plains Downtown Business Improvement District and am also a member of the Business Council of Westchester. I have found these groups to be very beneficial in terms of networking and building/keeping relationships."
One thing that has never changed in over forty years is the fact that people need and use print.
Alan shared with The Examiner,  "We're supposed to be a more paperless society. But we find it's not a paperless society." In the interview, he added, "The internet doesn't serve what we produce. We're more of a hands-on, come in, sit down, let's go over it. What can we do? How can we help? How can we both work together to produce what you want and make you successful? Because if you're successful, we're successful."
Welcome to Minuteman Press, White Plains
Prior to buying the business, Chris Greene worked in corporate advertising, sales, and marketing. According to Chris, the three biggest reasons he chose to buy Alloy Printing and transition to Minuteman Press are:
"My desire to be a business owner and move out of the corporate world;"
"I look at the printing industry as an offshoot to what I was doing in my advertising career;" and
"The quality of my experience in learning about Minuteman Press and Alloy Printing."
Chris credits the training from Minuteman Press for helping him develop a solid base of knowledge on how to operate a print business. "When I've needed support in terms of learning or ramping up my marketing, my RVP Jim Galasso and the entire team have been great in giving me direction," he says. "It has been a positive experience all the way around."
When reflecting on the first six-plus months, Chris shares, "When I first started, my number one priority was to reassure our existing customer base that the high quality and customer service that they previously had was not going anywhere. As we look towards further growth, the first area we've grown from a product standpoint has been apparel, which we are actively marketing.
"For me, it's not about being the boss as much as it's about how I am spending my day. I enjoy giving our customers the products that we make. That the finished products are directly associated with my ownership of the business is very rewarding."
—Press Release