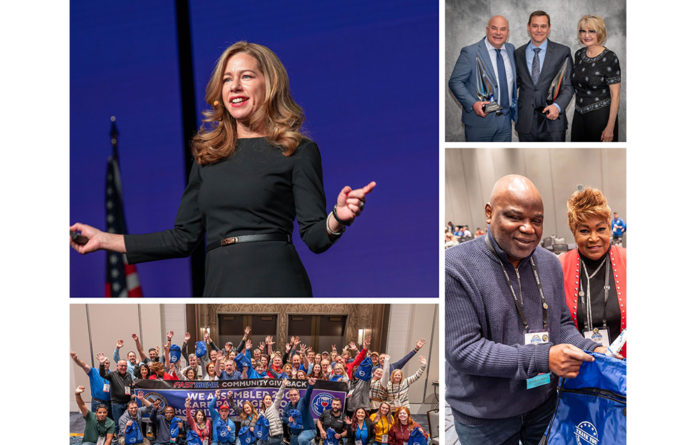 FASTSIGNS International, Inc., the custom signs and visual solutions franchise with more than 760 locations in eight countries worldwide, recently held its 2023 FASTSIGNS® International Convention in Las Vegas, NV.
Themed Choose Victory, the multiple-day event taught best practices as well as celebrated franchisee achievements and the continued growth of the franchise network in both sales volume, profitability, and number of locations.
Over 1,200 people attended which included FASTSIGNS franchisees, center team members, exhibitors, and corporate staff members, including 186 first-time attendees. Attendees represented 378 center locations in the United States and International locations, and 142 vendors exhibited in the annual Vendor Show.
Attendees had the opportunity to participate in general sessions, educational sessions, breakout sessions, peer panels and engaging roundtable discussions.
From the main stage, Andrea Hohermuth, the new President of FASTSIGNS, shared her vision of victory through proven growth strategies, embracing technology, and driving efficiency, while ensuring business preparedness in the face of uncertain economic times.
Other keynote speakers included Tiffani Bova, the Wall Street Journal's bestselling author of Growth IQ; Steve LeFever, a successful entrepreneur and Chairman of Profit Mastery; and David Barr, Chairman of PMTD Restaurants LLC, Managing Director & Partner of Franworth, a multi-unit franchisee and franchisor, and Past Chairman of the International Franchise Association (2019-2020).
In addition, corporate team members educated franchisees in various breakout sessions, and attendees also had multiple opportunities to gain insight from panels of successful franchisees in the visual communications industry including The Secrets of Success Panel: The Secret of Doing More with Less.
FASTSIGNS also held Vendor Show Training Events that included six different sessions from Banner Ups, Permit Place, 4over, Advertising Specialty Institute (ASI), Howard Industries, and Ricoh USA.
Highlights from the 2023 convention include:
Last year's system-wide sales for FASTSIGNS was $729 Million;
Seventy-four FASTSIGNS/SIGNWAVE centers exceeded $1 million in annual sales, including forty-three centers achieving over $1 million, eighteen centers achieving over $2 million, six centers achieving over $3 million, four centers achieving over $4 million, one center achieving over $5 million, one center achieving over $8 million, and one achieving over $18 million;
The FASTSIGNS Award, which recognizes the franchisee who best represents the FASTSIGNS name in both the business community and within the FASTSIGNS network, was awarded to Jeff Parsons and Wes Snyder, franchisees of centers in Tucson, Arizona; Austin and Corpus Christi, Texas; Fort Myers, Florida; Charleston, South Carolina; and Raleigh, North Carolina;
The WhatTheyThink|Wide Format & Signage FASTSIGNS Project of the Year was presented to Peter Knight-Sheen from Eugene, Oregon for their team's work with Oregon 22 – World Track and Field Championships. Runners Up included Russell Hall, FASTSIGNS of Syracuse, New York for work with Gilbane Development/The Laurel and Rick & Lisa Abercrombie, FASTSIGNS of Lakewood, CO for work with Terumo;
Grimco was presented the FASTSIGNS Vendor of Year Award for the US, and Grimco and Spicers were both presented the FASTSIGNS Vendor of the Year Award for Canada;
Franchisees and their center teams were recognized for outstanding sign and graphic projects in the 2022 FASTSIGNS Customer Solutions Awards, which included grand prize winner Peter Knight-Sheen, FASTSIGNS of Eugene, Oregon, for work with Oregon 22 – World Track and Field Championships, 2nd Place Winner Joel Miller, FASTSIGNS of Manchester, Connecticut, for work with Fresh Monkee Smoothie Shop, and two third-place winners that included Jim and Michelle Hall, FASTSIGNS of Nashville, Tennessee, for work with Walker Lumber, as well as Team Boca, FASTSIGNS of Boca Raton, for work with Strike10 Bowling; and
During each convention, FASTSIGNS hosts Breakfast with a Purpose, a Community Giveback project to make a difference in the community where the event is held. This year, FASTSIGNS worked with the North Las Vegas VA Medical Center to provide 200 care packages for hospitalized veterans. Together, FASTSIGNS franchisees and employees as well as the corporate staff at FASTSIGNS International Inc., along with vendor partners, supported the organization by filling care packages with for each veteran to receive a Thank You for Your Service drawstring bag filled with puzzle/game books, socks, denture adhesive cream, deodorant, lotion, chapstick and razors. Vendor partners included Boss Laser, Clarus, Click2Sell, Epson, Glantz, Grimco, GSG, Ornamental Post & Panel, and Stenson Tamaddon.
"2022 marked a year of incredible growth for the FASTSIGNS Brand. The number of FASTSIGNS centers grew to a record 765 locations in eight countries with same center sales exceeding 15 percent in the US, 6 percent in the UK, and 2 percent in Canada year over year," said Andrea Hohermuth, President of FASTSIGNS International, Inc. "I experienced first-hand how this annual event brings our franchise network together to celebrate their achievements, and energizes them for the year ahead through educational and networking opportunities.
"Convention is the catalyst to create deeper FASTSIGNS connections, alignment and an even more successful 2023."
—Press Release