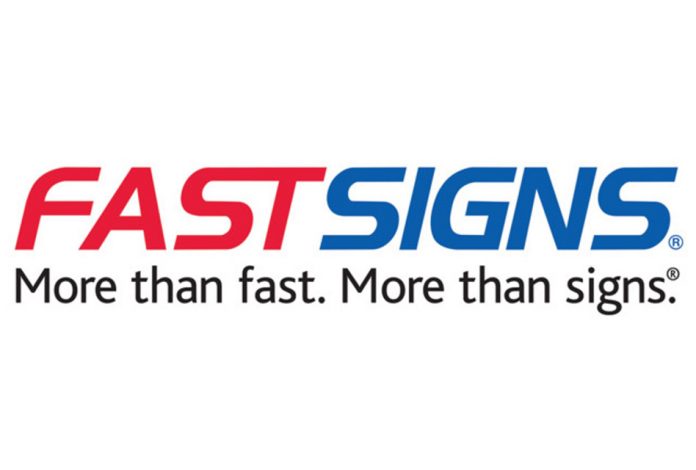 FASTSIGNS International, Inc., the world's leading sign and visual graphics franchisor with more than 750 FASTSIGNS® locations in eight countries worldwide, hosted its 11th annual Outside Sales Summit August 9-13 in a virtual setting. There were over 400 people from 5 countries in attendance.
With a Rebound theme, the 2021 Outside Sales Summit celebrated the FASTSIGNS network's sales achievements between July 1, 2020 and June 30, 2021. At the virtual awards event on Friday, 195 Outside Sales Professionals were recognized, including 24 who received the prestigious Platinum Award for achieving over $1 million in individual sales during the 12-month period.
Additionally fifteen individuals became Certified FASTSIGNS Sales Executives after completing an extensive certification program during the same period.
2021 marked the third year for presenting the Catherine Monson Salesperson of the Year Award. With this award, FASTSIGNS recognizes one Outside Sales Professional who best represents the concept and the spirit of the brand, both in the business community and within the FASTSIGNS network. Patrick Pennell from FASTSIGNS® of Jacksonville-St. Johns Bluff was recognized as this year's recipient of the Catherine Monson Salesperson of the Year Award.
"We were thrilled to host our 11th annual Outside Sales Summit, held this year, as last year, in a virtual setting. This energy-packed event allowed us to provide the over 400 attendees with education and tools to continue honing their selling skills, as well as to recognize and celebrate the impressive work and achievements of FASTSIGNS Outside Sales Professionals from locations around the world," said Catherine Monson, CEO of FASTSIGNS International, Inc. and Chair of the International Franchising Association.
One of the featured speakers included Ryan Serhant, star of Bravo's hit series Million Dollar Listing New York and Sell it Like Serhant who delivered a highly energetic and advice-packed keynote session: How to Become the Ultimate Sales Machine.
Additional speakers from the FASTSIGNS International team covered a variety of topics including Industry Insights and Learning to Leverage Buying Trends, What Everyone Ought to Know about Selling Digital Content First, Achieving Success During a Pandemic Panel and more.
Sixty-four vendors participated at this year's Virtual Outside Sales Summit Event, including six Diamond Sponsors. The Kickoff Session on Monday August 9th was sponsored by Orbus. Our Awards Event on Friday was sponsored by MUTOH America. FASTSIGNS also hosted fifteen Vendor Training Workshops from Advertising Specialty Institute (ASI), Art Sign Works, Avery Dennison, Baker Sign Group, BEst Exhibits, ChromeSignage, Grimco, MUTOH America, Navitor, Showdown Displays, SignComp, SinaLite, Stouse, and TrueVert. There were also eleven Vendor Sponsored Commercials throughout the week and twelve Vendor Sponsored Gamification Games from 4Over, Avery Dennison, Clarity Voice, Clevertouch, Epson, Fellers, Grimco, Kapco, LexJet, Snap Frames, Stouse, and Trotec.
—Press Release