By Joe Arenella
To the average consumer, sign and print products may seem straightforward: they need the sign, you make the sign. Simple, right? But as a sign shop owner, you know the processes to produce these products can be very complex. From design to engineering, code research to permitting, not to mention the skilled workforce and pricey equipment you need to accomplish these tasks, the steps to delivering a quality product are numerous and expensive. One mistake can blow the profit on an entire project.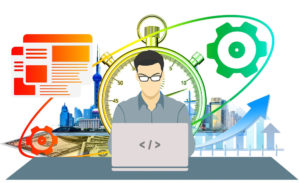 After years of talking with sign shop owners, plus the hard lessons I learned over the past 25 years growing two sign shops of my own, I've found that most mistakes come down to the lack of quality project management systems to handle incoming jobs and quote requests.
There are three reasons why a quality project management system matters to your business:
1. Sign Shops Need More Than A Paper System
If you don't know how many jobs you've sold or what stage of production they are in, you are likely feeling overwhelmed. Quoting off the top of your head overloads your shop with unprofitable jobs and leads to desperation, taking every job that comes in the door just to cover expenses, ultimately resulting in lost profits.
What you need instead is a system to track all your jobs from start to finish and tools to quote jobs accurately that control mark-ups on material and labor. Finding and implementing an easy-to-use system will help eliminate these headaches and guide the healthy growth you desire.
2. Employees Need To See The Big Picture
I visited a sign shop that was looking for a system to help with the "chaos" (their word, not mine). During the two hours I spent training the owner on our system, employees burst in roughly every five minutes with questions: "What do I charge for this?" "What color red is this?" "When is this getting installed?" Honestly, it was not their fault. Other than a whiteboard listing half-erased jobs, they had no idea what to do.
What employees need instead are the tools required to help them see the big picture in the shop, especially clearly defined tasks they are responsible for with deadlines. This will help them know exactly what to do at all times and complete jobs in much less time (which drastically improves profit too). Committing to a software system that manages production, design files, due dates, work orders, and job notes will help your employees feel successful and empower them to keep your customers happy.
3. Customers Need Reliability
Approximately 80% of your shop's profit comes from quality clients, customers who value the work you do and are willing to compensate you for it. They have a higher close ratio and spend more because they are often seeking an ongoing relationship with a sign shop to help solve problems, not create new ones. A system that gives you the information you need to communicate accurately builds trust and reliability and is key to growing and keeping a quality customer base. Having the tools in place to ensure their happiness will lead to better jobs, more profits, and a less stressful workload.
Bottom line: managing a profitable business with happy employees and customers is possible when the right system is in place to ensure success. There are many to choose from, so dive in and find a system that works best for your workflow. While it is preferable for a shop to adopt a system at the start-up phase, it is never too late to change. An old sign dog CAN learn new tricks.
SignTracker can help solve these problems, so we invite you to try it for a free 14-day trial.