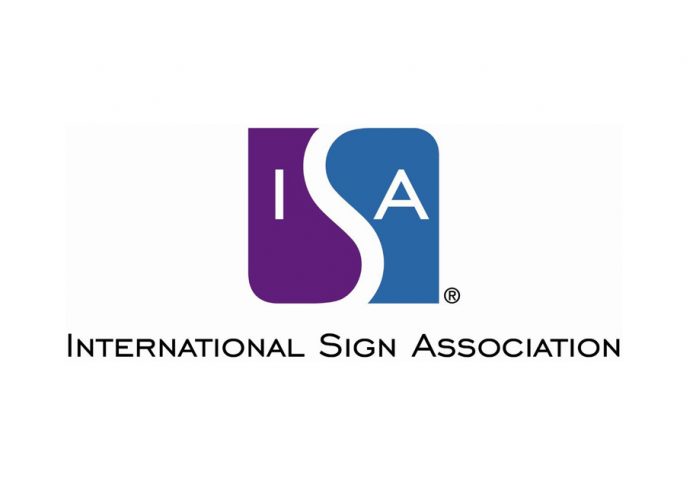 ISA Sign Manufacturing Day continues to showcase the diverse career opportunities in the sign, graphics and visual communications industry. This year, eighty-three companies will open up eighty-seven locations. The event is held October 4, though some companies will select another date to better accommodate local school schedules.**
Sign Manufacturing Day, sponsored by the International Sign Association in conjunction with the National Association of Manufacturers, is now in its seventh year. It has come a long way since the inaugural event, in which eight companies in twelve locations participated. Since then, many participating companies have built ongoing relationships with local community and technical schools. A number have created job shadowing internships and co-op programs. More importantly, they've been able to hire students who first came through the doors at a Sign Manufacturing Day event.
"From the very beginning, our aim with Sign Manufacturing Day was to help sign, graphics and visual communications companies solve the challenge of finding the next generation of workers," said Lori Anderson, ISA president and CEO. "While the day itself plays an invaluable role in introducing students to our industry, the ongoing relationship with participating schools has led to a pipeline of potential workers that we see continuing to grow."
Participating companies are provided a toolkit that helps them connect with area educators and helps them showcase the diverse careers available in the sign, graphics and visual communications industry.
"One thing we hear each year is how much existing employees love showcasing what they do to students," said Alison Kent, ISA's director of workforce development. "It is an event that continues to show numerous benefits for those companies who participate."
Companies scheduled to participate in 2019 are:
Ace Sign Company, Springfield, IL
Ad Light Group, Denver, CO
AD/S Companies, Corona, CA
Aero Sign & Print, Calgary, AB
Allen Industries, Greensboro, NC
Allen Sign Company/Vexus International Inc, Knoxville, TN
Allied Electric Sign & Awning, Salt Lake City, UT
Apex/Southwest, San Antonio, TX
Arrow Sign Company, Stockton, CA
ASI Signage Innovations, Kenner, LA
Avalis Wayfinding Solutions Inc., Fort Collins, CO
Bakers' Signs and Manufacturing, Conroe, TX
Bendsen Signs and Graphics, Inc., Decatur, IL
Biltrite Sign Service, Inc., Evans, CO
Bolde Imaging Group, Mississauga, ON
Broden Design Group, Denville, NJ
Brooklin Bulletin Signs, Whitby, ON
BSC Signs, Broomfield, CO
Casco Signs Inc., Concord, NC
Comet Signs, San Antonio, TX
Component Signage, Inc., High Point, NC
Curb Signs Inc., Aurora, ON
DaNite Sign Company, Columbus, OH
DeNyse Companies, Douglasville, GA
Dualite Sales & Service Inc., Williamsburg, OH
EM Plastics, Delta, BC
Faces, Pelham, AL
FastSigns International, Carrollton, TX
FDC Graphic Films, Inc, South Bend, IN
Federal Heath, Euless, TX
Federal Heath, Jacksonville, TX
Federal Heath, Delaware, OH
Federal Heath, Oceanside, CA
Federal Heath, Racine, WI
Future Sign Company, Houston, TX
Gordon Sign Co., Denver, CO
Hansen Signs, Moncton, NB
Hilton Displays, Greensville, SC
Icon, Lexington, SC
Identicom, Farmington Hills, MI
Impact Signs, Awnings, Wraps, Sedalia, MO
Ingraph Limited, Calgary, AB
Integrity Sign Solutions, New Albany, IN
Kieffer | Starlite, Sheboygan, WI
KJ Signs LLC dba Signarama-Ankeny/YESCO Des Moines, Ankeny, IA
Lauretano Sign Group, Terryville, CT
Leon's Signs, Inc., Tyler, TX
LSI Industries, Inc., North Canton, OH
Manhattan Signs, Paterson, NJ
McHenry Industries, Youngstown, OH
Midtown Signs, LLC, Kansas City, KS
Midwest Light & Sign, Farmington, MO
Mimaki, Suwanee, GA
Montreal Neon Signs, Laval, QC
Munn Enterprises Inc., Hattiesburg, MS
Northwest Sign & Design, Monroe, WA
Nova Sign Group, Mt. Holly, NJ
Oryx Signs & Print, Edmonton, AB
Pacific Neon Company, Sacramento, CA
Performance Signs, Ruckersville, VA
Philadelphia Sign Company, Palmyra, NJ
Photographs by Jim / Eagle Ford Signs, Floresville, TX
Poblocki Sign Company, Milwaukee, WI
Poyant, New Bedford, MA
Pride Signs, Cambridge, ON
Ramsay Signs, Portland, OR
Ruggles Sign, Versailles, KY
Selkirk Signs & Services Ltd, Cranbrook, BC
Signarama (Corporate), West Palm Beach, FL
Signarama Evansville, Evansvlle, IN
Signarama Oakville, Oakville, ON
Signarama Vancouver, Vancouver, BC
Signature Sign & Image, Niagra Falls, ON
Signex Mfg. Inc., Steinbach, MB
Skyway Outdoors, Inc., Bastian, VA
Sleek Advertising Ltd, Regina, SK
SMI Sign Systems, Inc., Frederick, MD
Spectra Advertising, Concord, ON
Steel Art Company, Norwood, MA
Stellar Sign and Design, Winter Park, FL
The Signs & Services Company, Inc., Stanton, CA
Think Big, Launceston, Tasmania
Triangle Sign & Service, Baltimore, MD
Tweak Designs and Signs Ltd, Saskatoon, SK
Twilight Signs & Neon, Inc., Bolton, ON
UFB Fabrication, St. Louis, MO
Ziglin Signs, Inc., Washington, MO
To learn more about Sign Manufacturing Day, visit www.signs.org/mfgday or visit ISA's Career Center, www.signs.org/careers.
**Some companies may alter the dates to accommodate school breaks and other issues.