Society for Experiential Design (SEGD) Branded Environments is the event for the design of brand-centric customer experiences. Integrating meaningful brand experiences into places and spaces provides the highest branding return on investment to owners and their users.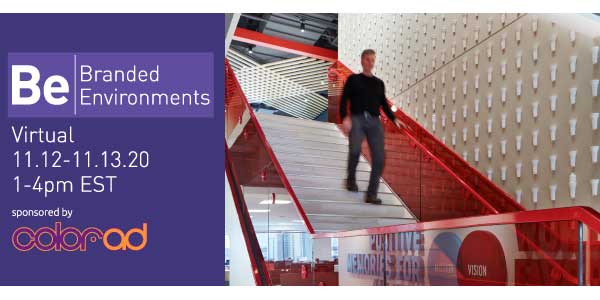 Returning for the fourth year in a row by popular demand, a lineup of award winning designers expands on this year's theme of "Common Ground." Presenters outline trends of success and failures in Global Cultures and Global Practices and expound on how to adapt "Fandom" to leverage emotional connections and the desire to pivot to keep audiences safe and engaged despite the current pandemic.
This two-day virtual event will provide opportunities for lively discussion and roundtable breakout sessions so participants can get real-time answers from speakers and panelists.
Thursday, November 12, 2020
Bringing The Future Forward: Inspirations from China, Jean-Pierre Lacroix, President, SLD (Toronto). Lacroix presents the challenges consumer companies face leveraging brands to drive loyalty and sales, focusing on strategic processes, and immersive and future-focused experiences from China, with lessons learned applicable to North American designers.
Lessons from the Middle East: Creating a Sense of Place, Dan Marino, LAB Senior Associate, Architect + Experience Designer, Rockwell Group. Marino will speak about how Middle East cities are importing global brands and experiences to create new international entertainment and hospitality destinations. This talk will highlight the current trends in entertainment and hospitality experiences in the region and how we can learn from their successes and failures.
Designing After Dark: Localizing the Experience of Fun with Cultural Sensitivity, Greg Merkel, Creative Director, ICRAVE. Merkel explores how you navigate tensions between cultural norms, consumer desires and client expectations (not to mention what's legal) to develop design solutions. Merkel shares how his team localized the experience of fun, with cultural sensitivity, while reimagining iconic hospitality brands for emerging global markets.
Friday, November 13, 2020
Michael Gericke, Partner, Pentagram. Gericke kick's off the second day of Branded Environments with his keynote presentation on 'Insiders' Stories of a Global Look into many of Pentagram's environmental graphic projects — from big immersive civic experiences, to the small but impactful moments.
Following the keynote, there will be four facilitated roundtable topical breakout discussions on Building Commonalities & Bridging Differences. This is an opportunity for peer-to-peer exchanges on best practices, trends and insights with thought leaders in the experiential design community.
Topics include:
Managing Collaborations: Building teams across disciplines – Mike McCarthy, DCL
5G Technology: What's coming – M.K. Moon, Nanov Display Inc.
New Materials: Recent experiments – Bruce Dickinson, Rainier Industries
Redefining Culture in a Virtual World – Jean-Pierre Lacroix, SLD, Covid-19 is redefining how we work, live and learn. This virtual workshop will help frame how we integrate and support a striving culture in designers' work.
The final line-up of speakers on Friday will share current insights amidst the pandemic and branded environment project case studies on Learnings from Fandom. Sponsored by Designtex
Design to Build a Loyal Base, Aaron Ruef, Account Director, Retail, NELSON Worldwide. Ruef explores how best-in-class sporting environments – from bars to stadiums – are leveraging EGD to provide a differentiated experience and create emotional connections that turn everyday guests into lifelong fans.
Icon, Mystery, and Refreshing the Familiar in Branded Environments, Stuart Fox, Author and Senior Content Designer, ESI Design (New York). How can a branded environment deliver a special experience while leveraging the world's most recognizable brands? And how far can those brand elements get distorted in the name of novelty before they lose their impact? Fox presents how they met those challenges at the new HQs for WarnerMedia and MLB by creating branded offices that highlight familiar IP while reimagining that very same IP in novel, dynamic ways.
Together by Design – The Next Normal, Drew Berst, Practice Director – Collegiate Sports, Dimensional Innovations. As the sports world has pivoted from packed stadiums to empty seats, Berst looks at how successful franchises will continue to adapt their fan base safe and engaged. Looking ahead to the future of professional and collegiate sports, Berst examines how to create remarkable and memorable experiences in the next normal of the sports world.
After a live Q&A session with Fandom Speakers we will end the two-day symposium with a Branded Environments Happy Hour!