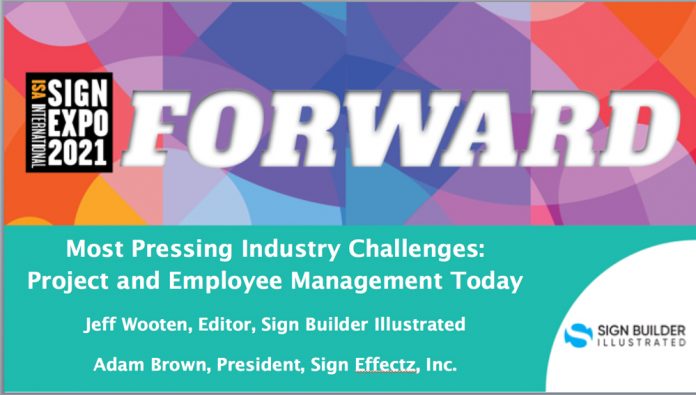 On Wednesday, April 7 (1:00pm EDT to 2:00 EDT), join Sign Builder Illustrated Editor Jeff Wooten and Adam Brown, president of full-service sign shop Sign Effectz, Inc., out of Milwaukee, Wisconsin for the live virtual presentation "Most Pressing Industry Challenges: Project & Employee Management Today" that is one of the educational sessions at this year's ISA Sign Expo® – Virtual.
During this session, Wooten will reveal results of the ISA's "Most Pressing Industry Challenges" survey that was conducted back in February, with a look at project and employee management concerns.
Meanwhile Brown will discuss recent multi-component projects that his shop was recently completed, with a close-up focus on how they solved several of these design, fabrication, and installation challenges and how other sign makers can adopt similar methodologies that he implemented. Brown will also talk about the art of managing workers through all stages of a project.
Established in 1996, Sign Effectz is a turnkey solutions provider for business owners, architects, general contractors, and national sign manufacturers. Their projects have been featured in several articles appearing in our magazine over the years, such as a giant-sized goalie mask for the AHL's Milwaukee Admirals, a complete sign package for the Milwaukee Bar Association, and outdoor art murals for the Los Angeles Police Department's Training Academy.
Questions and feedback from attendees is highly encouraged.
ISA Sign Expo® – Virtual will be taking place exclusively online from Wednesday, April 7 to Thursday, April 9. You must register to access any of the educational sessions.