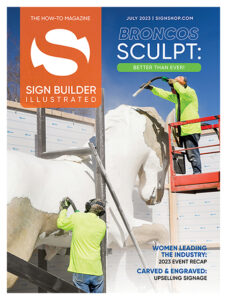 The July 2023 digital edition of Sign Builder Illustrated is now available to read!
This month, we recap this past April's Women Leading the Industry event held at the ISA International Sign Expo in Las Vegas. This positive-outlook get-together focused on empowering women in the sign industry, and we present some feedback from attendees about it.
Other feature stories in this month's digital edition include a sign shop giving new life to the Denver Broncos' fiberglass horse sculpture, the design-build-install of a tap handle-inspired exterior sign for a "beer and burger joint," and reasons behind why a carved and engraved sign specialist focuses on design and upselling for his projects.
Check out the July 2023 Sign Builder Illustrated digital edition now!