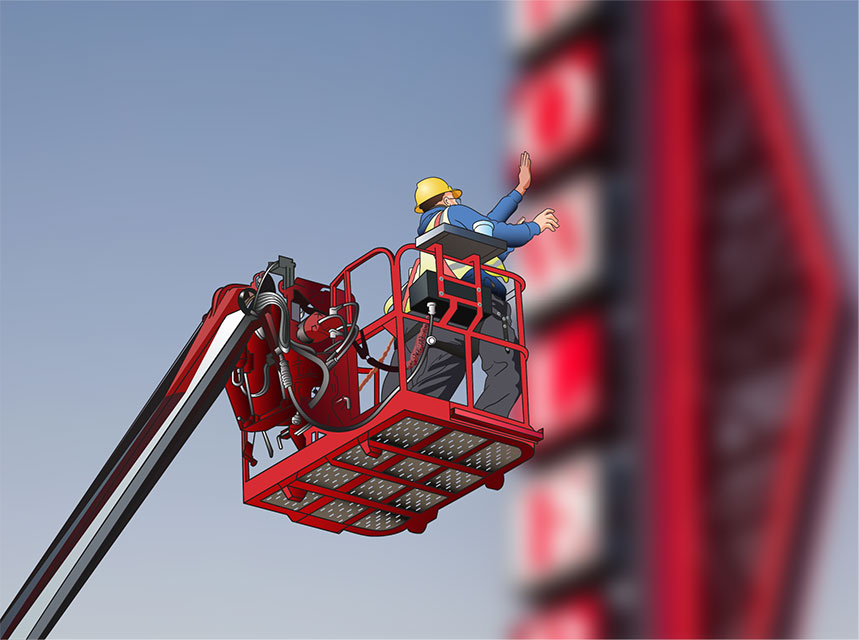 Investing in your first crane or bucket truck may seem like a risky move, but such a move has the potential to boost sales and revolutionize your sign shop's capabilities.
My former sign shop was a manufacturing and installation company based in Austin, Texas, and we operated a fleet of crane and service trucks.
In the early stages of our business, we relied on subcontractors to handle all of our sign installations.
Subcontracting may result in smaller profit margins for the installation part of your sign projects, but if you can find reliable partners who are loyal to your business and customers, subcontracting can be a great way to get started. It can help your young company reduce overhead costs, allowing you to invest in other areas of your business.
However subcontracting a sign installation comes with its own set of challenges.
As a customer of the installer, you have no control over the subcontractor's priorities. If they are running behind on a large installation project for another sign shop, your project may be bumped. Consequently you will be forced to reschedule with your clients, often with limited control over the next available install date. Such delays can lead to unhappy clients, and you run the risk of losing future projects to shops that have their own cranes.
With that in mind, it might be time to purchase your first service or crane truck or expand your existing fleet. But before doing so, there are four things to consider:
Assess your future workload. I vividly recall the sinking feeling of arriving at the shop to find idle cranes sitting in the yard with no scheduled work. My initial question to our install and service manager would always be, "Have we scheduled any work for the trucks today?" If the answer was "no," I would go to my office and cry a little.
Remember, even when your truck is idle, you are still paying all the expenses of keeping it operational. Therefore it is essential to think about future work prospects when considering the crane truck purchase.
To ensure a consistent workload for your trucks, explore opportunities to market your services to national sign companies for installation and service work.
Also find ways to promote your new crane truck services in your local business community.
To begin, introduce yourself and your services to every retail property manager in your area. Property managers are often responsible for maintaining the center's pylon and monument signs, as well as handling parking lot lighting maintenance. When their tenants require sign repairs, they will turn to you. In the case of sudden tenant relocations, you can also offer removal services.
By proactively pursuing these avenues, you can maintain a steady workload.
Timing is everything. Determining the ideal time to make the leap into service truck ownership largely depends on your specific circumstances. If you find yourself relying on subcontract installers for installs and encounter service jobs three to four times a week, it could the right time to invest in a small bucket or crane truck.
You will be able to install smaller electric wall signs, pylon panels, and graphics for your shop, as well as aid smaller commercial vinyl shops needing help. Then you can grow from there.
Tami Napolitano from Awesome Graphics and Freedom Sign Consulting summed it up perfectly when she responded to a question about buying a crane in the Behind the Signs Facebook Community. "It was the right time when the rentals and subcontractors were costing more per month than what it cost to buy it!" she said. "That is when I knew it was time to make the purchase!"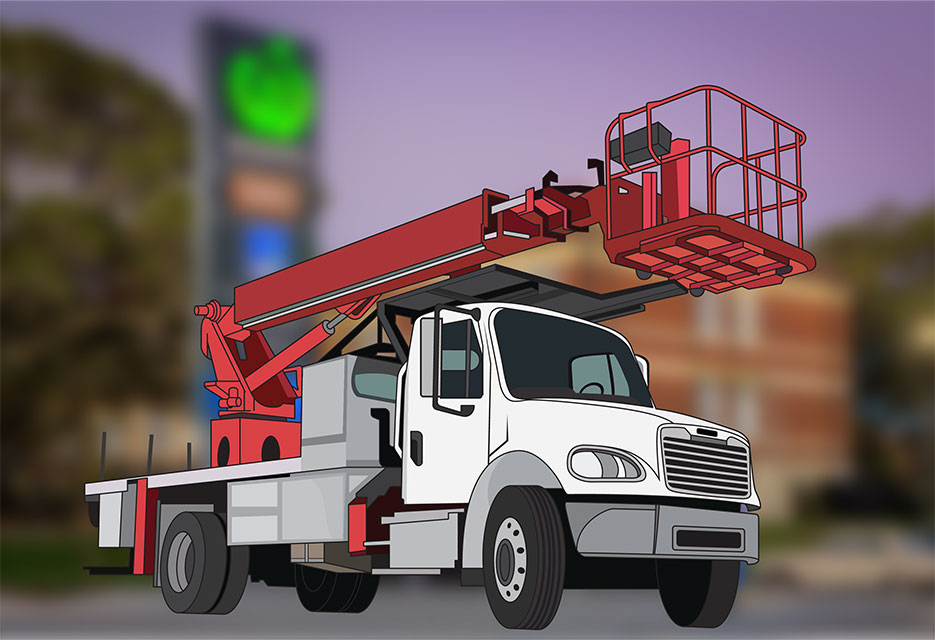 Find the right people. Finding good sign installers and treating them well is a must. They are often the last of your company's team members that your customers will see on a project.
It is crucial to have a skilled team that is qualified to operate a crane truck safely and efficiently. If you have an experienced lead installer who can handle crane operations and lead the installation team, it strengthens the case for buying a crane truck.
Start small to gain experience, improve your processes, and promote your new crane truck services in your local business community.
Learn what's required. Take the time to research all the requirements for owning a crane and hiring operators—such as the cost of acquiring and maintaining the truck, insurance coverage, fuel expenses, and any necessary training or certifications for operating the equipment. Talk to your local sign association to determine OSHA, crane certification, and any safety training requirements.
Plus keep in mind that, with a crane truck, you will have employees hanging signs possibly hundreds of feet in the air. So engage in some due diligence to understand how the new truck will impact your workers compensation requirements and liability insurance.
Conclusion
These issues should not deter you from expanding your install and service business, but it will be important to take them all into consideration prior to purchasing a crane truck.
Ultimately you have to assess your workload, your customer base, and your growth potential, to make an informed decision as to when you should start your journey of crane truck ownership and elevate your sign shop to new heights.
As for me, I do not regret my shop's decision to own crane trucks. It allowed us to take better care of our customers, and I absolutely loved our install crews.
And to all you amazing installers, thank you! There is no way sign shops can succeed without you.
Joe Arenella is host of the Behind the Signs Facebook community and video podcast.