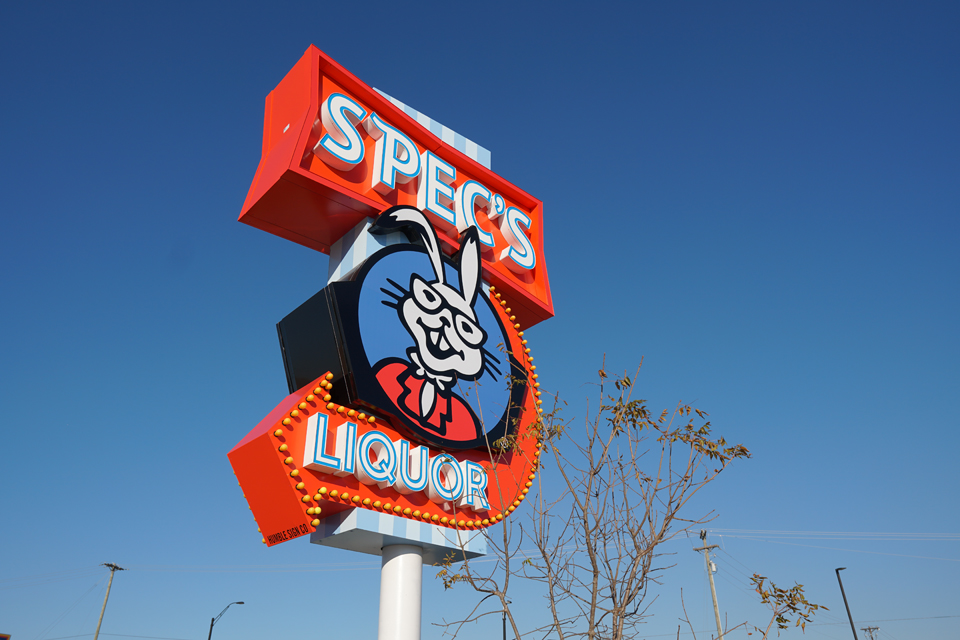 For nearly sixty years, Spec's Wine, Spirits & Finer Foods has served as a one-stop-shop in Texas. Spec's is an aggressively growing company across the state with over a hundred locations of various sizes today. In fact, the family-owned chain has even been recognized as the fifth largest retailer of wine in the United States.
Spec's is headquartered in Houston, Texas, and they're considered to be "more than just a liquor store." For example, their larger locations also offer cigars, fine wines, and even in-shop delicatessens.
No matter the sizes of their stores, they all have one thing in common when it comes to their signage and branding—a bespectacled rabbit with a red jacket and bowtie waving a flag.
Spec's derives its name and logo from co-founder Carroll B. "Spec" Jackson and his sense of humor. The eyeglasses-wearing rabbit has long been instantly recognizable in the neon representation of the chain's logo.
However with the ground-up construction of a new store in Weatherford, Texas, Spec's officials thought it was time to update their logo and rabbit mascot on its pole sign. Over the past several years, Spec's had updated the font for their store-mounted letters but had yet to do so on their pole signs—that is, until this project.
They asked Humble Sign Company to provide a full exterior sign package that included storefront signs and letters, as well as a new sign cabinet for the steel pole. Even more special is that they requested a new logo design for it that could be used at other Spec's stores going forward.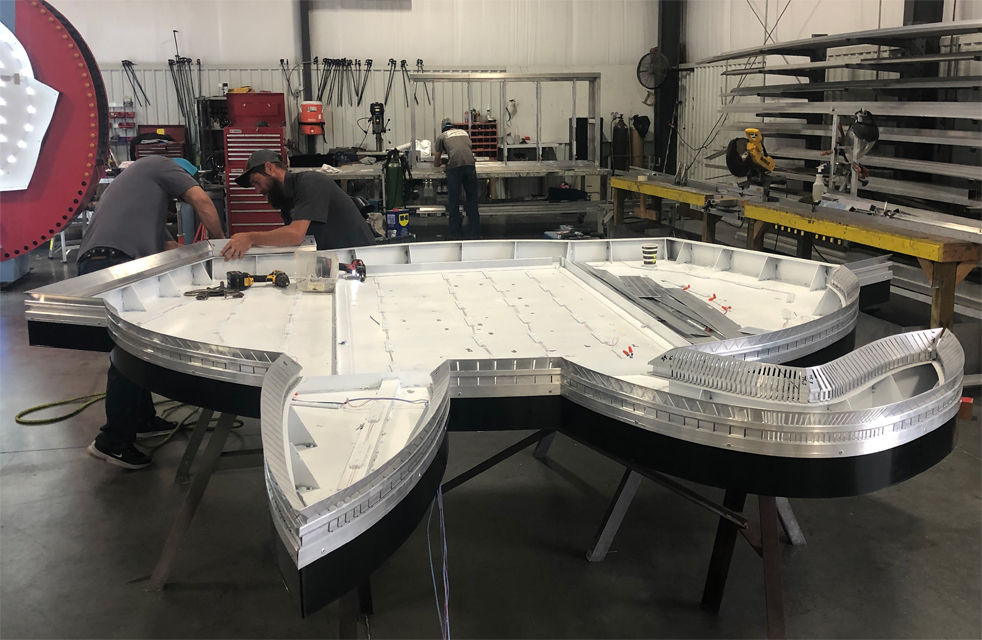 Humble Beginnings
Humble Sign Company is located in Humble (pronounced "Um-bull"), Texas, which is a suburb of Houston.
The company started out as a boot-strapped two-man vinyl shop located in the attic over a vehicle repair shop, equipped with only a printer, a plotter, and a window unit air conditioner. However Bart Peterschick saw potential in them and, with his forward-thinking and universal sales and management skills, turned the business around after purchasing it eleven years ago.
Business has been booming for them ever since!
Today Humble Sign Company has over fifty employees, numerous types of equipment (CNC routers, benders, large format printers, paint booths, etc.), and seven service crane trucks (including a dirt-removing excavator dump truck).
In fact, due to their growth, this full-service sign company is planning to move to an even-larger, brand-new facility that will double their current space, which they had moved into just a few years ago.
They have also carved out quite an impressive list of national clients, including Landry's, Chuy's, the Houston Astros, and, of course, Spec's.
Collin Cantrell, vice president of Operations, was the first salesperson hired after Peterschick took over and still remains heavily involved in this area. One of his goals for many years was becoming a national signage partner for Spec's. "As we were developing a relationship with them, they saw our passion and our ingenuity and were impressed," says Cantrell, noting that they handle all new signage for Spec's.
Humble Sign Company has worked on many sign projects for Spec's, but this new project in Weatherford was going to be their first for a brand-new construction.
Spec's officials wanted to transition from more-expensive-to-maintain neon and take advantage of LED technology in the new pole sign design, bringing up their interest in faux-neon to Cantrell.
At the project's outset, Spec's already had their store-approved blues and reds picked out, but Cantrell says they did have some wiggle room with shades of these hues.
Cantrell sent a basic scope of some of the elements of Spec's prior branding to two of his in-house designers and let them have individual free rein at developing a design for this new pole sign on their own. To provide a third consideration, Cantrell also contacted Matt Charboneau, a freelance designer in Colorado that his company has used ever since opening.
Cantrell made it a point that the designers not share any of the concepts being developed with each other. "I ended up with three different designs that were original and unique and presented each of them to the Spec's owners," he says.
It was a close deliberation between Charboneau and the Humble Sign Company designer, with the former narrowly winning design approval.
The double-sided cabinet design pays homage to a retro '50s-style diner with the bespectacled rabbit on a circular center surrounded by "Spec's" lettering on a bowtie and a curved arrow with marquee-style LED filament bulbs.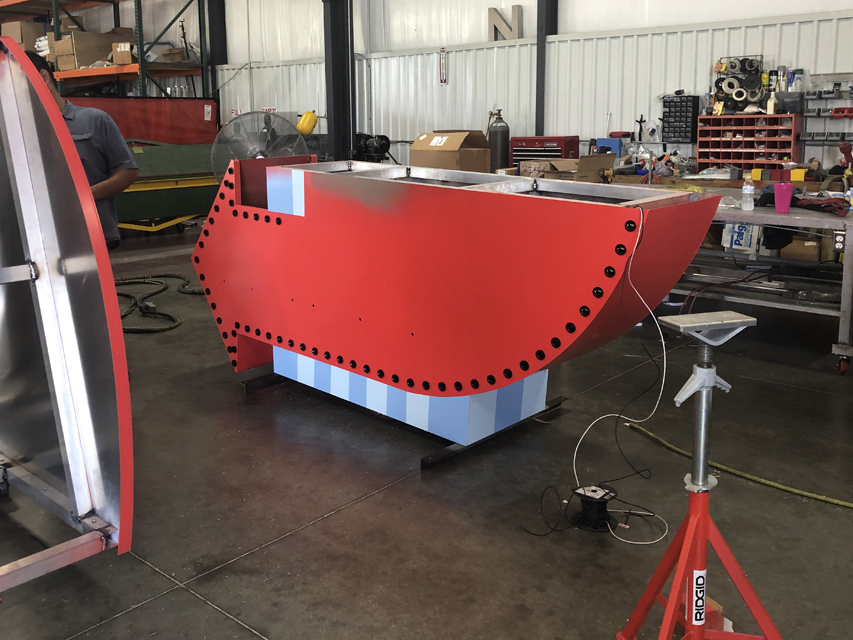 The Spec's of the Fabrication
The entire cabinet (from the blue skirting bottom to the blue skirting top) measures 193 inches tall and is 133 inches at its widest (part of the bowtie). The centerpiece rabbit is 101 inches tall, while the "Spec's" letters stand 34 inches tall and are stud-mounted to the bowtie portion.
Humble Sign Company builds all of their signage out of 100 percent aluminum, and this Spec's cabinet redesign was no different.
They built the framing out of two-by-two-inch aluminum tubing and used 0.125-inch aluminum for the face cladding. "We want the aluminum to be thick and sturdy so that it doesn't have any dimples," says Cantrell. "That way, we can weld to the backside of it without any worries."
The logo, lettering, and bowtie were all made as channel letters with trim cap and acrylic faces.
As mentioned previously, Spec's officials originally envisioned faux-neon, however Humble Sign Company found a creative way to keep the cost down here. "Faux-neon can be very expensive, so we used blue acrylic on the white letters along with opaque white vinyl to mimic the glow of neon at night," says Cantrell. "The letters appear white during the day and have a blue outline that illuminates at night.
"At a distance, you think that it is, in fact, neon!"
The Spec's rabbit is cast-cut vinyl applied to a white acrylic face.
White LEDs are spaced appropriately within the cabinet to illuminate it. "When we use white LEDs inside the can, we want the reds to be very rich and not appear pink, which can often happen in these situations," says Cantrell. "So we doubled up on the red vinyl and reverse-cut it on the backside of the rabbit's shirt."
The cabinet face, including the arrow, is all flat. In fact, the arrow was cut out with the cabinet faces as just one piece. "The rabbit is a channel letter logo with trimcap and is mounted to the top of it," explains Cantrell.
Humble Sign Company kerf-cut the square tubing for the arrow and the rabbit so that they would bend. "Our fabricators then tap-welded all those curves together to allow the framing for the circle and the arrow," says Cantrell. "This took hours and was the most time-consuming part."
One challenging part of the project involved cutting the box outside of "Spec's" to fit the ears. "It was a tight fit," says Cantrell. "Our pre-press specialist alerted us ahead of time that because the sign is double-sided, the ears of the rabbit would fall on different spots of the bowtie."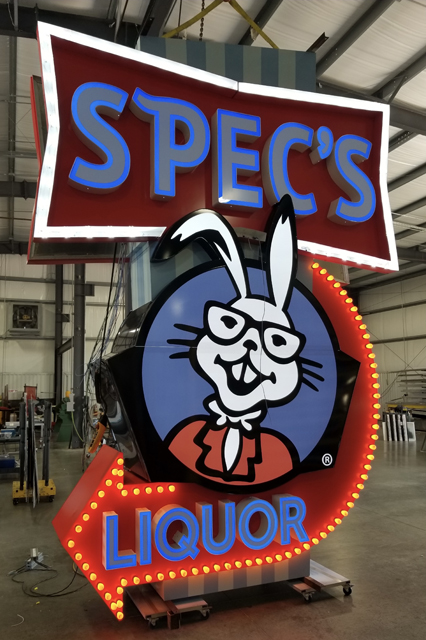 Going Down the Rabbit Hole
The finished sign was shipped to Weatherford in one piece, standing upright on the back of the company's flatbed trailer. "We screwed it down into the wood base of the trailer and placed straps over it," says Cantrell.
Because Weatherford is six hours away from Humble, the sign company did pre-planning to make sure interstate overpasses were tall enough to handle the full upright cabinet. "Before fabrication, we always figure out transportation and if [a sign] needs to be split up so we can carry it or have to get a permit for it because of its size and then decide," says Cantrell.
This ended up being a simple direct-bury pole sign. Humble Sign Company did their due diligence and called the city before digging so as to avoid any utilities underneath.
They used their auger truck to dig the holes, direct bury the steel pole, and then mount the sign to it using steel saddles. "Our auger truck has a grip on it, so it can pick up a pole and stand it in the ground without a problem," says Cantrell.
Humble Sign's install crew was sent ahead the day before to dig the hole. They then contracted another party to come in and pour the concrete while they held the pole into place until it was level.
Once the concrete had settled, Humble Sign Company came back to the site the next day and installed the cabinet to the pole using their eighty-five-foot crane and boom truck. "Because the sign is 100 percent aluminum, it's really light," says Cantrell.
The power supplies are located inside the sign. "We have an access panel on the side of the sign that they can reach in and change out all the power supplies," says Cantrell.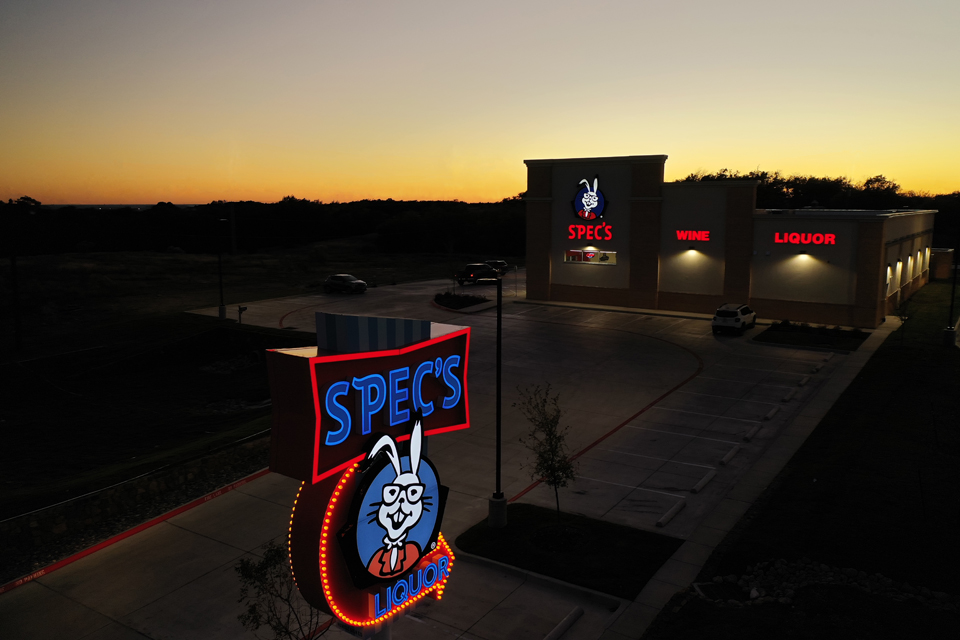 Conclusion
In addition to completing the entire exterior sign package, Cantrell is especially proud that his company was able to help develop further branding for Spec's.
Their design that Spec's officials had approved will be used on future pole sign installs, where allowed either as a pole sign or a monument sign (to fit into neighborhood surroundings).
"Spec's is growing at a very fast pace, and it's fun to be part of a successful company's image like that," says Cantrell. "It's great to see something that we, as a team, developed, designed, and built being put up at all of their locations.
"In fact, this is one of the things I'm most proud of in my sign industry career at this point!"
—Jeff Wooten