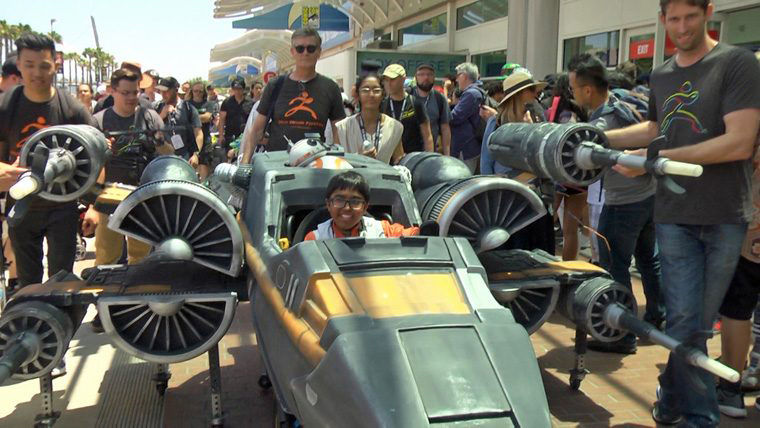 Massivit 3D, the leading provider of large format 3D printing solutions for visual communication, has unveiled the "world's first" 3D printed Poe Dameron X-Wing Fighter charity wheelchair costume at Comic-Con International (San Diego, July 19-22, 2018). To watch the video, click here.
The costume was the vision of non-profit organization, Magic Wheelchair, and created for Star Wars fanatic, thirteen-year old Vedant Singhania. Companies who collaborated with Magic Wheelchair to make this project a reality include, Pixologic Inc, responsible for the design and modelling, Dangling Carrot Creative who 3D printed the costume with Massivit 3D donating the printing materials, and Monster City Studios who completed the assembly and finish.
Utilizing the high print speeds and dual print heads of its Massivit 1800 3D Printer, Dangling Carrot Creative produced fifty individual costume pieces in just over two weeks. The 8-by-10-foot spaceship provides Vedant with his very own Star Wars X-Wing fighter jet, crafted by some of the original Lucasfilm prop fabricators.
Magic Wheelchair provides bespoke costumes to kids with wheelchairs at no cost to their families. As part of Comic-Con's special "Star Wars experience" this year, and its partnership with Pixologic—the supplier of ZBrush digital sculpting software—Magic Wheelchair selected Vedant to receive the extraordinary 3D printed costume.
Paul Gaboury, 3D Product Development Manager at Pixologic, explains: "We connected with Magic Wheelchair realizing that our technology and modelling expertise could help them with the amazing work they're doing for children in wheelchairs. After we designed the costume, Dangling Carrot Creative was the last piece to the puzzle.
"The company gave us the capability to 3D print life-size parts to help eliminate the need for molds or casting, saving considerable time and money."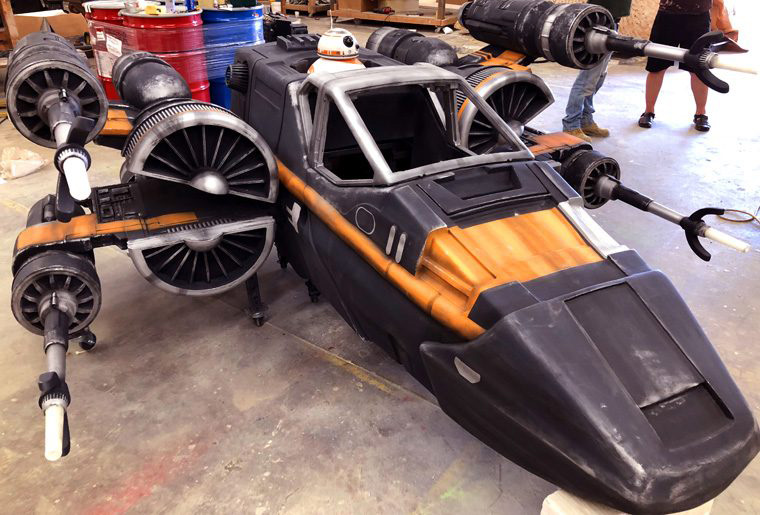 Commenting on Massivit 3D's involvement in the project, Avner Israeli, CEO at Massivit 3D, says, "Together with our customers like Dangling Carrot, we're constantly discovering new and exciting applications achievable with our 3D printing solutions for the entertainment market.
"This project has been an extraordinary opportunity to test the true value of our technology and to put young Vedant in the spotlight for the right reasons. There's nothing quite so wonderful as bringing joy to a child."
The costume was presented to Vedant at the Comic-Con International show on Saturday. He expressed his excitement and appreciation to all involved. "It's mind-blowing. I didn't expect the costume to be so big and I'm thrilled that it's an X-Wing Fighter because I love Star Wars," says Vedant. "I was really excited during the parade. I was so happy because all the people were taking pictures of me. It made me feel like a celebrity."