Shepherd's Eye Brewing Co., is a family- and veteran-owned start-up brewpub that recently opened up in Florida, New York. The brewing company derives its name from one of the co-owner's German shepherd's, Zeus, who the family notices keenly watches all their beer-making processes and developments. In fact, think of Zeus as an unofficial "member" of this brew crew.
Not only does the new brewery have a wide variety of tasty craft beers on tap, but they also host a wide variety of custom signage, props, and graphics throughout their building.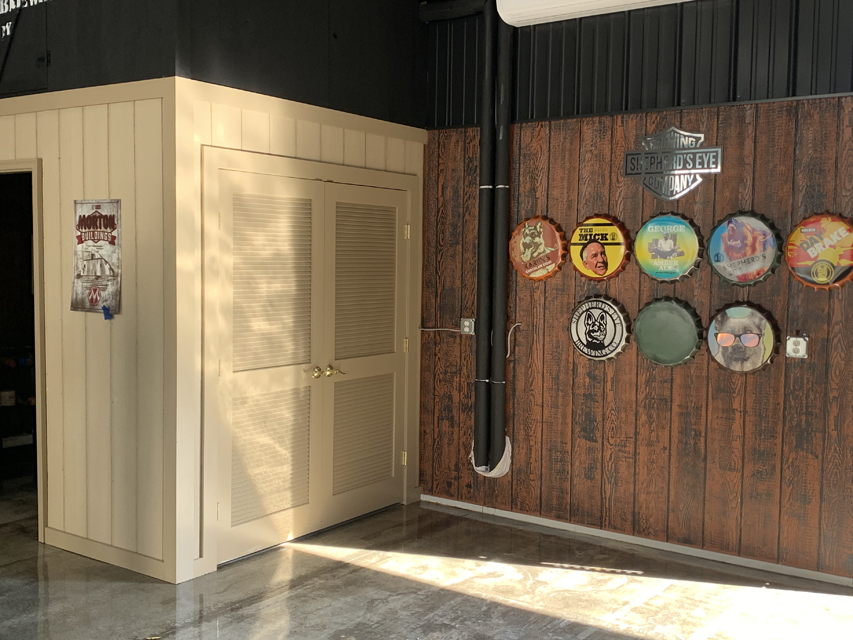 The shop responsible for designing and installing these signs and graphics is Raven Lake Studio, and their creative work employed for Shepherd's Eye Brewing Co., is definitely something to bark loudly about.
Drafting Designs
Raven Lake Studio is a new boutique-style design/fabrication business based out of a 4,700-square-foot facility in Warwick, New York that specializes in experiential graphic design, branding, and custom signage. The shop offers complete services to help create the ultimate branded experience for their clients' spaces.
Raven Lake Studio Owner Stephen Hoey may already be familiar to some of our readers. He once owned KDF Custom Graphics, a highly creative, award-winning shop that prided itself on building and designing projects that other sign shops weren't able to do. However he ended up selling that company back in 2017 and used his know-how to create a new entity that focused on providing environmental graphics exclusively for large technology firms.
However with twenty-six years of exciting and challenging commercial sign-making experience under his belt, Hoey yearned to move his career back into smaller custom projects where he could utilize his skills once again in design, fabrication, and installation. And that is the origin of Raven Lake Studio!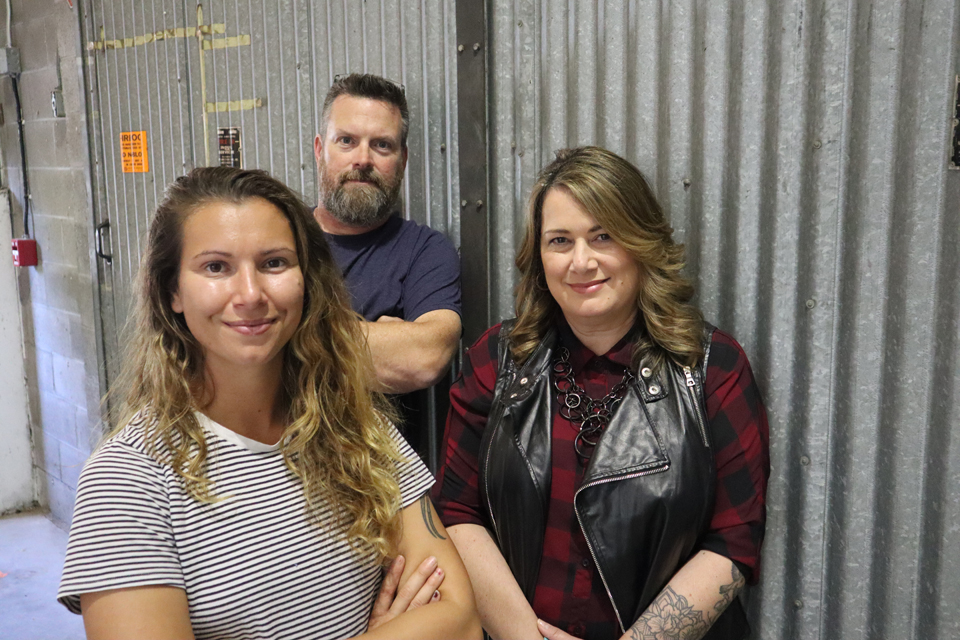 The Raven Lake Studio team also consists of Stephen's business partner, Rebecca Dykstra. All design work is handled by Stephen's wife Nanette and her company, Goals! Design & Marketing Services out of Orange County, New York.
"We also work with a team of very talented contractors, artists, fabricators, and installers," says Stephen.
Stephen's company had just finished the design and build-out of the Pine Island Taphouse in Pine Island, New York when one of its patrons, Steven Brigham, asked for more information about his studio. It turns out that Steven was slated to be the new tasting room manager at Shepherd's Eye Brewing Co.
"He liked our work so much and asked if we would meet with the owners, father and son George and Brian Taylor and their wives Linda and Kerry, to discuss [experiential ideas] for their new brewery," says Stephen.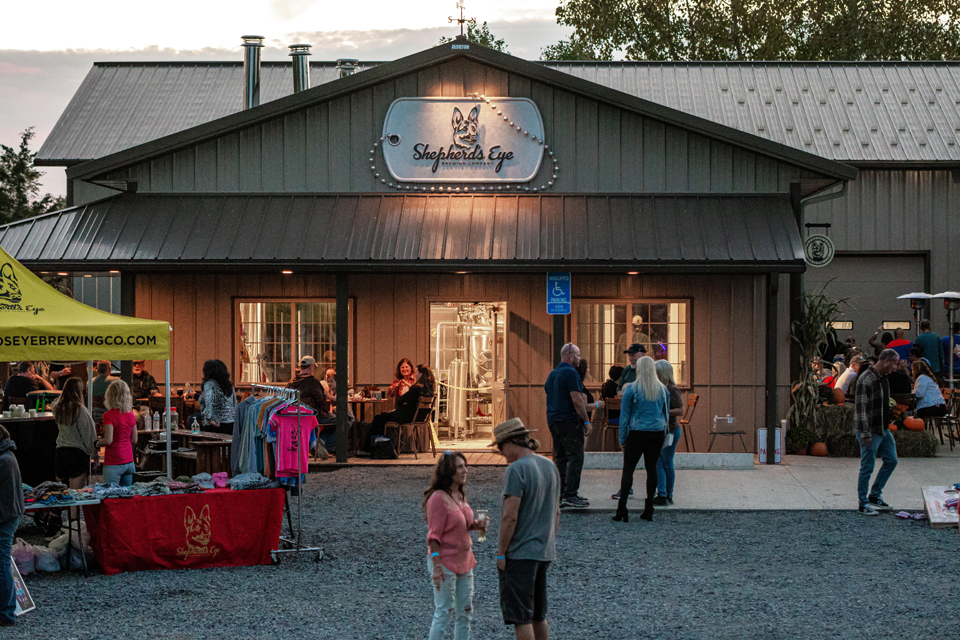 By the time the plethora of experiential sign and graphics ideas Raven Lake Studio presented to them were approved, the brewery's planned grand opening celebration was fast approaching.
"We only had a month to create and install everything in time," says Stephen, noting that the Raven Lake Studio team did a decent job staying ahead of the tight schedule.
Crafting an Identity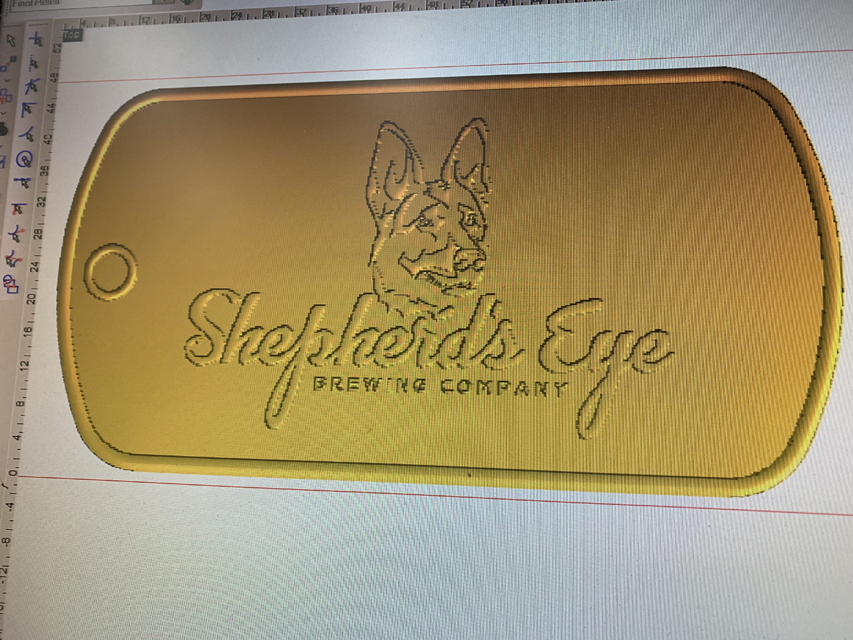 All the signs and graphics are based around Shepherd's Eye Brewery Co.'s two logos—one featuring an adult version of the German shepherd and the other a puppy version. The brewery supplied these images.
However, since co-owner Brian Taylor was also a U.S. Marine veteran and had military iconography deployed throughout the property, Raven Lake Studio decided to also incorporate earthy camouflage colors throughout the space as well.
"We chose to paint the wood-paneled walls with a copper-based and black wash," says Stephen, noting that the brewery owners had chosen a copper element on the bar and the lighting above the bar. "These colors worked very well together."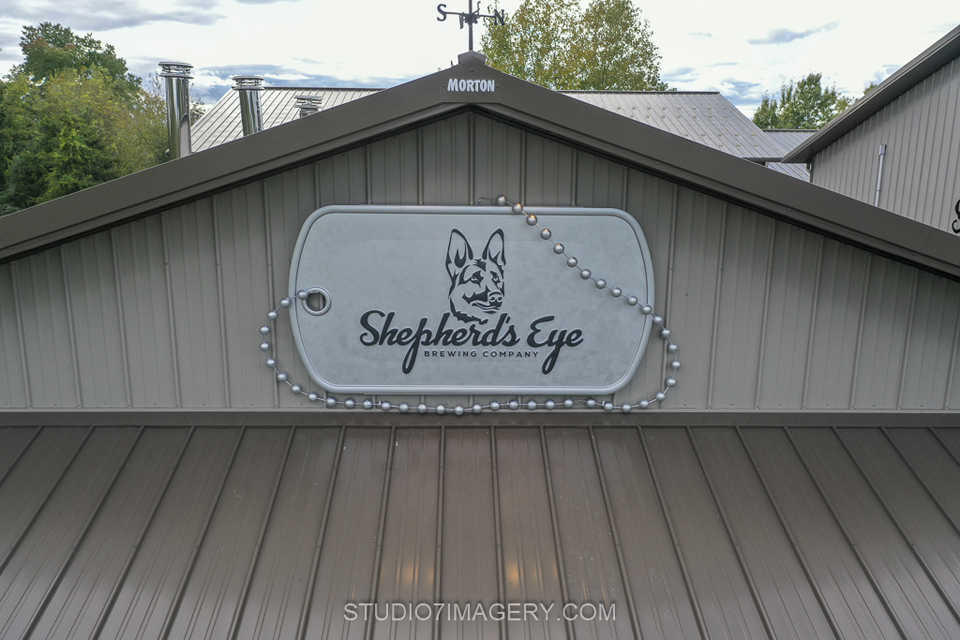 One example of the studio's custom work here is a four-by-seven-foot exterior identity sign resembling a military dog tag that's mounted directly to the front of the brewery's exterior façade above the metal canopy.
"The dog tag sign was a fun, creative element that we know would be striking to someone approaching the building," says Stephen.
Nanette designed the initial dog tag graphic in Illustrator, and afterwards, Stephen brought it into Enroute Pro 7 to create the production file.
Once the file was scaled and programmed, Stephen used their 5-by-10-foot MultiCam Apex CNC router to carve the piece out of two-inch-thick, fifteen-pound-density Duna-USA CORAFOAM® HDU.
Rebecca took over priming the sign using three coats of Jay Cooke's Primer, lightly sanding between each coat. For the topcoat, Rebecca used Modern Masters Silver Metallic and Black Pearl.
"Rebecca then took some artistic license and added an almost-galvanized look to make the finish a little more interesting," says Stephen.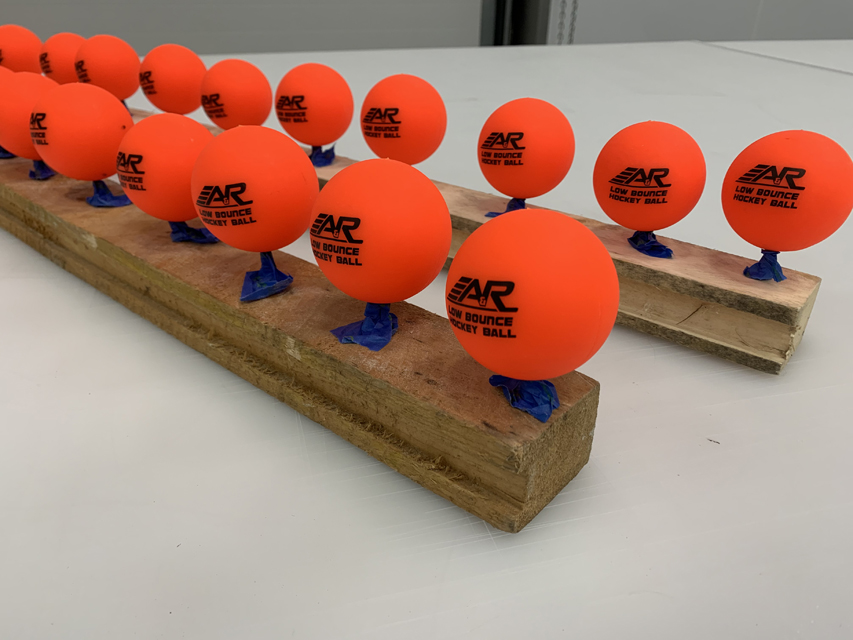 Once they had scaled the graphic into their design program, Raven Lake Studio realized the dog tag's chain was going to be a little more taxing when it came to finding a material that would work for the finished design.
They knew the best solution was going to be hard, hollow balls; however they needed to match the scale chain size and be lightweight.
"After a thorough search, we found that a simple field hockey ball was the perfect match," says Stephen.
Raven Lake Studio painted dozens of field hockey balls with metallic colors and attached them onto aluminum spacers that had been placed over two twelve-foot stainless steel rods that his company could bend into shape.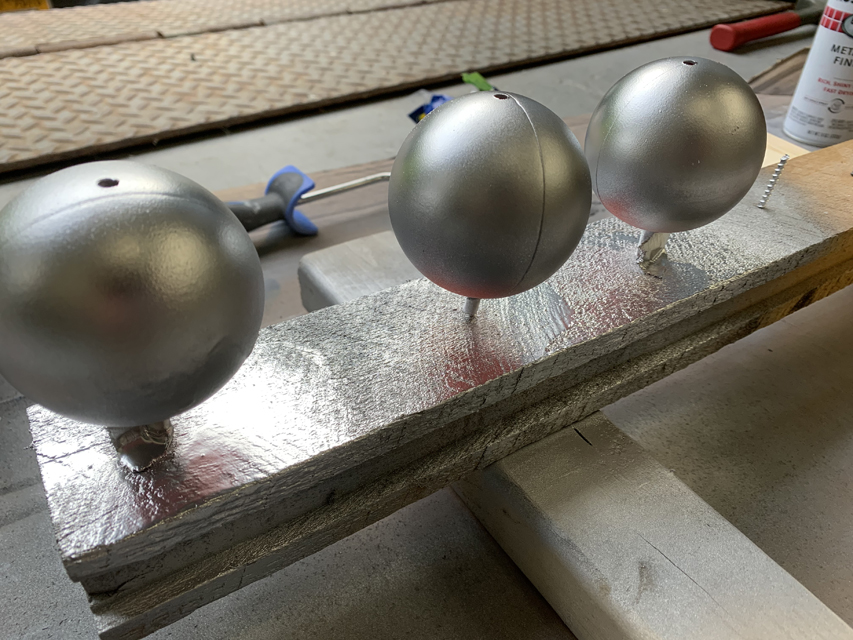 "We zip-tied the chain to the face of the building, in order to keep the shape," he says, noting they L-bolted 52-inch pieces of 2-by-2-by-1/8-inch aluminum to the building in order to hold the top and bottom of the dog chain sign.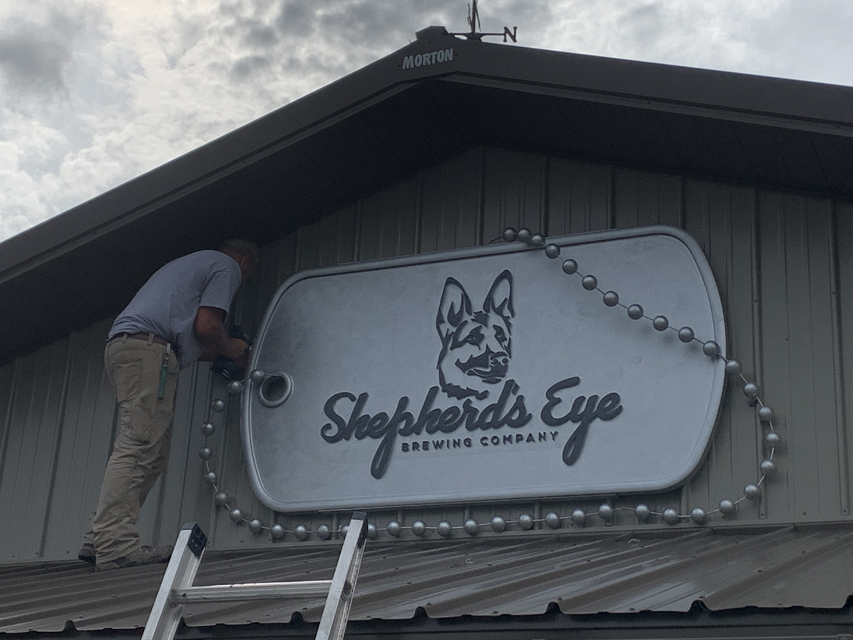 Experience More Experiential
The dog tag sign is not only a howling success, but it is also just the beginning of the experiential signage and branding that Raven Lake Studio designed, produced, and installed at Shepherd's Eye Brewing Co.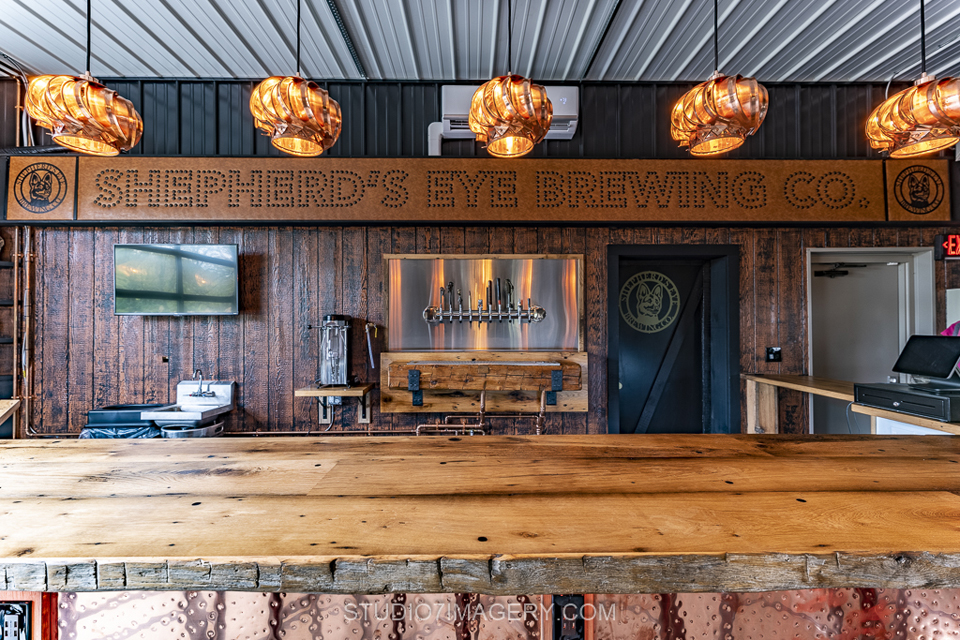 A full-length unique wall feature namepiece is located behind the bar. This piece was made from twenty-two-foot faux-leather stretched across a one-half-inch-thick PVC backer panel with one-inch upholstery nails spelling out the Shepherd's Eye Brewing Company name.
"We then flanked this piece with two UV-printed faux-leather panels featuring their logo," says Stephen.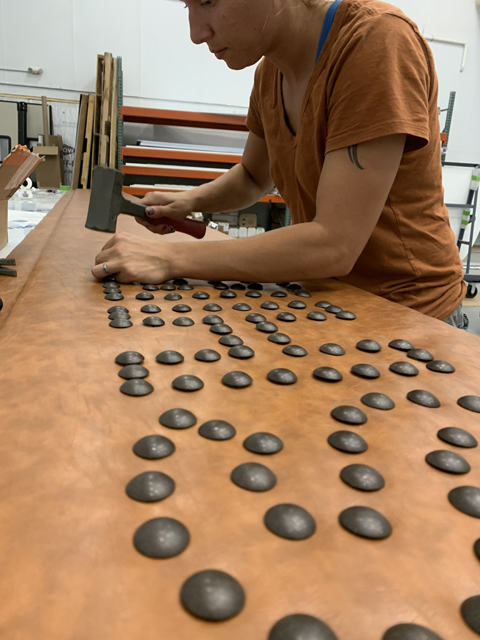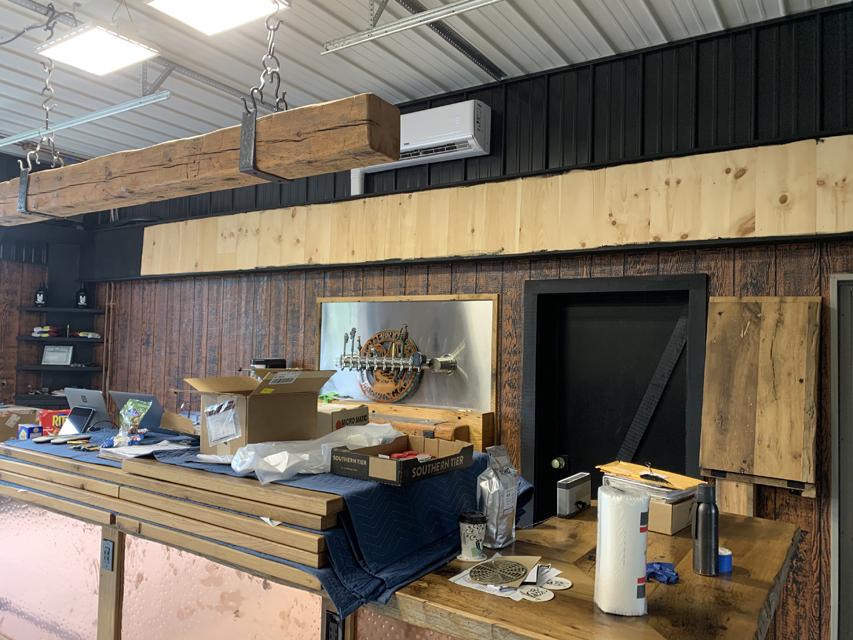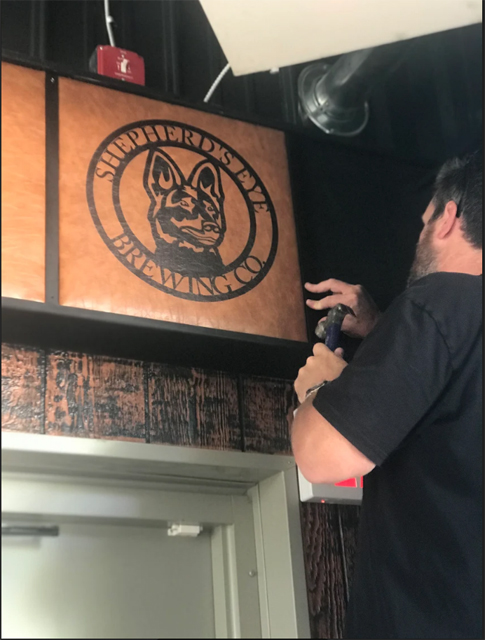 Fun, sixteen-inch-diameter beer caps covered with colorful graphics featuring labels of the brewery's various craft beers are also featured on the walls.
Raven Lake Studio bought plain, pre-produced bottle caps off the Internet, and Rebecca distress-painted them.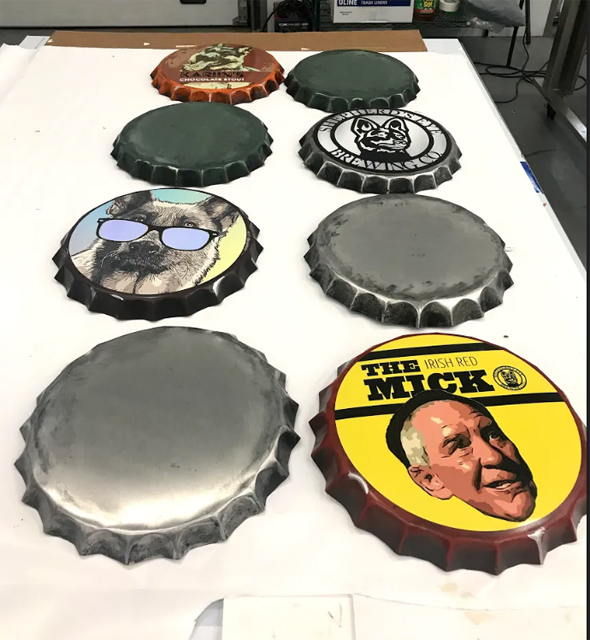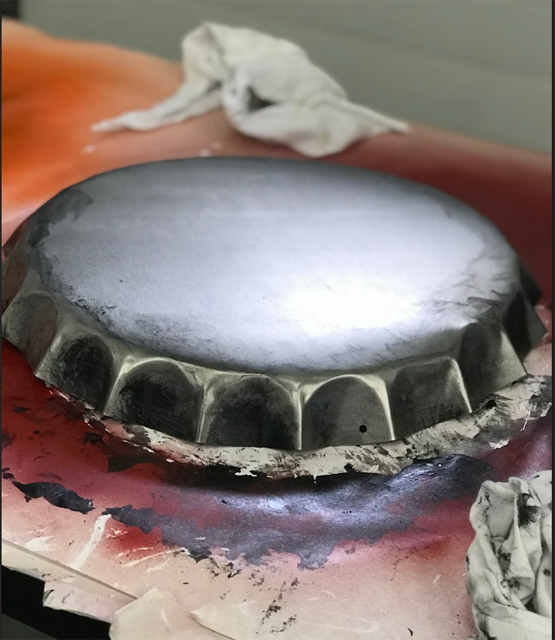 Stephen then printed out the beer label graphics using their HP Latex 570 printer and applied these vinyl prints to each cap.
"The [caps] are hanging on hooks inside the brewery, so they can be easily repositioned as they add more beers," says Stephen. "And we'll add more labels to them when they do so."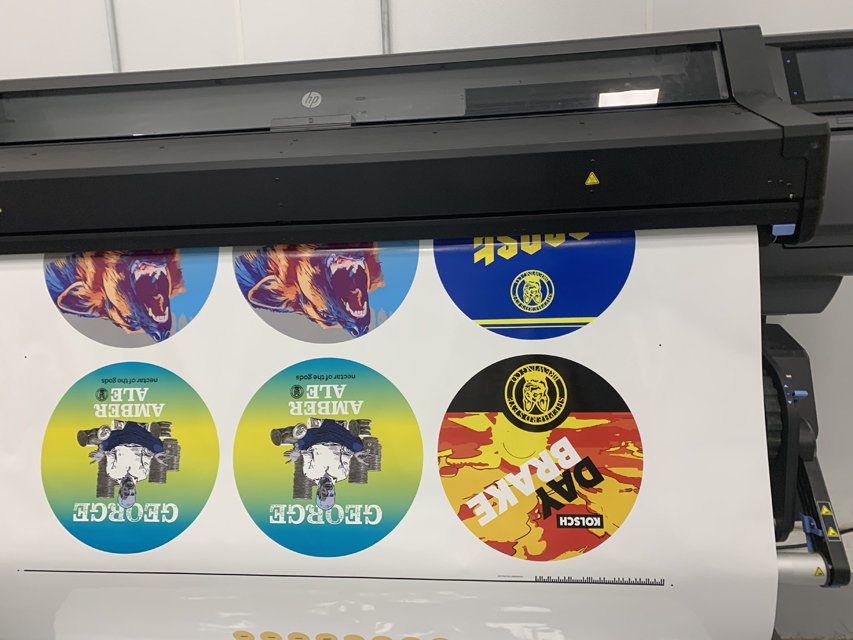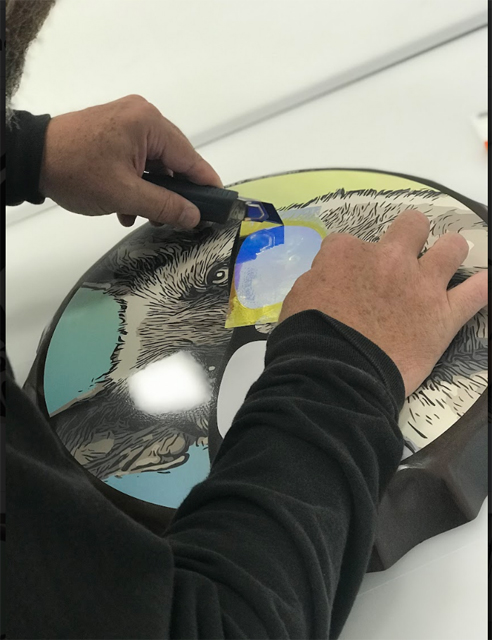 Wall décor designs were created as vector files using Illustrator.
"Nanette wanted to incorporate [Zeus], the logo, and scenes from the outside the brewery into the murals," says Stephen. "So she chose to add 'hops' as an element of the design (with Zeus hopping), and then the dog seeing his logo reflection in the pond."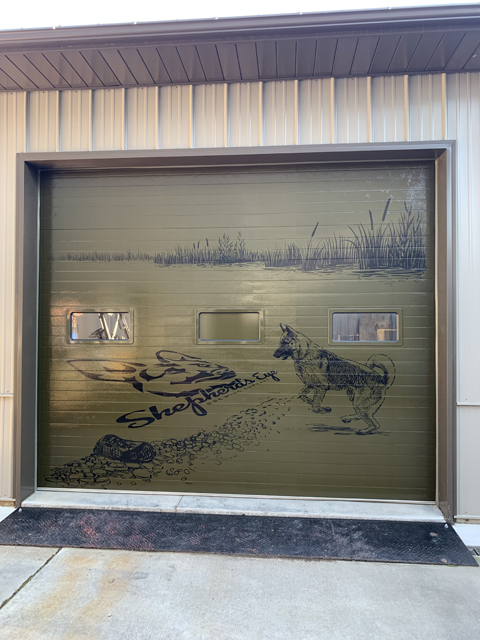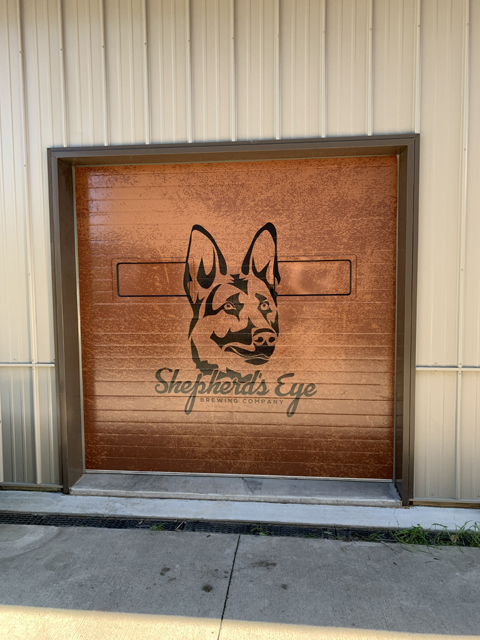 Vinyl logos are featured throughout the brewery.
Raven Lake Studio wrapped all the doors with them using Avery MPI 1105 printed out via their HP Latex 570 printer and laminated on a GFP laminator with a Luster Laminate.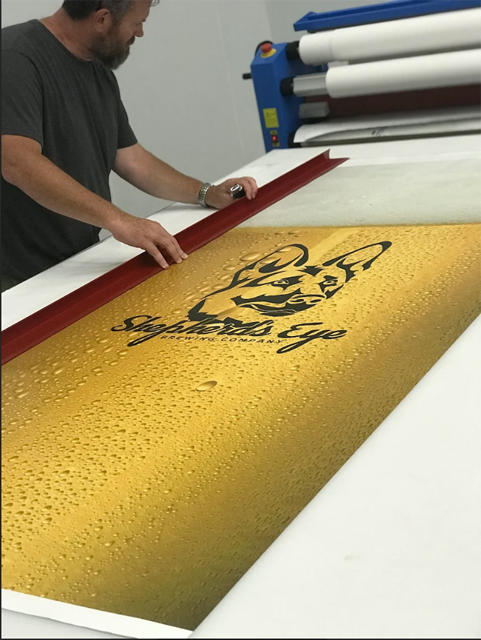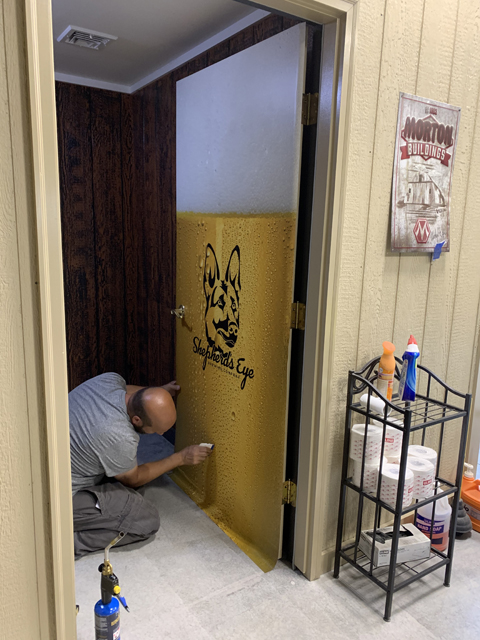 Meanwhile the large brewery logo positioned prominently on one of the outside walls was produced on Oracal 651 Gloss Black film and then cut with a Summa S3 flatbed cutter.
"Because the walls were corrugated metal, we stretched the logo about 20 percent wider to compensate for this," says Stephen.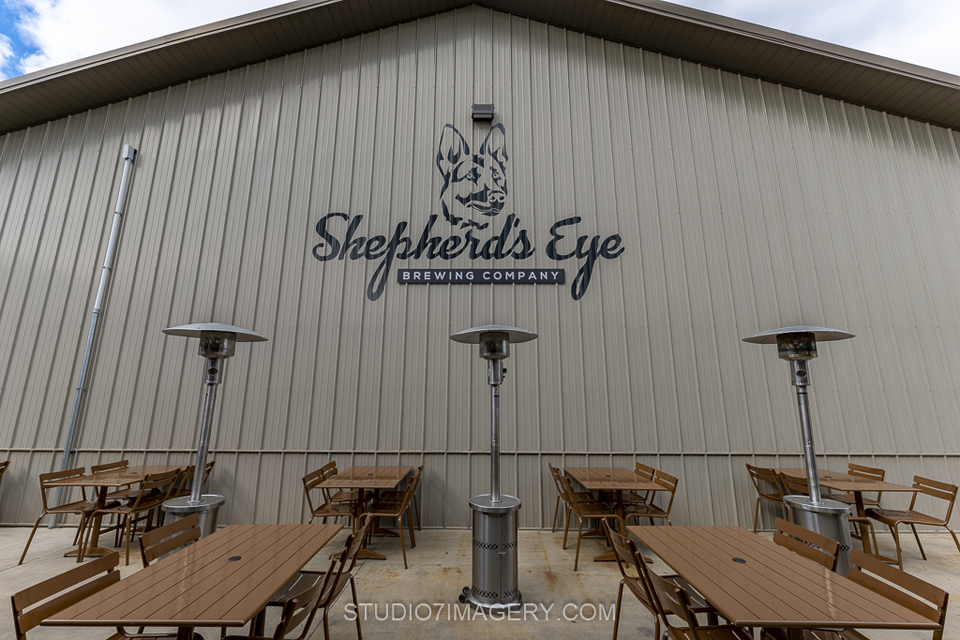 Finally, since one of the brewery co-owners happens to also be an avid Harley-Davidson® rider, as a complementary add-on, Raven Lake Studio used their Canon Arizona 1260 GT flatbed printer and MultiCam Apex CNC router to create the brewery's name out of 1/8-inch Chrome Mirrored DIBOND® in the shape of the Harley-Davidson logo.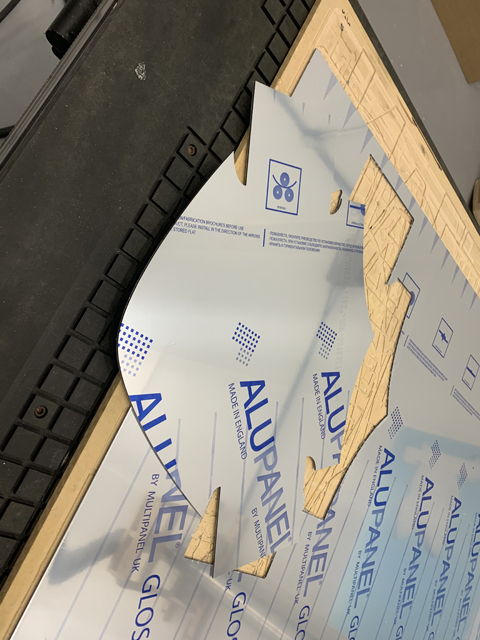 Conclusion
Stephen says that his shop enjoyed working on this project not only because it was "fun" and "creative" but also since the client was easy to work with here.
"They were very laid back and trusting of our process, which allowed us to push the envelope," he says. "The grand opening was a huge success, as were the buzz and compliments about our work. And to top it all off, their beer is amazing!"
—Jeff Wooten