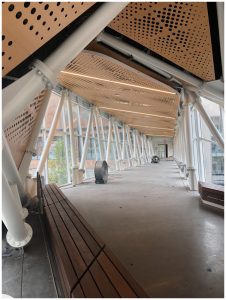 In 2019, the Ballston Quarter Pedestrian Bridge in bustling downtown Arlington, Virginia replaced the Festival Bridge built in 1996. This new walkway connects the Ballston Quarter (mall) and the Ballston Exchange (mixed-use office/retail building). Architect StudioTECHNE of Cleveland, Ohio reached out to Laminators Incorporated regarding the use of Omega-Bond® panels for the ceiling and wall section of the interior walkway of the pedestrian bridge.
While their composites are best known in the architectural and sign industries, Laminators also works with several other builders and manufacturers to provide high-quality, customizable composite panels that can be used for their specific interior and exterior applications, like the Ballston Quarter Pedestrian Bridge.
Laminators, Inc., fabricated over 200 pieces of 2-sided white Omega-Bond Premium aluminum composite material (ACM) panels to the exact specifications of the project design. The 3mm (overall thickness) Omega-Bond Premium panels feature a .012-inch aluminum skin thickness and higher quality plastic core that is designed and best suited for fabricated projects. The thicker gauge aluminum is optimal to achieve best results for shapes, angles, various size holes, etc. needed for the Ballston pedestrian bridge.
Maximum durability is achieved since the solid polyethylene core has fewer impurities and lesser recycled content, which allows bending and cutting without breaking the core during the fabrication process. The .012-inch aluminum provides structural strength and allows 3-dimensional shapes to be achieved without an inner support or frame.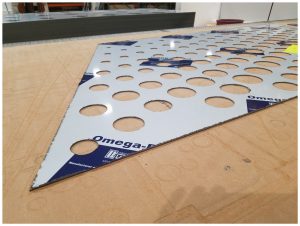 The Omega-Bond panels also have a Class A fire rating and passed ASTM E84-16 Standard Test Method for Surface Burning Characteristics of Building Materials.
Once fabrication was complete, the panels were sent to FASTSIGNS in Rockville, Maryland where they digitally printed a wood grain look on each panel to accomplish the chosen design of the decorative ceiling and walls.
Clark Construction Group of Arlington, Virginia and Maryland Applicators, Inc., of Rockville, Maryland led the construction and installation phase of the project.
For additional information, visit www.LaminatorsInc.com.