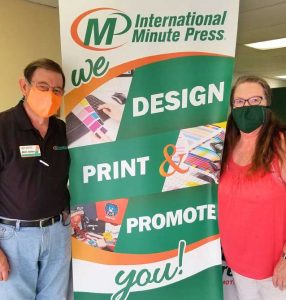 During the COVID-19 pandemic, local business owners like Pam and Bill Joles of the International Minute Press printing franchise in Gastonia have worked harder than ever to adapt and serve their communities. Pam says, "We have always been right here, and we remain in service to our local business and community every day, all day."
For Pam and Bill, orders from clients did not disappear since print is an essential business, and their full-service design, printing, and marketing center was allowed to remain open throughout the pandemic. Their "roll with it" attitude helped lift up other businesses who depended on them.
"There was never a thought that we would stop working on behalf of our clients," says Pam. "We prepared ourselves for anything during this unpredictable time. We don't have a big team, but we talk every day about area challenges and solutions and finding new ways to keep COVID-19 guidelines respected and orders coming in."
When International Minute Press in Gastonia received a rush order from local schools for thousands of educational packets, they jumped right in to help.
"Everything was shutting down when the school system came to us and told us, on a Saturday morning, that they needed educational packages together by Monday," says Pam, noting this was the defining moment for their business and showed just how essential printing can be for the local community.
Her team worked back-to-back twelve-hour weekend shifts with all of the latest print technology up and running. By Monday morning, thousands of packages were ready on behalf of area children.
Pam also signed up with "Reboot, Recover, Rebuild" (R3) and is listed under "marketing services" in Gaston County. "The R3 Program is funded by a North Carolina State grant through community colleges," she says. "We are providing marketing strategy counseling so small business owners can get their products and services out in the marketplace, starting with branded door hangers, EDDM, rack cards, flyers, coupons, and brochures.
"It doesn't pay a lot, but we are building ties by getting to know new people and adding more all the time. I advise people to sign up for R3 for their own savings if they call us first. Then we help them build up their business strategy right away."
For example, a local tire company came to Pam for advice, and she told them to expand on the use of branded hand sanitizer. "They are giving out hand sanitizer with their logo along with service cards with the promise that customers can return and refill the empty bottles from a dispenser in the shop," she says. "This way, people are returning to their location regularly. He ordered 500, and people are loving the idea."
As the sun starts to shine on the new business day, Pam and Bill help shape it. "Face masks, shields, and gloves are going to be part of apparel for a while, so most businesses are smart to have it all tell their company stories. Companies, colleges, and local schools will have more spirit and success with their logos imprinted on PPE when possible."
Pam says they are following government guidelines and even looking ahead on behalf of the people in their area. "We will be making customized labels using our dye sublimation machines and wide format printers to create face shields," she says. "The addition of these shields is helpful behind the counter and maybe even to make eye-to-eye networking possible sooner."
By Chris Biscuiti
Photo by International Minute Press in Gastonia.