COVID-19 affected many areas of the sign industry, and the vehicle graphics market was not excluded.
One of the immediate effects of the pandemic has been in the way shops interact with customers. "Shops have implemented precautionary measures when addressing customers face-to-face, in the vehicle hand-off, etc., to ensure that proper sanitization guidelines are followed," says Kristin Lanzarone-Scribner, owner/operator of WrapStar Pro of Citrus Heights, California and a PRINTING United Alliance PDAA Member and Women in Print Alliance Committee Member.
It's also affected the supply chain. As print and wrap shops reopen, one of the biggest challenges owners find themselves dealing with is sourcing goods.
"The biggest issue we are now forecasting is a shortage in supplies," says Daniel Nava, owner of Travel Wraps Graphics/IBOW Training of Franklin, Indiana and a PRINTING United Alliance PDAA Committee Member. "Knifeless tape is on back order, vinyl is taking longer to get in stock, and the supply of new vehicles is dwindling as the automotive manufacturers shut down or decrease staff and production due to COVID-19."
Whether wrap shops stayed open during the shutdown largely depended on where they were located.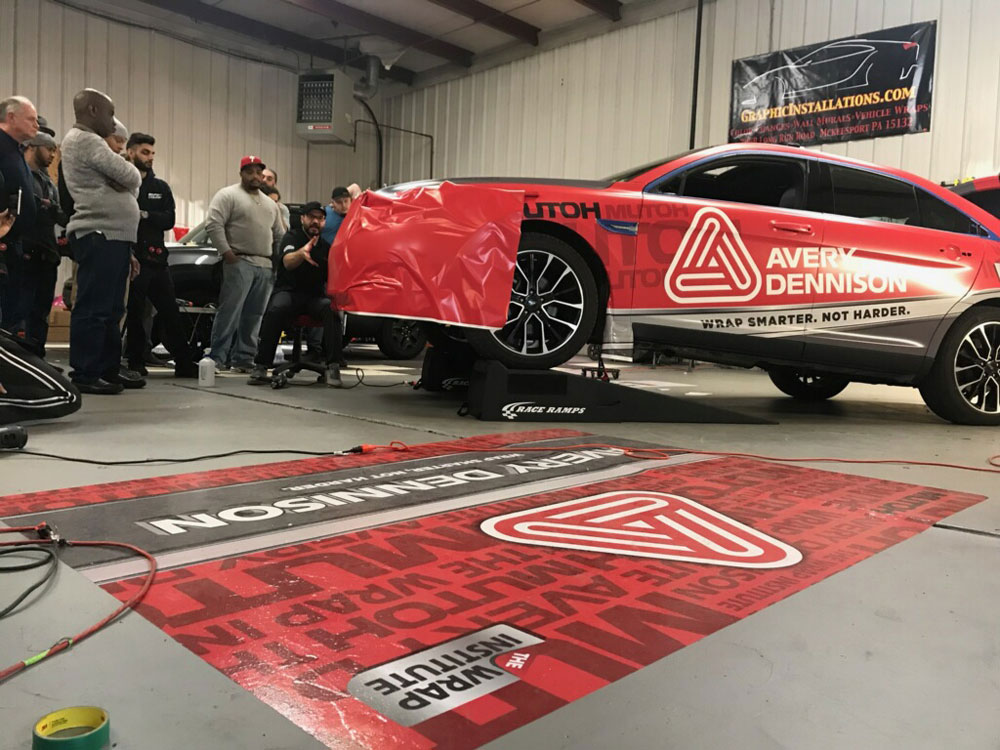 "There were classifications that certain shops could still operate under the umbrella of 'essential business,' while others were forced to close their doors completely. It really came down to where the shop was located throughout the U.S., as rural areas were less likely to be affected," says Ryan Allen, regional technical specialist at Avery Dennison Graphics Solutions. "The vehicle wrap industry is resilient though, and when the surge in essential signage requests hit, they were ready. Some vehicle wrap shops purchased new equipment to support the demand for the essential signage."
That demand for branding and COVID-19 signage was a boon for the wrap industry.
"These companies that have survived have required complete floor-to-ceiling social distancing, COVID-19 prevention graphic packages," says Josh Culverhouse, Graphic Innovations market manager at ORAFOL Americas, Inc. "A lot of these companies have also taken the opportunity to reinvent themselves and their branding, so this has escalated the importance of signage and graphics companies."
As part of that reinvention, the demand for fleet graphics has also shown growth.
"We have experienced a dramatic rise in commercial wrap demand," says Pete Kouchis, owner of VisuCom Signs & Graphics of Mokena, Illinois and PRINTING United Alliance PDAA committee co-chair. "Clients indicate that the slowdown in business has afforded them more flexibility to pull vehicles out of service."
While some of this reinvention is spurred on by necessity, much of it is the result of loans and stimulus money.
"When businesses received their PPP funding and/or pandemic SBA loans, many jobs came in for fleet wraps for marketing write-offs," says Lanzarone-Scribner. "Also there is a shortage in commercial fleet vehicles. Starting with the 2019 government shutdown to employee strikes (Chevrolet) to COVID-19, production of new vehicles has been extremely slow and lagging behind. Therefore, businesses are buying colored trucks instead of white trucks and then getting full wraps on those."
Commercial wrap design has also undergone a change.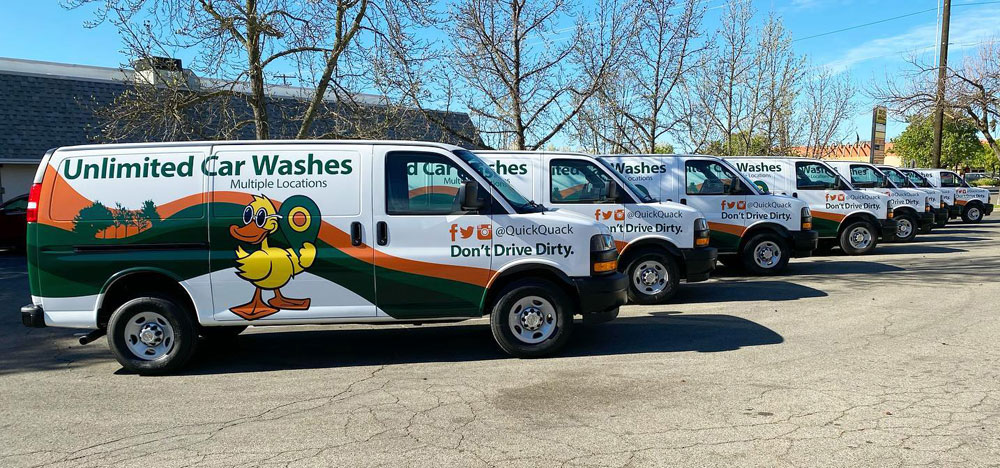 "In commercial vehicle wraps, designs are becoming more professional," says Adrian Cook, digital print marketing manager at 3M. "Businesses that want to portray a trustworthy image are skipping basic cut letters or gaudy colors and images and instead opting for a professionally designed, elegant full wrap."
Culverhouse agrees, saying, "We're seeing an increase in solid-color wrap films being utilized for commercial wrap applications. Simplified, clean messaging is definitely trending in this space. Accompanying the solid-color base wrap films are spot graphic overlays utilizing print-and-cut logos or simple plotter cut lettering, striping, etc.
"There's no need to cram an entire brochure or Web site worth of information into a vehicle wrap design. Allow a pedestrian or motorist an opportunity to quickly understand what the business has to offer. Accompany this message with a phone number and a Web site address."
Culverhouse also advises ensuring the most important information is not obscured by the design.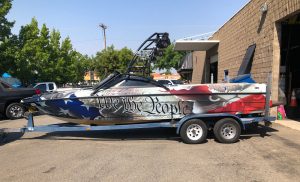 "Don't allow the background images, textures, or elements to overpower the message you're trying to help your client convey to their customers when engaging the vehicle wrap," he says.
When designing commercial fleets, Lanzarone-Scribner uses what she calls "the contrast effect" to ensure that the most important information stands out.
"I use this as a presentation to my clients to show how we make sure their logos and important information is displayed to the viewers the way it should," she says. "When I complete a design layout in color, I then convert it to black and white to see if the blending of gray, white, and black areas contrast from each other (e.g., Is the logo contrasted off the background design and color? Is the phone number or Web site legible?).
"This test will make sure the logo isn't meshed in with the background design or colors."
On the consumer side, business has been mixed as previously trending products like color-change wraps take a hit.
"The eastern part of the United States saw the color-change market demand drop dramatically, as customers had less spending money due to job loss," says Allen.
As a result, some are sticking more closely to budgets and cutting back across the board.
"Some customers have become more cost-conscious and therefore are choosing spot graphics and decals instead of full wraps," says Cook, "but more often, we see customers delaying their purchases until economic conditions and market confidence improve."
On the other side of the coin (quite literally), many consumers are spending recently received funds on wraps.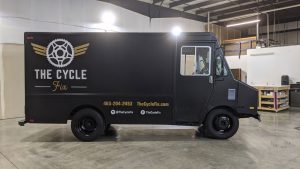 "When the unemployment and stimulus checks were distributed, many wanted to have automotive customizing work done like chrome deletes, hood and roof wraps, stripes, etc.," says Lanzarone-Scribner.
Nava says COVID-19 has actually opened the door for more custom designs.
"The stimulus money is partially responsible for this, but I think more importantly, people have found the time to do things that make them feel good," he says. "The current trends seem to be a lot of custom designs printed on different mediums.
"Color change always has its place, however, wrap companies are working harder to push the boundaries of custom automotive. We are seeing printing on chromes, reflectives, and color-change films; and some of the manufacturers are offering clear wrap films to showcase the vehicles paint as well—a 'tattooed' look.
"Mixed media also continues to be on the rise, which is bringing color change with printed overlays, textured laminates, and more."
Allen has noticed hood and roof wraps done with a gloss black film are also becoming popular.
"We have also noticed an uptick in satin finish color-change wraps. This is primarily because they are aesthetically pleasing and satin materials are much easier to maintain compared to matte finish materials," he says. "Even the two-faced wraps are maintaining in popularity, which means one side of the vehicle is wrapped in a different color or graphic than the other side."
Of course one of the tenets of wrap design that hasn't changed is the need to understand the customer.
"First and foremost, know what your customer wants. Get into their head," says Nava. "Ask questions outside of, 'What is your company name?' or, 'Do you have a logo?' Ask questions about their hobbies, favorite professional teams/logos, and why? We have a list of questions that we ask our clients when it comes to design."
One of the other things to consider when designing is to be sure you're creating a graphic that fits the vehicle type.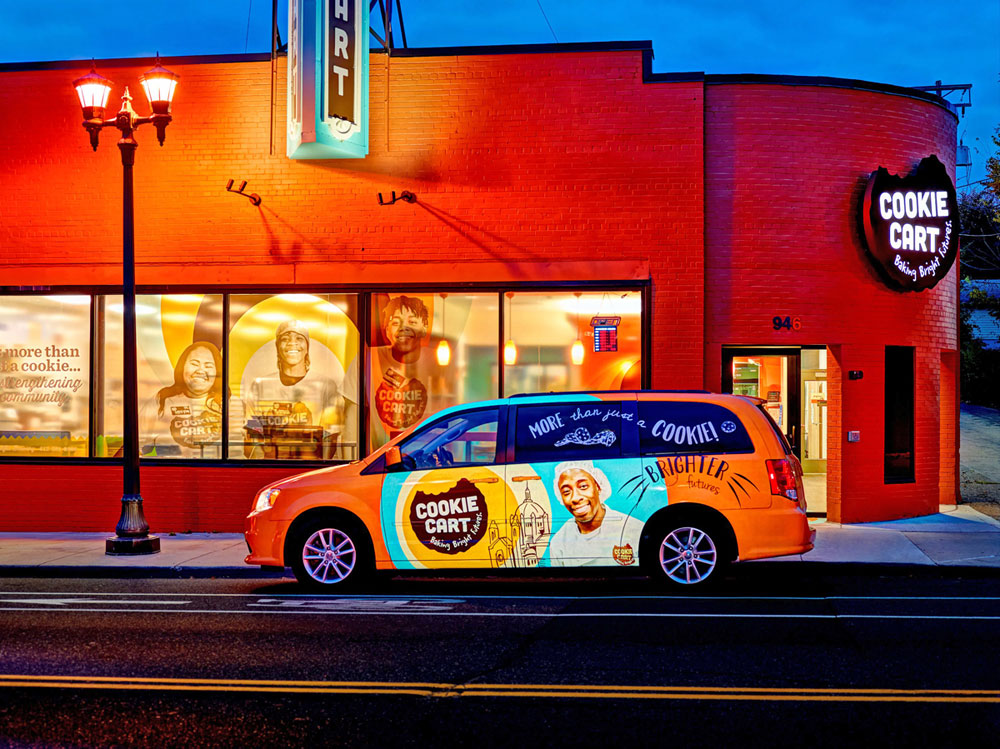 "When designing graphics for a new vehicle type, it's worthwhile to involve the installer to get on the same page," recommends Cook. "Know the body lines, the curves, the dimensions, and the panels and create a design to fit it so you don't have alignment or overstretching issues."
Lanzarone-Scribner says a lot of preplanning can be done during the designing and fabrication stage, as well.
"I do a lot of pre-seaming or pre-hinging panels on my production table, cutting hours of trying to align nine-foot panels on a freight truck or 200-inch-long horizontal panels on a van by myself," she says. "With the proper tools and extra production work time, an average Chevy Express van full wrap takes me four hours to wrap, solo, and a twenty-four-foot box truck, three hours, solo."
By Ashley Bray