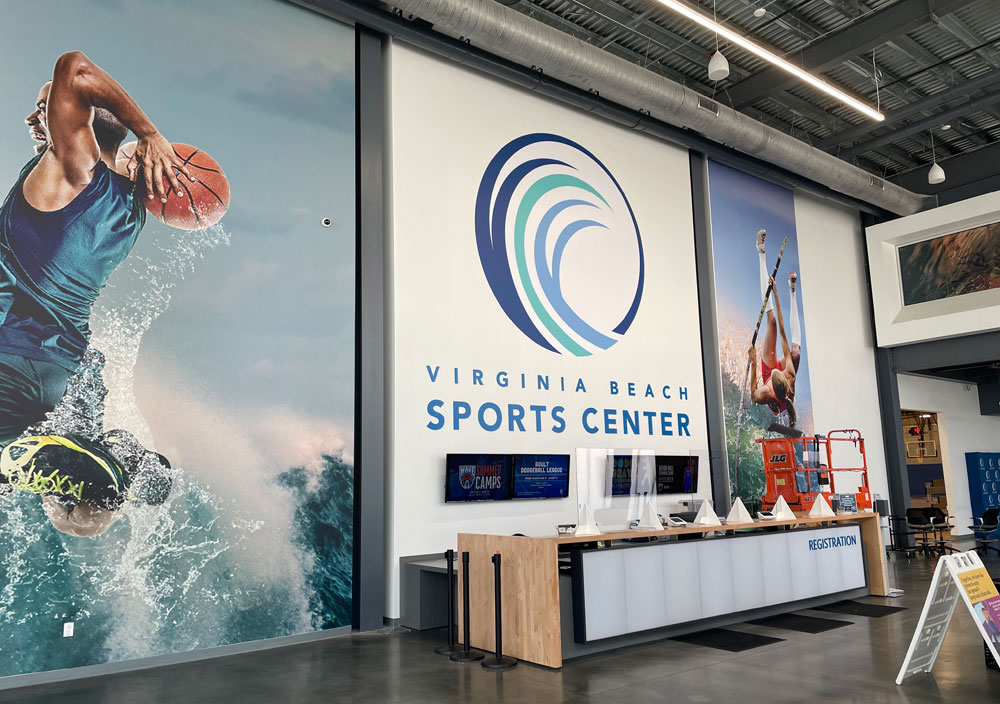 With 285,000 square feet of space that includes twelve basketball courts, twenty-four volleyball courts, a 200-meter hydraulically banked track, seating for 5,000 spectators, and more, the state-of-the-art Virginia Beach Sports Center is Virginia Beach's largest indoor sports complex. A newer facility, the building itself is impressive, but when the venue's management team wanted to make an even bigger splash, Richmond-based design and print agency, BIZPORT, was thrilled to be in on the action.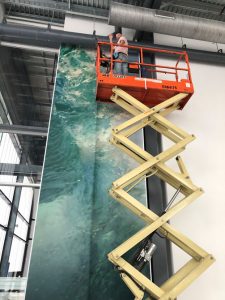 Backed by 30 years of expertise, BIZPORT prints and installs a variety of large format graphics solutions. For this project, BIZPORT was asked to help create a huge statement-making graphic and apply it to a 26-foot by 75-foot interior wall at the Sports Center's main entrance.
With a project of this magnitude, BIZPORT knew Mactac's IMAGin® ROODLE™ was the way to go to ensure superior material stability and performance. After testing the material on the wall surface, the BIZPORT team printed the stunning ROODLE graphics edge-to-edge using one of the company's award-winning Canon printers – the Canon Colorado 1650. The wave logo in the center of the graphic was plotter cut into a twelve-foot decal. Two installers put the graphics up, overlapping each panel by two inches, in just 3.5 days.
Thompson adds that even up close it's even difficult to see where the panel overlaps are located. He says Virginia Beach Sports Center was so impressed with the final project that the BIZPORT team is also reviewing other wide-format graphics opportunities in the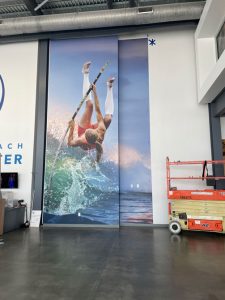 building and for other businesses.
ROODLE (RO628) is a 6.0-mil matte white, semi-rigid, easy-to-handle multi-print media designed for wide-format solvent, UV, and latex printing, as well as screen and offset printing. It features a 90# SuperFlat™ polyester-coated Kraft liner and a removable adhesive that is perfect for smooth or tiled indoor wall murals or posters, indoor and outdoor signage, bumper stickers, and other removable graphics meant to be printed flush to the edge. It is phthalate-free and meets REACH and RoHS compliance.