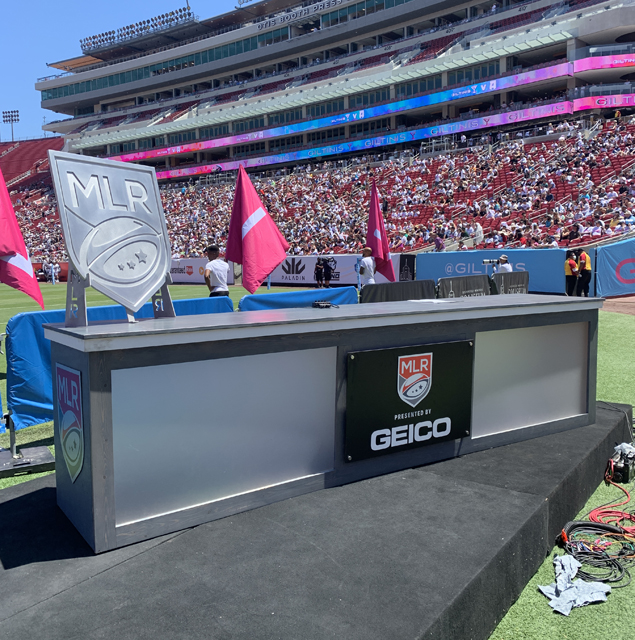 The expert team at Signs By Veterans in North Charleston, South Carolina recently collaborated with KEPsake Kreations of Spring Hill, Tennessee to build and decorate a customized broadcast desk with easy-to-changeout signage that was seen by millions.
The desk was featured on the CBS Sports Network during pre-game and half-time segments of the Major League Rugby (MLR) Final between the L.A. Giltinis (Los Angeles) and Rugby ATL (Atlanta) teams on August 1.
Signs By Veterans Owner Justin Myers focuses on hiring and guiding U.S. Armed Forces veterans at his shop in the art and business-side of sign making, and it was his company's marketing director, Bradley Yandle, who connected with friends in his network and was able to gain the advantage in securing this project. Yandle is not only a U.S. Marine veteran, but he was also team captain for the Ole Miss University rugby team and played for the Austin Blacks rugby club in Texas.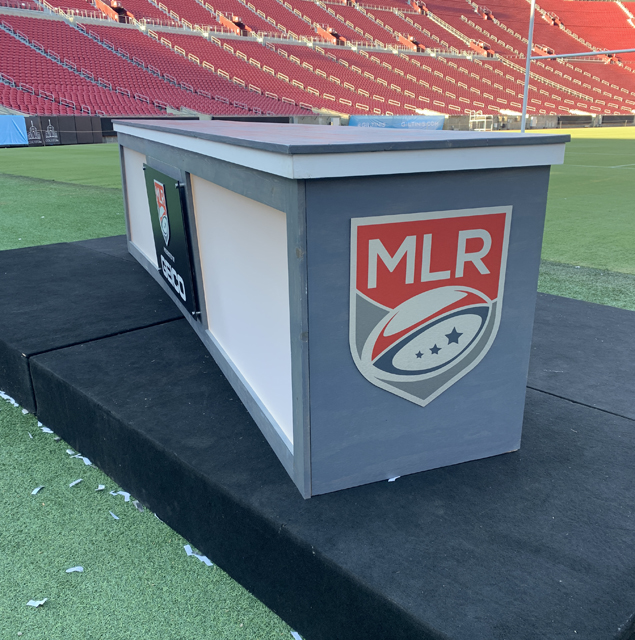 On Air!
The gray-framed desk used for the MLR Final was made from solid wood. It measured twelve feet long, thirty-six inches tall, and thirty inches deep.
Translucent, non-glare, frosted acrylic face panels with internally backlit white LEDs were positioned on the right and left front sides of the desk. "I think frosted acrylic gave a better broadcast appearance with its cleaner, easier look," says Myers. "And using non-glare acrylic meant that the studio lighting or the sun wouldn't affect the image we were trying to portray."
The black background centerpiece sign was made from 3-mil aluminum composite material  (ACM) and attached to the front center of the desk via stand-offs. It hosted a Velcro®-removable sponsor panel (with the name of the particular company sponsoring that portion of the telecast), brushed aluminum DIBOND® letters, and a raised direct print DIBOND MLR shield emblem.
Myers is a huge fan of DIBOND. "It's American-made and twice as thick as Chinese 'knock-off' products," he says. "We're an American-led and Veteran-owned company. American-made products are extremely important to us and what we provide to our clients."
Signs By Veterans worked with The Sign Chef to print onto the brushed aluminum. They used Vanguard Digital Printing's VK300D flatbed to achieve this in a short amount of time and with exceptional adhesion. "I want to thank Dave Pich of Vanguard Digital Printing for coming through for us here," says Myers.
According to Myers, the main reason his shop used brushed aluminum ACM for this panel is that they are able to achieve a metallic-looking effect when printing directly onto the brushed aluminum. "We leave it as a spotlight print so that we can capture the translucency of the inks against the metallic material," he says. "It reflects in the sun and creates a beautiful, shimmering sheen."
Signs By Veterans printed up separate sponsor logos for the pre-game show (sponsored by Guaranteed Rates) and the halftime show (sponsored by Geico). "We made multiple panels so they could easily swap out the images as needed," says Myers.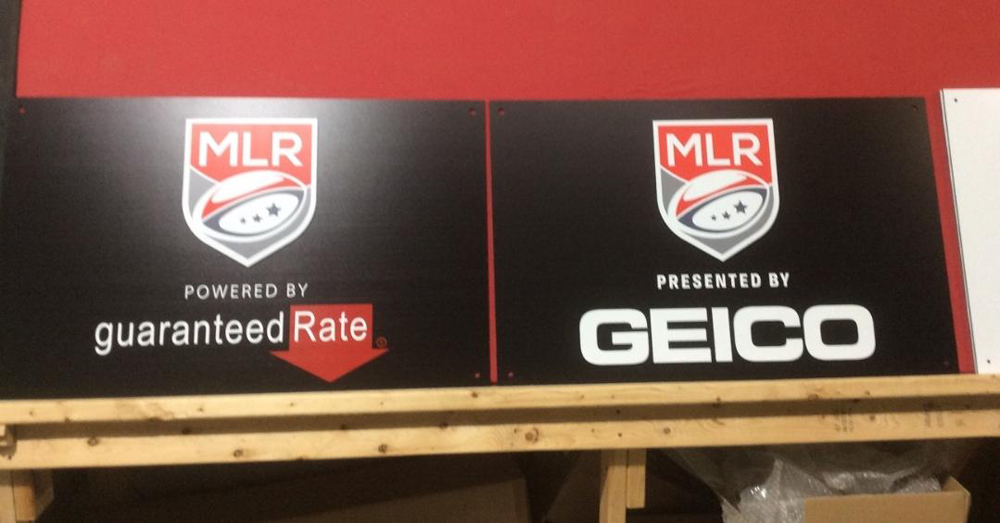 Putting the Desk Together
The finished desk design was actually one of three options drawn up by Nikki Newsome, creative design director at Signs By Veterans, to show CBS and MLR officials. Other desk conceptualizations included one featuring mixed wood with metal frames and another with a light wood accent and a clear Lexan® backer.
"Drawing up the concepts for the MLR Final broadcast desk not only pushed my boundaries as a designer but reaffirmed my belief that every new project you encounter is a chance to grow your mind and skillset," says Newsome.
Once CBS and MLR officials made their design selection, Myers reached out to Andrew Polinski, owner of KEPsake Kreations, a retail shop that works with metals and wood, to engineer the desk. (Note: Myers and Polinski previously met up through mutual connections involving projects needing both wood and acrylic.)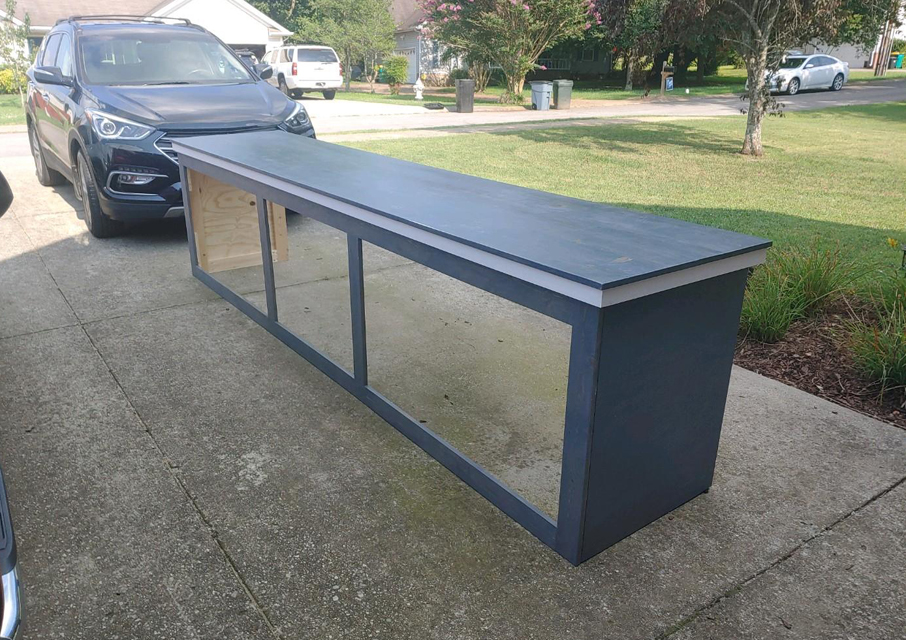 Myers and Polinski spent a lot of time together during the drawing stage using Adobe software and narrowing down what they were going to do and what materials they were going to need. Myers and Signs By Veterans would handle all the signage and decorative portions, and KEPsake Kreations would build the desk.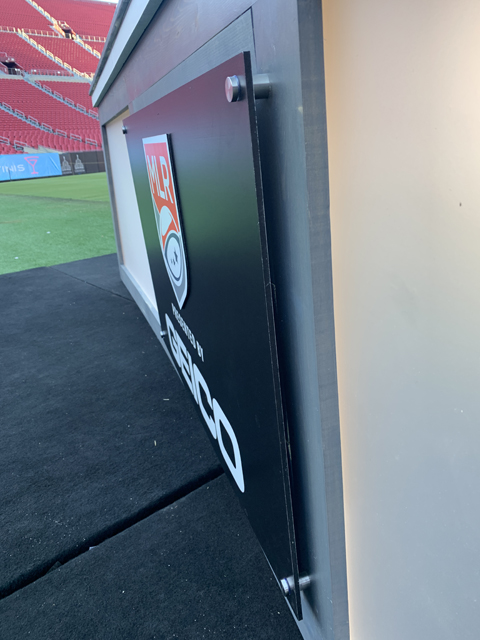 Both men acknowledge that this project wasn't really about production challenges but instead being perfect in their trade—in other words, first figuring out how to make the desk look its best and proceeding from there. This meant making certain the measurements were correct and everything was symmetrical all the way around.
"So where we were planning on using 1x4s for the top portion," says Polinski, "we instead had to use 1x6s so we could have a two-inch cover and give us a four-inch gap in between."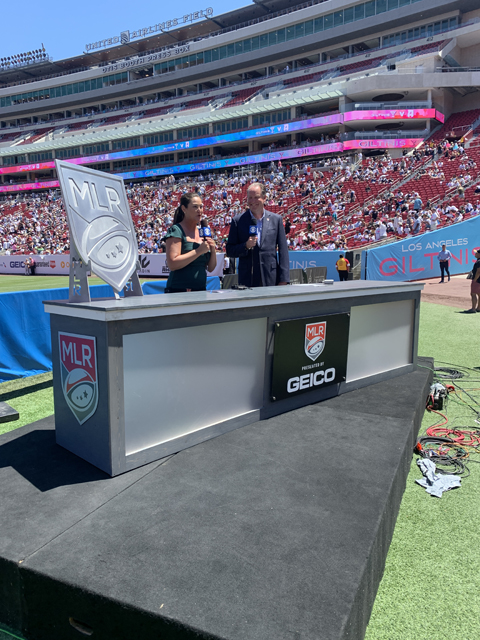 There were some physical challenges. Polinski's shop typically builds six-foot desks. "However, due to COVID-19, [the client] needed this desk to be twelve feet," he says, "and our wood-making shop is only ten feet in length! So two feet of the desk were hanging out while we were trying to work around it."
Polinski was excited to work on this project because it really pushed his shop outside their comfort zone. "Typically the customer will tell us that they want a brown color for their desk, and we'll show them the brown that we can do for them," he says. "In this case, the client already had the certain grade of colors that they wanted for it, and it was up to us to keep this color match all the way around—which we were able to do."
The Clock Was Ticking!
It was imperative that the finished custom desk be delivered to the site of MLR Final by July 30 in time for the August 1 game.
Even though Signs By Veterans had two full weeks to put this entire project together, because the playoffs were still ongoing at the time, Myers and his team weren't quite sure where the Final was going to be held—in this case, either Atlanta or Los Angeles.
"Since the [number-one seed] L.A. Giltinis won at the last second against Utah, that pretty much sealed the deal that they were taking the game to The Coliseum in Los Angeles," says Myers.
Because of the tight timeline, Myers and Polinski had to work quickly on production so that the desk could be driven from Tennessee to Los Angeles in time.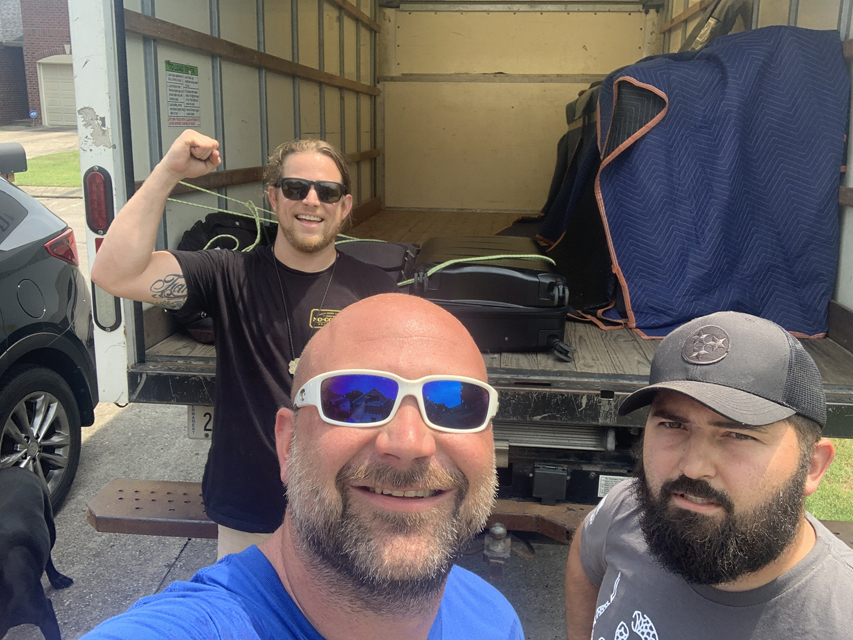 The two fabricators actually treated the deadline from the beginning as if the desk was going to end up in Los Angeles. "If it was going to Atlanta, we would have five extra days of production time for it and still drive it down the same day," says Myers. "But since we worked up our production schedule for Los Angeles, we just dove straight into working on everything."
Polinski was impressed they were able to complete such a quick turnaround, noting his three-person shop worked extra hours each night. "Typically, in our market, we're four to six weeks out for completion," he says. "But we had to finish this desk in four days, so [Myers] could deliver it."
Signs By Veterans rented a box truck, packaged the removable panels, and loaded up the wood desk at the KEPsake Kreations shop.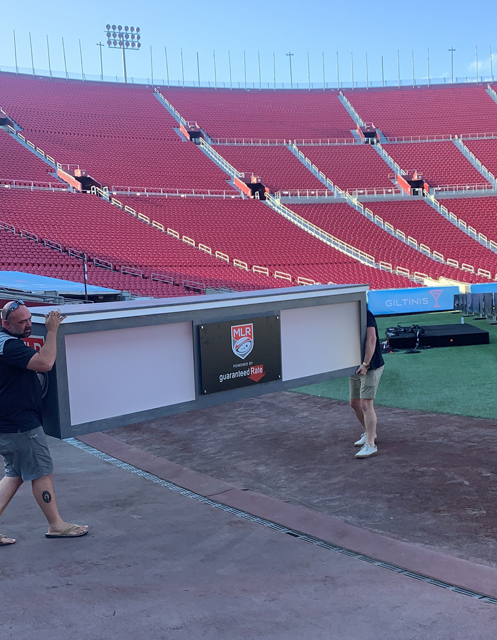 Myers and Yandle made the cross-country trip together. "We met up with another Marine I know in Pasadena and borrowed tools from him so we could put everything together in The Coliseum's parking lot," says Myers, noting that the translucent face panels slid straight into wooden tracks Polinski had built into the desk.
When Myers and Yandle arrived at The Coliseum, the stage set had already been put together and all the wiring work finished. "We just wheeled in the desk from the parking lot and then lifted and placed it into its intended spot for any final touches," says Myers.
Conclusion
Signs By Veterans ended up delivering an immaculate custom desk for the MLR Final—on time and on budget. "My biggest concern wasn't completing the project, because anything can be done in a day," says Myers. "It was more about the logistics of getting it from Tennessee to Los Angeles in time for the match and not costing $10,000."
Newsome says working on this project was an amazing opportunity. "It is always a delight, as a designer, to see an idea on the computer screen transform into a beautiful and tangible product," she says.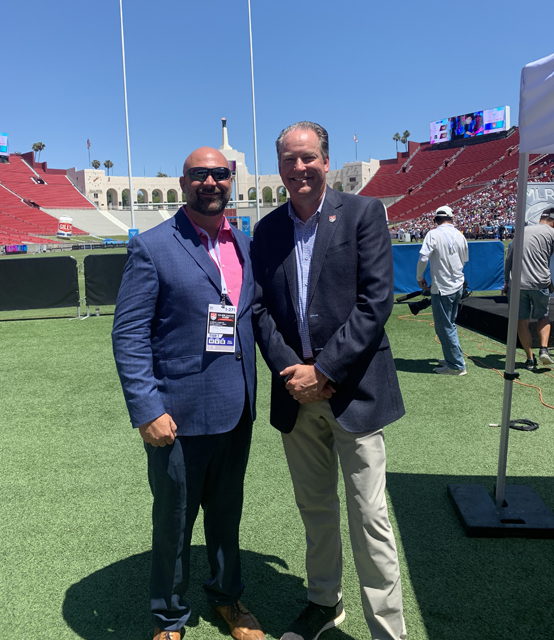 Impressed with the results, MLR is excited to continue working with Signs By Veterans in the future. "MLR Commissioner George Killebrew approached me personally and thanked us for putting together an amazing broadcast desk," says Myers.
The custom desk is not a one-off and is actually going to be re-used for Next Level Rugby broadcasts on Fox Sports channels. Because of this, Yandle packed it back into the box truck at The Coliseum and drove it down to the network's broadcast studio in Austin, Texas. "A couple of his veteran buddies helped him unload it and put it up in the studio," says Myers.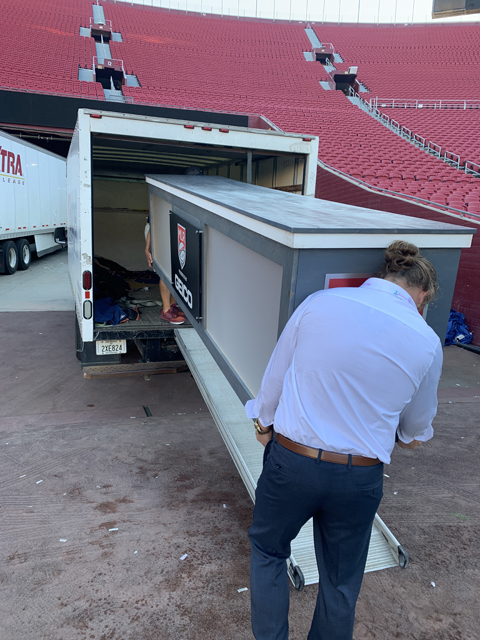 Myers says it was an unbelievable honor for his company to be selected to work on this desk for MLR and CBS Sports. "They were highly responsive and super-communicative and made the process extremely easy, despite the circumstances of the rushed timeline and all the logistics that had to take place to make this happen," he says. "I was also honored to be a part of the rugby community and their great mindset warriors."
Polinski adds, "We want to thank Signs by Veterans for allowing us to be a part of the project and trusting us to be able to knock out this desk build in such a short time frame."
—Jeff Wooten