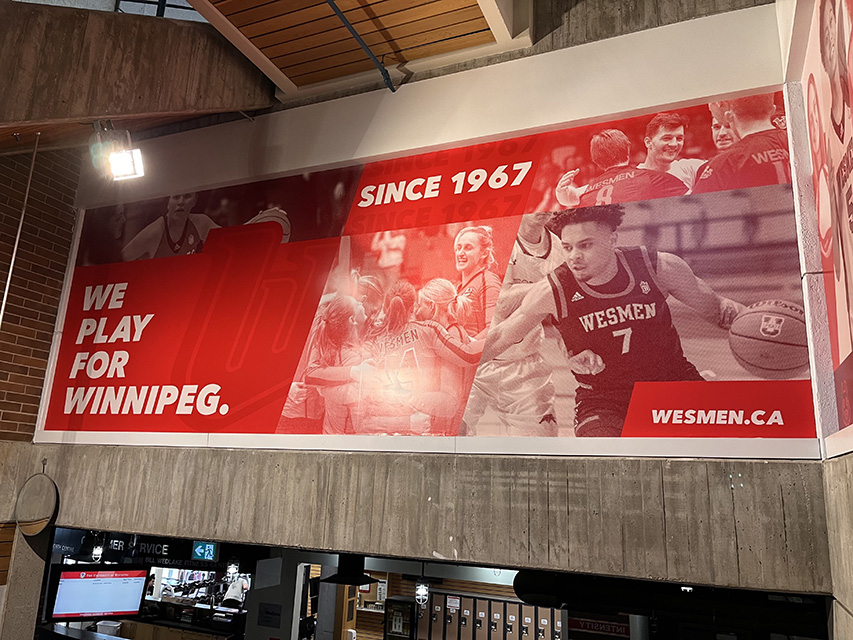 Winnipeg-based professional print provider Lea Marc Inc., recently used Drytac Polar Grip and Drytac ReTac Smooth 150 to create a striking wall mural series for the athletics department of the University of Winnipeg.
The Canadian company has been working with the local university on a wide range of projects for more than seventeen years. The latest project celebrated the success of the Winnipeg Wesmen sports teams, with wall graphics being produced to decorate surfaces inside the university.
Having worked with Drytac materials for over five years, Lea Marc was already up to speed on the benefits of using these materials for both interior and exterior graphics. However, the challenge in this project was to account for the different surfaces that the murals would be applied to.
Lea Marc selected Drytac Polar Grip for the graphics on brick walls and ReTac Smooth 150 for murals that were placed on concrete walls inside the university building. The company purchased both of the materials from approved Drytac distributor, ND Graphics Winnipeg Manitoba.
Working with the marketing department at the University of Winnipeg, the wall mural graphics for the athletics department were prepped and printed in-house using an HP Latex 360 before being applied to the walls in April of this year, covering what were previously dull and plain surfaces with eye-catching images of the university's sports stars in action.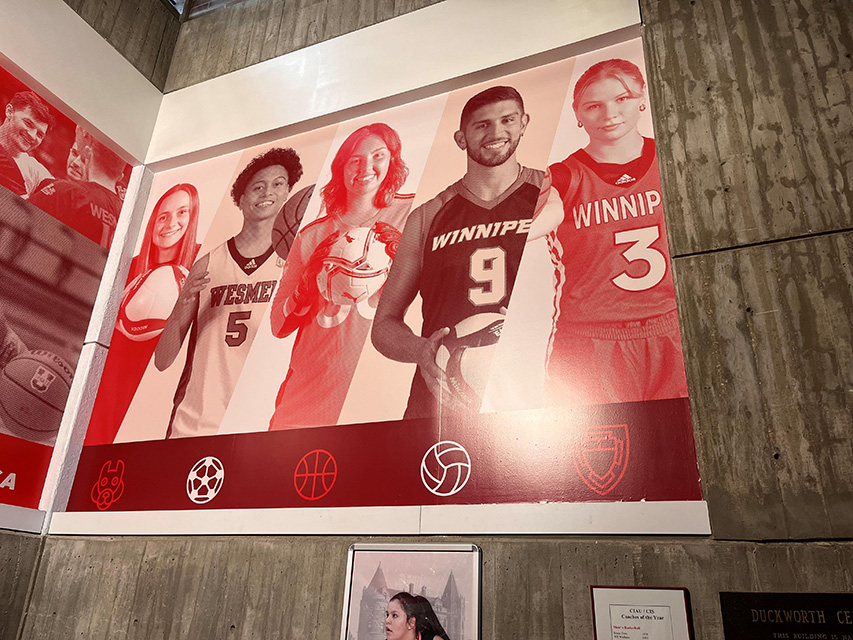 "The university was looking for images to cover brick and concrete walls that would include both inclusivity and newer images in high traffic areas," said Lea Marc Principal Brian Matychuk. "We were selected based on our ability to provide a finished product that would enhance the images."
Staff were delighted with the wall mural end product, and Lea Marc is now looking forward to working with the university and its Winnipeg Wesmen teams on future projects.
"Along with a friendly, caring attitude we continue to gain the trust of both existing and new customers," said Matychuk. "We are continually trying to supply our base with innovative ideas and solutions."
—Press Release