Orbus Visual Communications®, a North American producer and manufacturer of visual communications solutions for tradeshows and events, retail environments, and workplace interiors, is excited to introduce two new products to their retail focused lines: MODify™ Retail Merchandising System and Blaze™ SEG Light Box.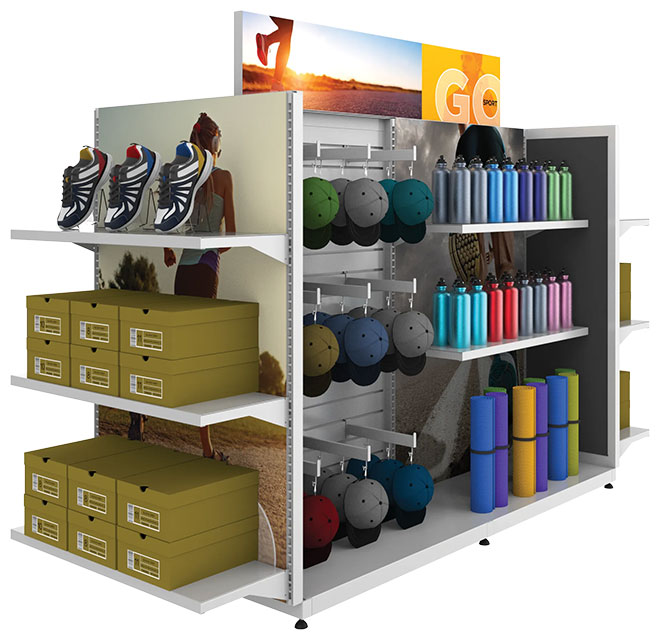 MODify Retail Merchandising System
The MODify Retail Merchandising System is a collection of one-of-a-kind retail displays that incorporates SEG push-fit fabric graphics, enabling organizations to brand, promote, and merchandise with ease.
This flexible display system allows for easy modification with graphics, accessories, and furniture.
Kits include single-sided, double-sided, gondola, and four-sided options.
A range of accessories such as shelves, hooks, hang bars, waterfalls, base decks, casters, and monitor mounts are available, providing versatile merchandising options.
In addition, optional furniture pieces, including risers, nesting tables, display tables, counters, and pedestals, are part of the line and enhance the overall presentation.
Differentiating features of the MODify Retail System are:
Silicone Edge Graphics: unlike any other Retail System in the marketplace, MODify incorporates SEG fabric graphics, adding value and longevity to the fixture investment.
Quick Ship: Seven days for most fixtures.
Easy to modify: Easy to modify with graphics and accessories.
Simple assembly: Associate level install!
Blaze SEG Light Boxes
The Blaze SEG Light Box collection is a cutting-edge series of fabric light boxes available in wall-mounted, freestanding, and hanging variations.
Setting itself apart with its sleek six-inch depth frame (four-inch for wall-mounted), the Blaze SEG Light Box effectively eliminates unwanted shadowing while evenly dispersing light.
Featuring pre-attached, full perimeter LED light bars that are UL certified and equipped with an internal power supply, this advanced lighting solution eliminates the need for transformers within the frame, further reducing shadowing.
The frame is available in silver, black, and white, and in thirteen sizes for wall-mounted, nine sizes for freestanding, and thirteen sizes for hanging.
Two backlit graphic material options are available to choose from, Backlit Textile (dye-sublimation printed) and Intensity (UV/LED printed).
Backlit Textile is an eight-ounce tightly woven fabric that is slightly stretchy, foldable, and washable; it is best for multiple uses.
Intensity is a 6.5-ounce material that has a smooth, coated finish. The double-strike process creates vibrant backlit graphics.
—Press Release