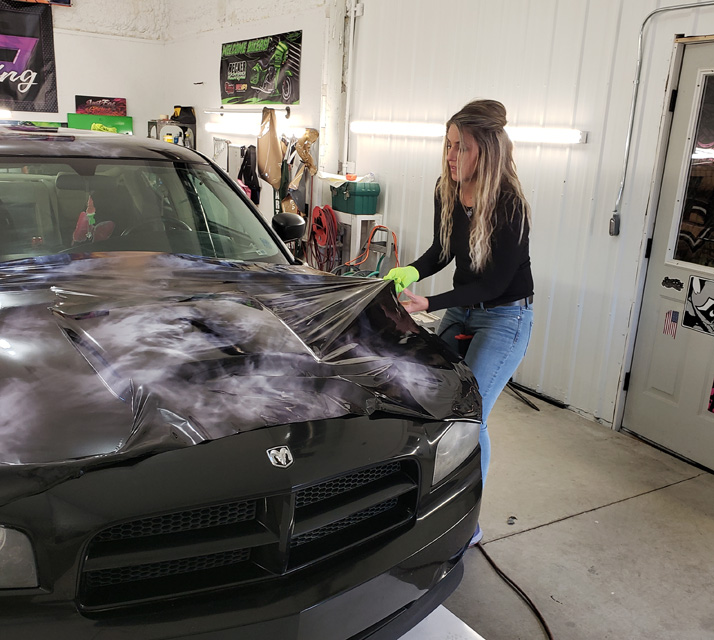 The growth of women-owned businesses is booming. According to the 2019 State of Women-Owned Businesses Report from American Express, over five years (from 2014-2019), the number of women-owned businesses increased 21 percent, while all businesses increased only 9 percent. In that period of time, firms owned by women of color grew at double that rate (43 percent). And the growth in the share of total revenue by women-owned firms during that time increased the most in the construction industry (31 percent).
The sign industry is no stranger to women-owned businesses, and a good example of this is Lindsay Theisen.
Lindsay has been an artist since childhood. When her parents would ask her what she was drawing, she would say she was "making a design."
That early drive to draw stayed with Lindsay, and she immediately began working in the sign industry after graduating from college.
After being laid off in 2017, Lindsay decided to start her own business. She knew she was a well-rounded designer with experience in newspapers, industrial design, marketing/mailers, large format graphics, and more, and she felt that she could design just about anything.
Using all of the money she had, she bought a powerful computer for design and founded Just Fab Graphics in Mount Pleasant, Michigan from her living room.
At the start, Theisen outsourced her printing, but she soon realized she was spending more than she cared to on outsourcing. She took the plunge and bought a Roland DG TrueVIS VG2-540 printer/cutter.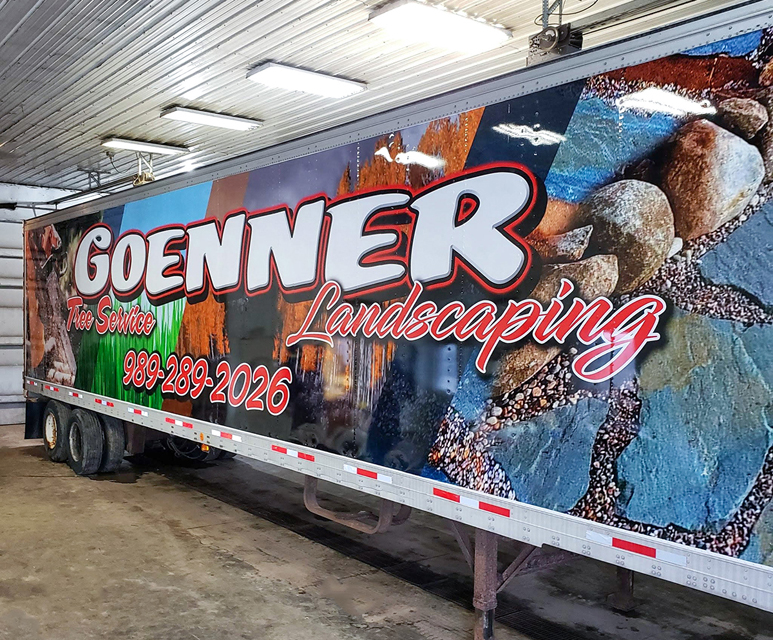 Today Theisen serves as owner/graphic designer and Just Fab Graphics operates out of a new location with an install bay they call "The Wrap Room," an office, and plenty of room to grow. The company has three employees: Jill Payton, project coordinator and installer; Zach Maatman, designer and installer; and Theisen's mom Sherry Theisen, head of eBay sales. Theisen still serves as the primary designer, and she also does installs.
We talked with Theisen about the challenges of starting her own business, what lies ahead, and her advice for other women.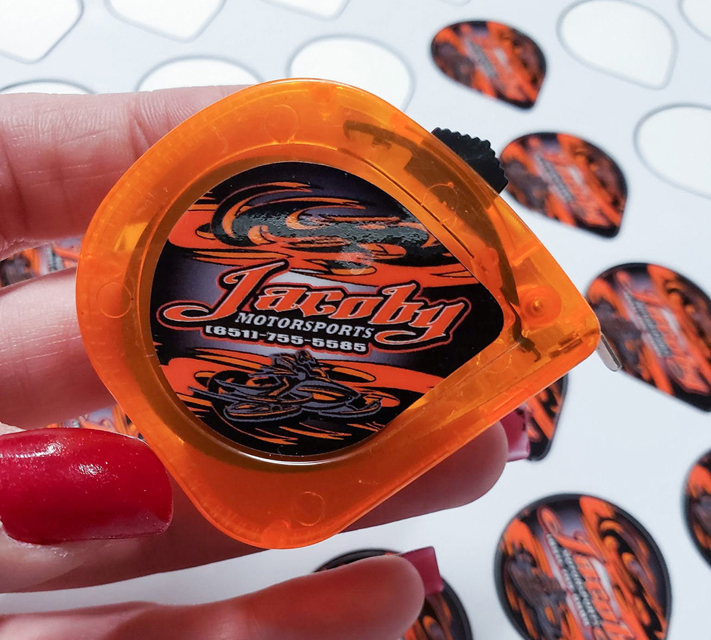 What industries do you serve?
We provide graphics and signage for companies in the hospitality, construction, industrial manufacturing, retail, restaurant, and service industries. We also provide vehicle graphics and lettering for the local fire department and the sheriff's office.
We do vehicle graphics for personal vehicles, fleets, snowmobiles, side-by-sides, food trucks, and regular delivery and service trucks. We also do window graphics for storefronts along with banners, labels, decals, and floor graphics. We print graphics for promotional items like license plates, lip balms, and key chains, and we even print fish fry tickets!
I love the variety of the work. I can be on a semi-trailer in the morning and selling interior window perf in a car dealership sales department in the afternoon. No two days are ever the same.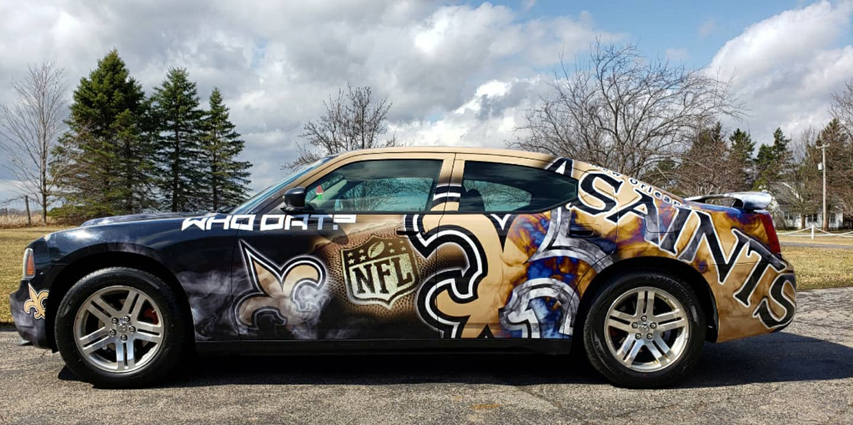 How did Just Fab Graphics fare during the pandemic?
Our business dipped initially, but things are better now. We were able to stay open, however, my employees were at home. I was wrapping enclosed trailers and full semi cabs by myself.
During the shutdown, we ran a special for businesses that needed signage. We produced lots of safety signs and social distancing window and floor decals. Lately we are printing "open now" signs. Unfortunately, some of my clients have gone out of business due to the pandemic.
Tell us about your eBay store.
Our eBay store has been really successful for us. It's tailored to auto enthusiasts. We sell all types of floor graphics and banners for garages and "man caves." Some of our most popular items are four-foot-by-four-foot floor graphics with the customer's favorite car make and model (muscle cars, sports cars, and vintage) printed on non-slip floor material.
We also sell a lot of two-foot-by-four-foot banners, some with custom images of the owner and their vehicle. We ship these graphics all over the country as well as internationally, and we have tons of return customers.
What lies ahead for Just Fab Graphics?
I'd like to expand our eBay store. It's a really great tool, and it provides extra income for print-and-ship items. I would also like to add one more person to our staff to keep in constant contact with our customers. We have the production power we need, and a great team already in place. I'm looking forward to the future for JFG!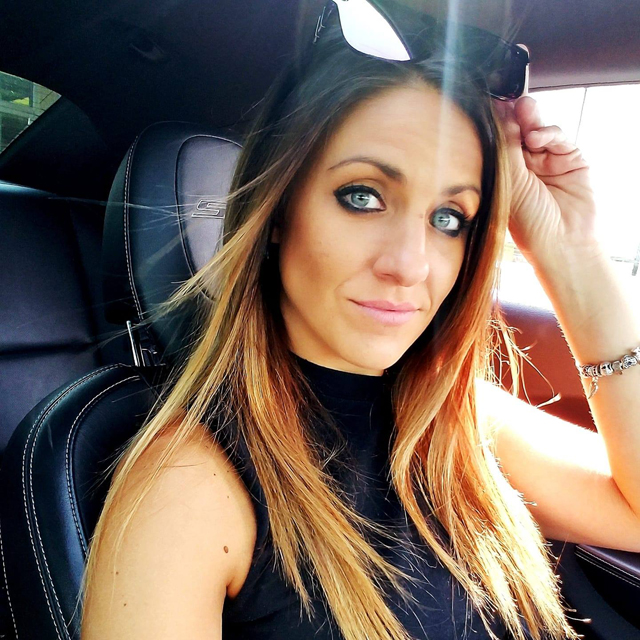 Do you have any advice for other women in the sign industry?
You must work hard and not quit. Do your research. You will take many big risks and chances, and you have to be brave. If you are unsure, ask. Figure it out.
Do everything you can to find your answer and not give up. Bounce ideas off of other professionals in the same business, ask them questions and for advice and build those relationships. Reach out to them so you're all on the same page.
Above all, there has to be passion behind your drive to be in the industry.
—Ashley Bray