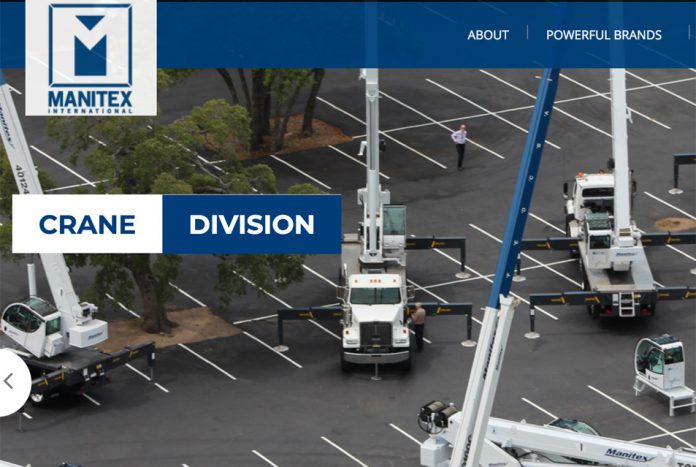 Manitex International, Inc. (NASDAQ: MNTX), a leading international provider of cranes and specialized industrial equipment, today announced the expansion of its Industrial crane distribution network to include Link-Belt Mid-Atlantic Construction Equipment, headquartered in Ashland, Virginia.
Effective immediately, Link-Belt Mid-Atlantic will represent Manitex as a full-service dealer for Industrial Cranes in Delaware, Maryland, and Virginia joining the Manitex network of equipment dealers who are supporting Manitex products throughout North America and abroad. Link-Belt Mid-Atlantic has placed initial stocking orders for retail distribution commensurate with this announcement.
Link-Belt Mid-Atlantic is a full-service crane sales, service, and rental organization having a long history of servicing the equipment retail and rental industry, with a focus on high-quality products and service since 1992. Scott Smith, Manitex Eastern Region business manager, commented, "Link-Belt Mid-Atlantic has been a valued Manitex partner since 1999 representing Manitex's full line of boom trucks. Given Link-Belt Mid-Atlantic's history, we are confident Link-Belt Mid-Atlantic will increase Manitex's industrial crane presence in the Mid-Atlantic states and foster continued growth in the region.
"We welcome new opportunities to come with Link-Belt Mid-Atlantic and look forward to supporting their success."
About Manitex International, Inc.
Manitex International, Inc., is a leading worldwide provider of highly engineered mobile cranes (truck mounted straight-mast and knuckle boom cranes, industrial cranes, rough terrain cranes, and railroad cranes), truck-mounted aerial work platforms, and specialized industrial equipment. The company's products, which are manufactured in facilities located in the USA and Europe, are targeted to selected niche markets where their unique designs and engineering excellence fill the needs of our customers and provide a competitive advantage.
Manitex International, Inc., has consistently added to their portfolio of branded products and equipment both through internal development and focused acquisitions to diversify and expand their sales and profit base while remaining committed to their niche market strategy. Their brands include Manitex, PM, MAC, PM-Tadano, Oil & Steel, Badger, and Valla.
For more information, visit www.manitexinternational.com.