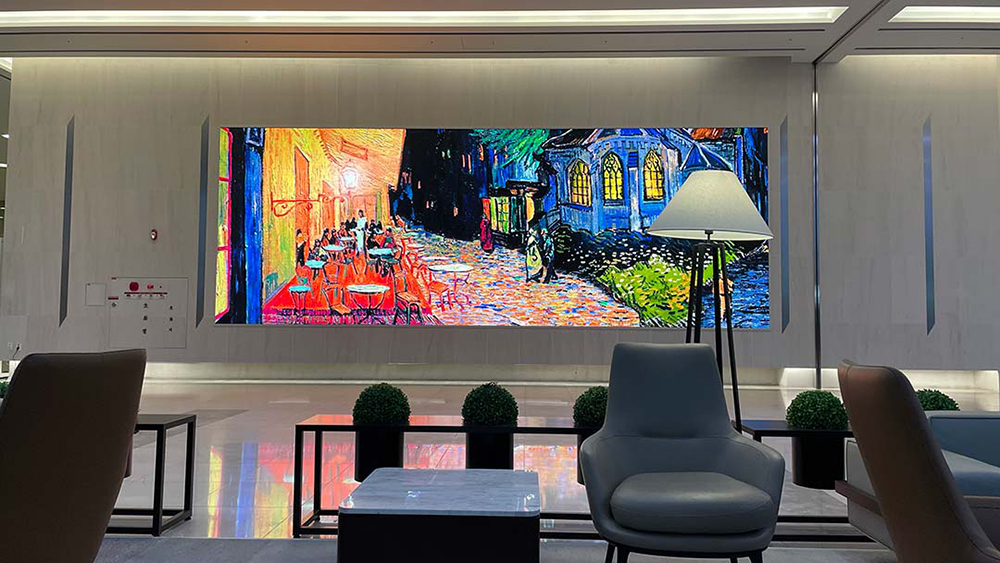 Daktronics, in conjunction with Korean partner Kinoton Korea Incorporated (KKI), manufactured and installed three LED video wall displays for SK Hynix, one of the world's largest semiconductor manufacturers based in Seoul, South Korea. These displays heighten the viewing experience and were installed in succession over recent months at the company's Godam, Supex, and Center One locations.
Mr.Yongan Park, a chief manager of SK Hynix, said, "We spent more than one year seeking highly durable, reliable video wall displays with a creation of natural colors, and all of us are quite sure that Daktronics' narrow pixel video wall displays are the right choice for high-profile locations inside of SK Hynix buildings. In 2023, we are also scheduled to install Daktronics displays in at least at five additional SK Hynix locations as they are already verified technically."
In the corporate lobby areas, these display brand their company, connect with visitors and create an ambiance that is appealing for all. The display at Godam features a 2.5-millimeter pixel spacing while the displays at Supex and Center One feature 1.5-millimeter pixel spacings. These narrow pixel pitch displays deliver crisp, clear imagery at very close viewing distances.
"Our narrow pixel pitch displays are designed to thrive in these corporate spaces and similar applications," said Daktronics Regional Sales Manager John Mette. "Bringing usable wall space to life with color and art and enticing imagery is something that helps lift the spirits of those gathering or passing by these areas.
"These three LED video walls are no exception to the amazing things we get to create for our customers on a regular basis."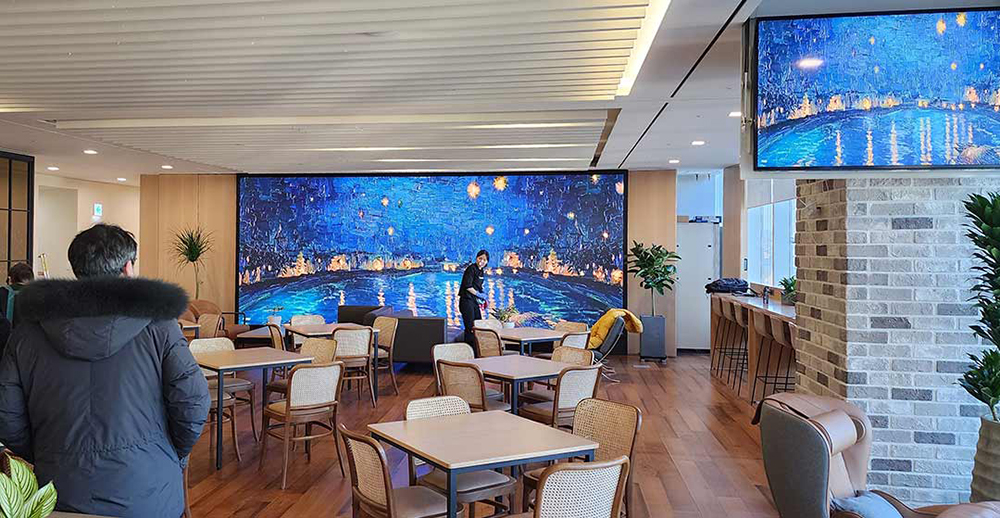 The display at Godam measures 3.77 meters high-by-7.93 meters wide while the display at Supex measures 3.09 meters high-by-8.54 meters wide and the display at Center One measures a narrower 2.4 meters high by 6.1 meters wide.
Daktronics offers a line of narrow pixel pitch LED displays ranging from 2.5 millimeters down to 0.7-millimeter pixel spacings. This product line brings expansive opportunities to those spaces commonly associated with LCD technology to create luxurious and immersive environments, share artistic digital content or show detailed, high-quality video.
SK Hynix is the world's second-largest memory chipmaker right after Samsung Electronics, as well the world's third-largest semiconductor company. Founded as Hyundai Electronic Industrial Co., Ltd. in 1983 and known as Hyundai Electronics, the company has manufacturing sites in Korea, the United States, mainland China and Taiwan, and more.
Kinoton Korea, found in Korea in 2000, has accumulated its SI know-how and substantial achievements in A/V industry in Korea and globally for more than 20 years. In 2008, Kinoton Korea became a sole distributor of Daktronics and began building reference sites on video LED displays such as Incheon International airport, KBO baseball stadiums, high-profile locations of commercial billboards, SK Hynix and more. As well, Kinoton Korea has been turning its eyes to global sites in England, Dubai, and more by collaborating with global SI companies and will also seeking more business opportunities in the future.
—Press Release