SNA Displays has been selected to complete video display upgrades at Chad Richison Stadium on the campus of the University of Central Oklahoma (UCO), a public university in Edmond, Oklahoma, just north of Oklahoma City. The venue is home to the UCO Bronchos' NCAA Division II football team and seats 12,000 spectators. The video display upgrades include the video scoreboard and providing two LED ribbons at the football stadium.
"The improvement and expansion of digital signage marks the final phase of $10 million in recent renovations at Chad Richison Stadium, generously funded by the stadium's namesake, and will solidify the stadium's position as one of the finest facilities in the State of Oklahoma and among NCAA Division II institutions," said Stan Wagnon, director of Athletics at UCO. "We appreciate the good work Anthony James Partners and SNA Displays are doing to enhance the gameday experience at UCO, and we're excited for the opportunity to engage our students and fans in a new way this fall."
Owner-representative Anthony James Partners (AJP) provided design and procurement services, supporting UCO in selecting SNA Displays to manufacture the new video boards with 10 mm pixel pitch EMPIRE™ Exterior LED video display technology.
"UCO has been such a great partner to work with," said Michael Rowe, chief executive officer at AJP. "They've been engaged in every detail throughout the process and that's what sets a project up for success.
"The stadium will be retrofitted with the newest high-definition LED display technology that, in addition to being significantly larger than the old display, will boast an increase of almost 300 percent in overall resolution. This new system will be a huge boost to the fan experience."
The new 1.3-million-pixel LED scoreboard will be 35-feet-high-by-42-feet-wide (1,056×1,280 pixels) with an illuminated UCO logo on the front of the display. The rear will feature Bronchos channel lettering and a sponsor tension graphic. A rocky waterfall that seems to flow from the display itself gives the south end of the stadium one of the most interesting looks in college football.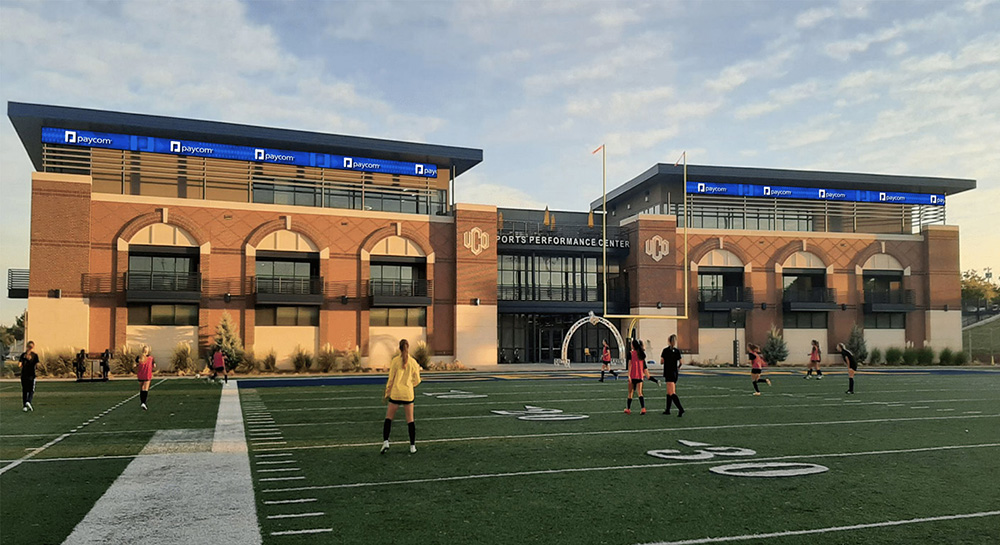 SNA Displays is also providing end-zone LED ribbons that flank the entryway to the university's Sports Performance Center on the north end of the field. Both ribbon boards extend approximately 90 feet long.
"Richison Stadium is considered one of the finest NCAA Division II football stadiums," said AJ Faxel, director of sports and live events at SNA Displays. "This digital upgrade is sure to cement and further enhance that reputation, giving fans even more reason to get excited about the game."
The main scoreboard will also house a new speaker system featuring Danley Sound Labs equipment. The entire video display upgrades are scheduled to be completed prior to the Bronchos 2023 football season.
—Press Release