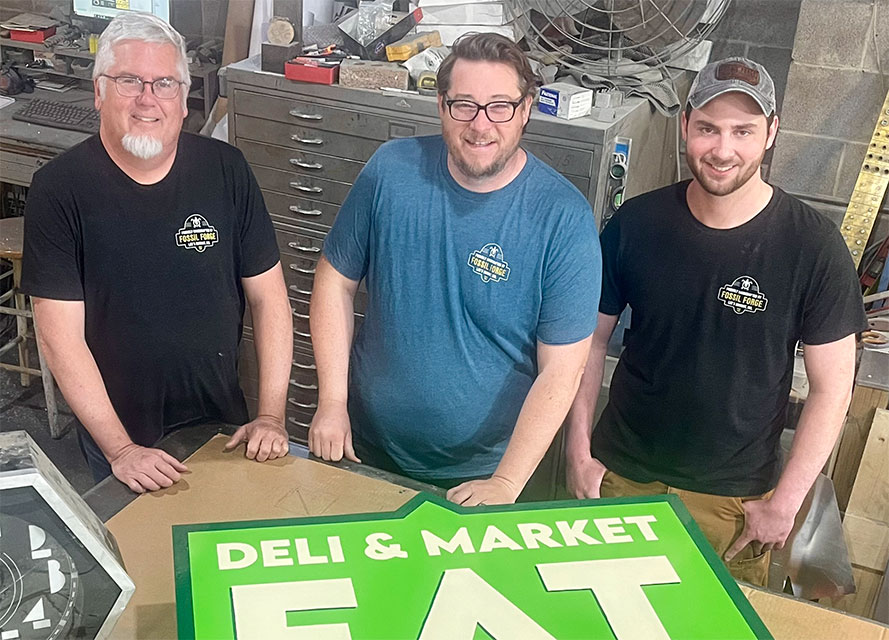 There's just something about the art of sign restorations—and it's a field that Dave Eames and Ben Wine have mastered. Eames and Wine co-own Fossil Forge Design in downtown Lee's Summit, Missouri, and the three-person shop (which includes Remy Norton-Hood) has been a part of dozens of sign projects and neon restorations throughout Missouri and the Midwest over the last few years.
Eames opened Fossil Forge Design in 2015, which is located in a great spot in the prosperous and thriving downtown area (with about a 99 percent business occupancy rate). In fact, the company's neon restoration work can be found throughout the downtown area.
"I would put our city up, pound for pound, against almost anywhere else when you roll into the downtown area at dusk," says Eames. "It resembles the way cities used to look fifty or sixty years ago before so much of the neon and traditional signage was stripped from them."
Wine joined Fossil Forge Design as a partner back in 2017, but he had already been collecting and restoring neon signs since 2009. "I always had a love for neon and the mechanical part of the sign," he says. "We love old signs—and old signs even better when they're back where they belong."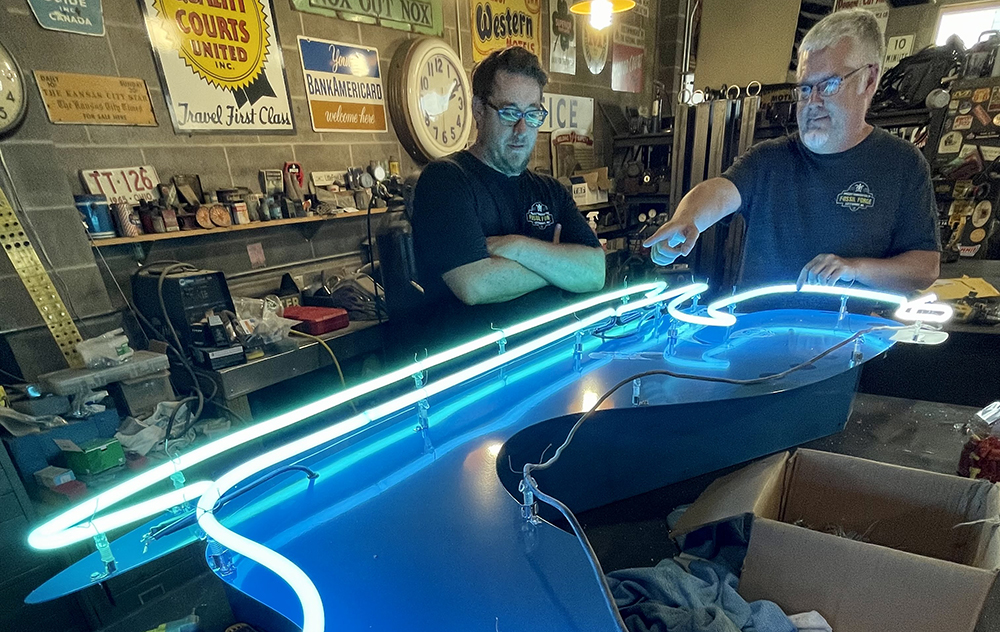 The Fossil Forge Design workshop space measures about 2,000 square feet. A majority of the shop layout is production area (aside from a small office space). This is broken down into a neon space, an area for routers and a plasma cutter, and a section for metal and wood working tools. "The nice thing is we have a larger space in the center of our shop where we can bring in old signage or build new signage and still have a little bit of space around us," says Eames.
"We're small, as there's only three of us here, but we can do anything from design and fabrication work all the way to installation," says Wine, noting that they work on everything from sign restorations to custom metal works to murals and other media projects.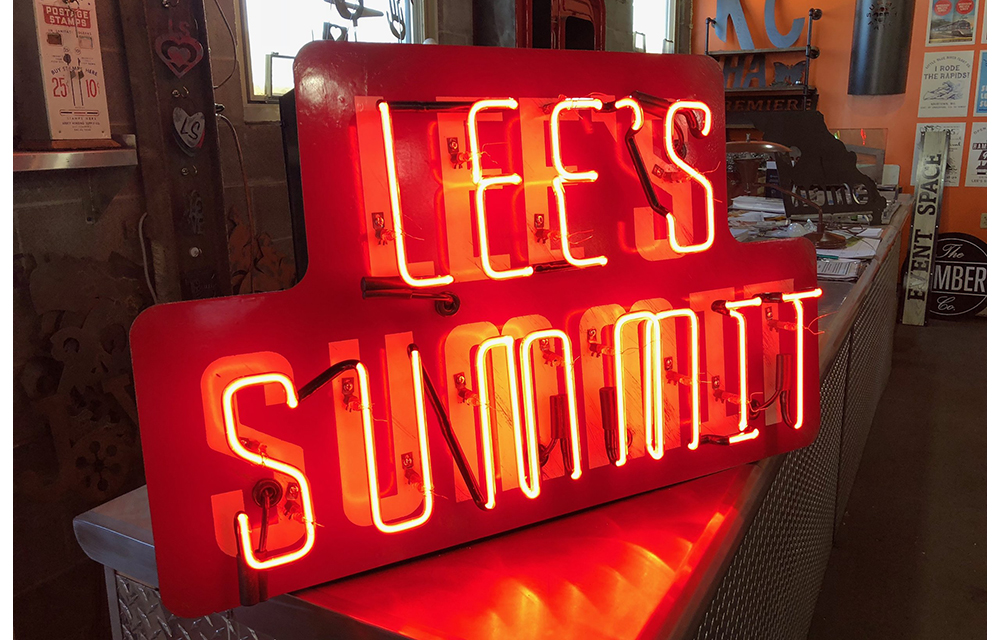 While downtown Lee's Summit is today filled with colorful neon pieces, believe it or not, the city had an ordinance for many years that prohibited this lighting component in the area. Thanks to the proud efforts of Eames, Wine, and many others (including city planners), the ordinance was modified in 2017 to now allow neon signage. "When the ordinance change took place, there were zero neon signs here in the downtown area," says Eames. "Now there are more than twenty exterior neon signs with metal cans."
Eames and Wine have a good rapport with their town's planning department. And it's a good thing—as they're only located 200 yards away from them.
Many of their sign restorations can be viewed as art pieces and not direct advertising, which affords them some leniency with permitting. "I believe the city likes what we're doing," says Eames, "so they're giving us an opportunity to work with them on how we permit some signs."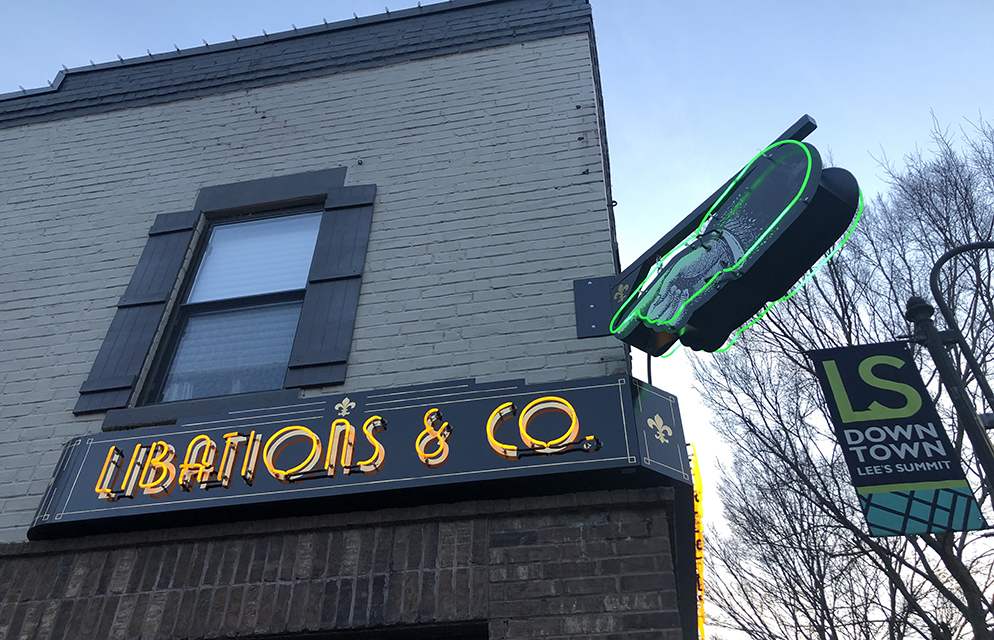 Eames says they purposely stay out of the lane of other shops in the area—instead capturing a niche of actual sign restorations or making new signage that looks authentic. For restorations, the company always keeps everything 100 percent with the original materials. "We're big believers in traditional sign-making techniques and materials," says Eames. "If the sign can be saved, we would prefer to use the correct materials for it."
Wine adds that they do work with LED retrofits on more commercial plastic pan signs and channel letters. "But anything that has exposed tubing, we keep it neon," he says.
The design process at Fossil Forge Design is pretty straight-forward. Eames and Wine will meet with the customer to find out what they want, then pencil out some sketches and measurements. Finally they'll up a proposal rendering of each sign and its setting in Adobe Illustrator. "This helps with estimating material costs," says Eames. "Then we'll send it off to the customer."
Eames says that the concepts they come up with for customers is one of the shop's strengths. "It helps them make the connection," he says.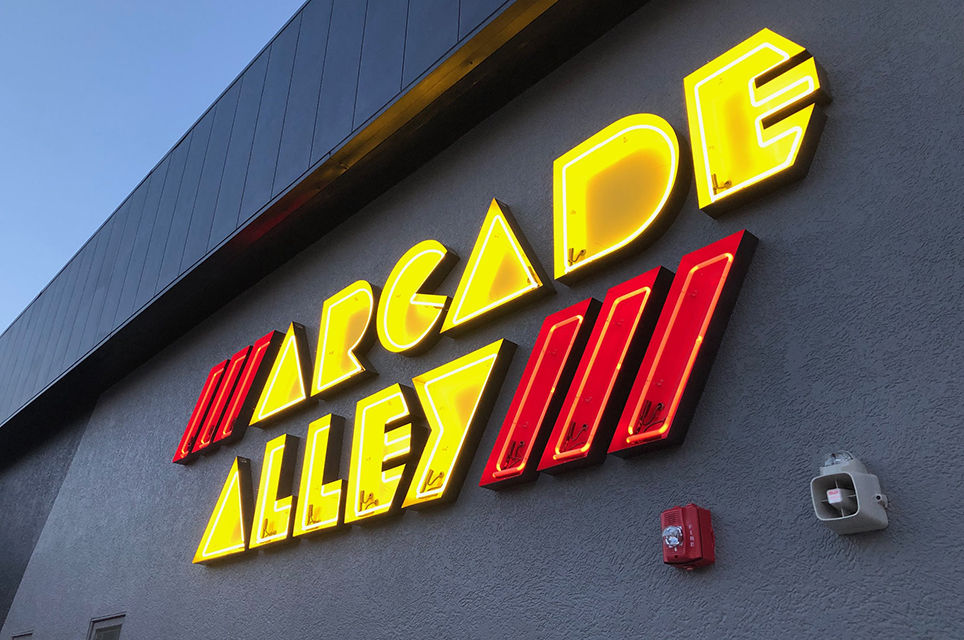 When dealing with customer expectations, Eames notes that they'll send their customers email updates if they see any incoming logjams—for examples, complexity of the sign build, any permitting issues, installation weather delays, etc. "Communication, like everything in life, is the foundation," he says.
"We do a lot of specialized work, but our customers realize that there's not a lot of places around that do this type of work," adds Wine. "So they're a little more understanding for something that's quality rather than something they can get from a handful of places around the corner."
Let's take a look at some of recent Fossil Forge Design projects.
Eames and Wine took a 1950s-built neon sign at 110-year-old Topsy's Café in Concordia, Missouri, and brought it back to life with a little shop work on the neon and electrical.
This sign had been removed in the early '60s, but locals had long believed the sign was still up in the business's attic. New owners took over the building and, during renovation, they did indeed find this particular sign up in the attic.
The owners reached out to Missouri Main Street to figure out how to return it to glory. Missouri Main Street, in turn, contacted Fossil Forge Design (they do a lot of work together).
"We saw it as if we were walking into King Tut's tomb," says Eames, recalling the first time they saw the Topsy's sign in the attic. "We love small town cafes. We just wanted to help the new owners succeed."
Eames and Wine brought the six-foot-wide-by-four-foot-tall sign back to their shop. Since it was entirely made of steel, it was very heavy, but Fossil Forge Design was eager to get it back working.
They tinkered with the wiring and hooked up the interior mechanisms and flasher to power supplies. Everything still worked!
"With the exception of one piece of neon, we left the original neon as it was, as it was still stable and had rich colors," says Eames. "We only had to have one piece of glass made."
The shop cleaned the sign, leaving the old patina on it. "The client wanted us to leave it on there," says Eames, "and we did too!"
After attaching a new transformer and new GTO wiring, the sign was back in action for the first time in six decades—albeit more as an art installation attached to the building.
Following up on that project, Eames and Wine headed two hours away to Pulaski County, Missouri, to work on a massive project at the Uranus Fudge Factory off of Historic Route 66, in an unincorporated area known as Uranus. This project includes 2D/3D elements, metal works, animated neon, and a painted mural for travelers of the famed highway.
"It's been our biggest project we've had in the history of Fossil Forge Design—the scale of it, the location of it, what it means, and its potential influences for them and us," says Eames. "Celebrating the heritage of neon and highway is hard to top in our world."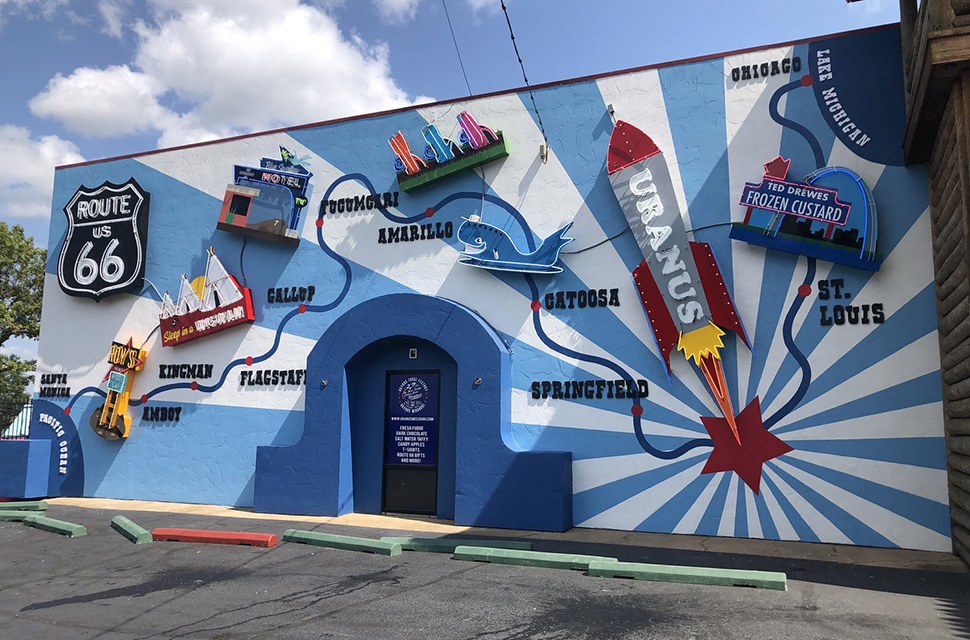 Uranus Fudge Factory Owner Louie Keene gave free rein to Fossil Forge Design to make a really cool Route 66-themed mural on a big blank wall in their development that would pull travelers off the famed highway. "He gave us a list of landmarks he wanted to see on it, and we picked from there," says Eames.
The company ended up making a total of eight brand-new neon signs that represent landmarks and historical things along the highway. They also painted a mural featuring a stylized map and background that showcased the neon signage.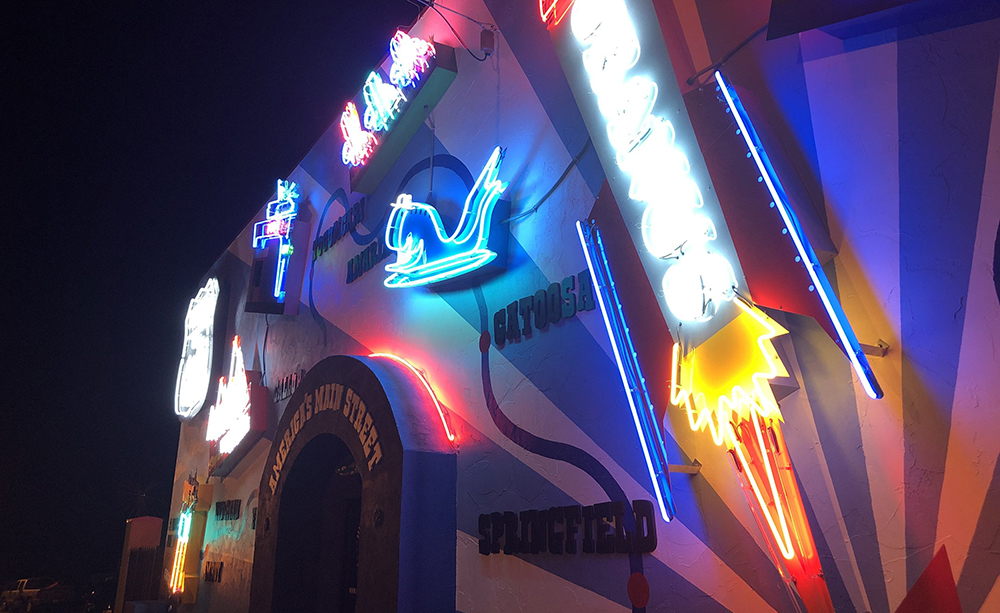 "This is not just a job for us; we are invested in this emotionally," Eames said. "It's good for Missouri, good for Route 66, and good for the country. This keeps small shops like ours out front."
Eames and Wine returned to downtown Lee's Summit to work on creating a new version of the Vogue Theater sign located across the street from their shop.
The Art Deco-style Vogue Theater was built in 1940 and was once a bustling, beautiful Midwestern theater. Over the years though, it fell out of favor and into a state of disrepair before eventually being demolished. A new condominium was erected over its original spot, and the HOA desired a facsimile replica of the original marquee to be a part of the development as an homage.
Fossil Forge Design jumped at this opportunity! "Everybody always talked about the old theater, but most of us alive today never really saw it," says Eames.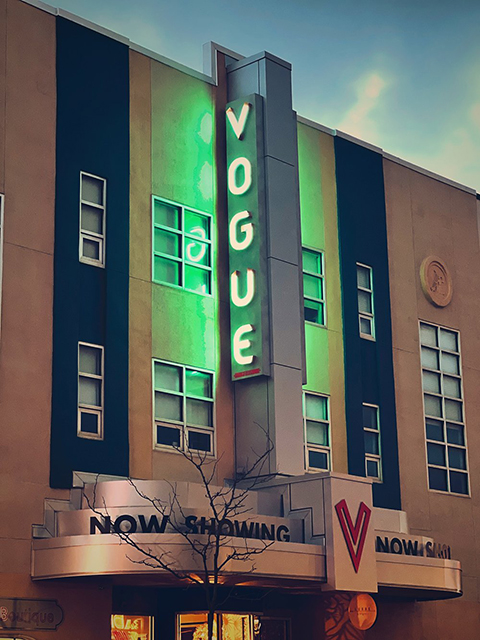 Eames and Wine poured through photographs and old color home movies, studying how to properly recreate the neon.
Fossil Forge Design crafted and painted all the cans and letters and turned to their friends down the street at Gama Neon to supply the neon tubing.
The twenty-foot-tall sign consists of two ten-foot cans with exposed open-face channel letters that Fossil Forge Design painted as close as they could to the original. They added a few other modern details to the marquee to reflect that this was a replica and not an exact duplicate of the original.
They installed the new "old" sign to the complex using their fifty-foot boom truck.
There was some worry early on that people living in adjacent condos might be bothered by the glowing light at night. "One of the coolest compliments we got was that those tenants love it because it creates a beautiful, soft glow in their apartments and acts a little bit like a night light," says Eames.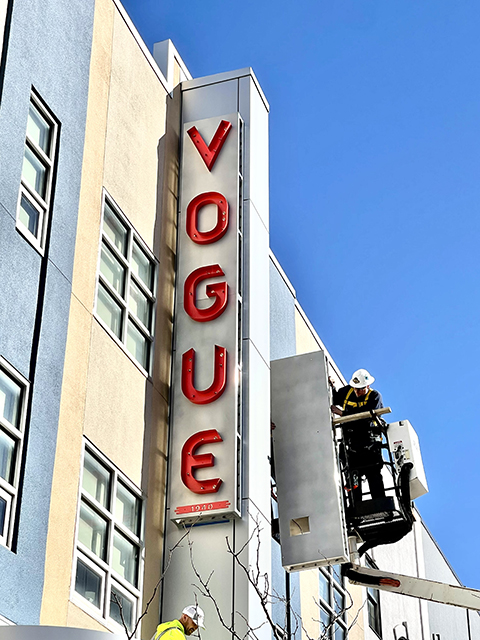 Fossil Forge Design installed numerous new neon signs in the heart of Lee's Summit in 2022 and early 2023, and Eames says it's been extremely gratifying to hear people visiting the downtown area talk about how great their signs look.
"It pushes our compass in that direction more than money or anything else, because that's sort of a legacy for a very small company in a fairly small city in the middle of America," he says. "To be able to have these things hang in our town that people are proud of and because they're proud of them, they're going to work hard to make sure that our city stays cool and is headed in the right direction."
Sign restorations involving iconic neon and metal signage in both Independence and Kansas City, Missouri, are next on the horizon.
"We're proud to present a colorful history of the sign as the first personality and voice of our towns and cities," says Eames. "Take a look back at the vibrancy, light, and motion of mid-century signage, and how our Main Streets dazzled with unique and memorable signage.
"So many towns presented a bright and optimistic face to visitors and residents. We're happy to bring that back."