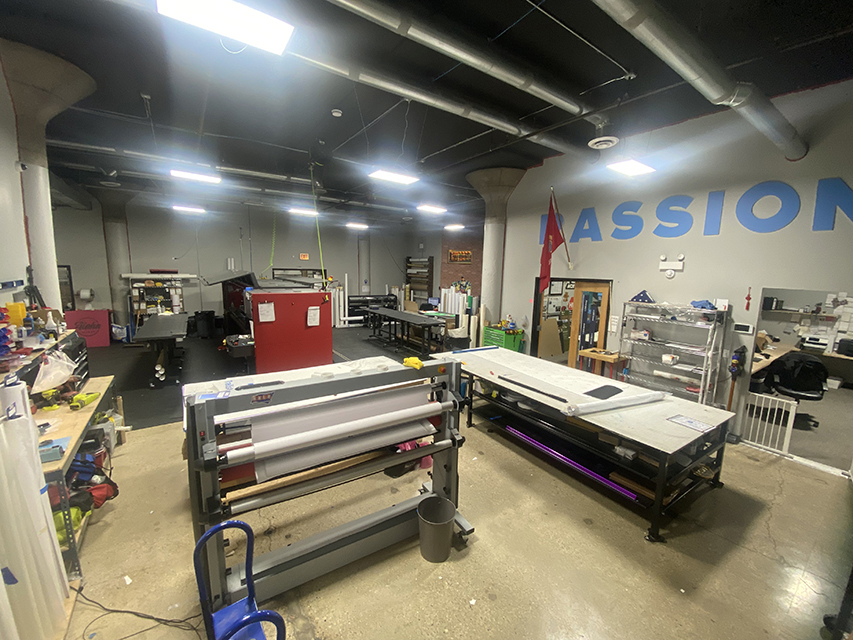 There are over 45,000 commercial printers in the United States as of 2022, and once you extract the Top 500 players, you'll find that the field is bursting with shops that are under $2,000,000 in annual revenue—with the greatest percent of those in the sub-$1M category. It's fair to assume that most of these locations are operating in limited space with little bandwidth to take on multiple large jobs simultaneously.
With real estate at a premium and margins a primary concern for any business leader, the question we must ask ourselves: "How do I pack the most production capacity into the smallest physical footprint possible?"
When we launched our studio, SpeedPro Chicago Loop, in 2015 (and before we even got our business cards), we traveled the country coast to coast for two straight months meeting with Top Ten producers as well as struggling shops within our franchise system. We wanted to see both sides—how they built their businesses and what made them great or why they were failing.
The general commonality we found amongst the overachievers was that they had invested in their business—tightly packing a vast array of equipment and presenting like manufacturers.
Meanwhile fledgling studios boasted pretty-looking showrooms yet were staring at outdated eco-solvent roll-to-roll printers that had been set up for them years prior.
Yep, you can learn as much from the winners as you can from the losers—and we weren't going to be a loser.
As the newest large format printing company located in the heart of downtown Chicago, we had grandiose ideas (adorable naivety) to have both a gorgeous showroom and a solid suite of printing capabilities.
Given our close proximity to McCormick Place and all of the Chicago's major venues, real estate leasing costs meant we had to determine how to pack the greatest throughput into our miniscule 3,468-square-foot studio. We knew that we couldn't be a competitive player with just a single sixty-four-inch eco-solvent roll-to-roll machine.
We drastically diverged from the prototype set-up for a new studio, opting to be the first with what was considered an advanced equipment set—a roll-to-roll latex, an eight-foot hybrid flatbed, and a CNC cutter-router (a configuration the million-dollar studios eventually morphed into—after several years in business).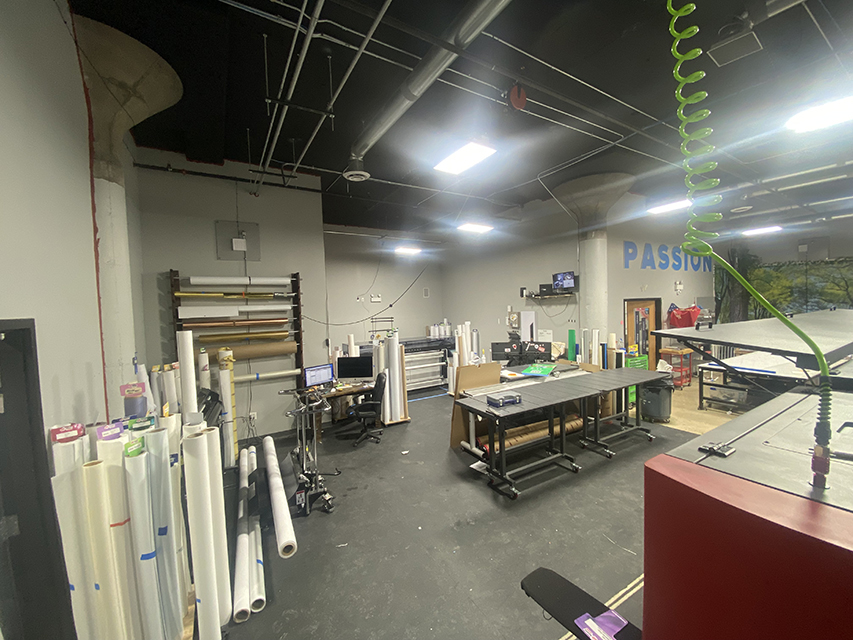 We started with the Esko XN-24 CNC cutter-router, which was an unorthodox move but one that allowed us to complete a recurring job that had taken us eight days the first time, cutting hundreds of pieces by hand, to less than two days on the second round. At that point, there were just a handful of studios that possessed one; not even all of the Top-Ten could claim to have it in their trove—but within just the first few weeks of taking it online, it proved essential.
Nonetheless with a rapid 150 percent two-year growth spurt between 2016 and 2018 (and outsourcing just over 29 percent of revenue), even this package wasn't going to support our trajectory. As our business began to boom, any showroom aspirations gave way to revenue-generating function.
Poising ourselves for continued advancement, desperate to increase gross margin, and unwilling to lease more space to accommodate a reception and display area, we searched for power-packed technology that could fit within our physical confines and enable at least three-times more production.
After extensive analysis of both soft media and substrate production, it was clear that the quickest return-on-investment (ROI) would be found in replacing the roll-to-roll.
Adopting a cost-analysis (ROI) matrix provided to us by one of the many courting manufacturer's knocking on our door, we plugged in a host of figures to include leasing, service, and ink costs; speeds at varying production quality; labor (or, reduction in); historical production levels; projected production needs; percent of outsourcing; estimated lost/unbid business; capabilities, etc. We matched each contending printer against the machine we were using.
Indeed there's a viable debate to be made for unique product offerings at higher margins; however concentrating on moving core business faster, taking on more of it, and hopefully reducing operational costs was our driving force.
However, in order to achieve the self-imposed three-times throughput increase, this wasn't simply going to be an upgrade, it was apt to be a large upfront investment for what was still a "start-up" shop.
At best, according to the data and stage of revenue, a printer that checked all the boxes was going to be at best a break-even proposition but more likely a slight loser in year one.
We opted to take the risk, being among the country's early adopters and the first studio within the franchise system to acquire the Canon Océ Colorado 1650. In its first week online, we accepted a 3,000-plus-square-foot job with a one-day turn time, which we would have had to pass on had we opted for only a slightly faster printer.
The formula worked, and the impact was immediately tangible. In fact, we had not realized how much business we were passing on due to our limited capacity to print or even outsource.
In the first twelve months, our average monthly rolled media print production increased by 75 percent and overall percent of outsourcing decreased by 16 percent.
The onset of COVID in 2020 meant further equipment investment be damned; we were holding on for dear life—until late 2021.
As conventions and exhibits slowly returned to favor, we took on print work for a large tradeshow management company, essentially operating a printer farm, that had laid-off most of its team and temporarily sunset its equipment.
This was a new opportunity, which by all conformist reasoning, that we weren't really capable of supporting.
Work here consisted mostly of rigid substrates and ten-foot banners. The volume was unlike anything we have ever imagined, much less known. We went from buying by the sheet to boxes to palates overnight—and we still couldn't produce a large bulk of what we were tasked to do with a one- to three-day lead time.
Unlike the roll-to-roll scenario where we were more-so positioning ourselves for growth, this posed an emergency and tough choices for us to weigh.
The volume of work and pressure it placed on our primary outsourcing partner was becoming increasingly difficult to navigate, as we had relinquished control on ensuring delivery dates. And while the top-line revenue looked great, the cost of wholesaling to a wholesaler was proving to be an expensive and unsustainable proposition for us.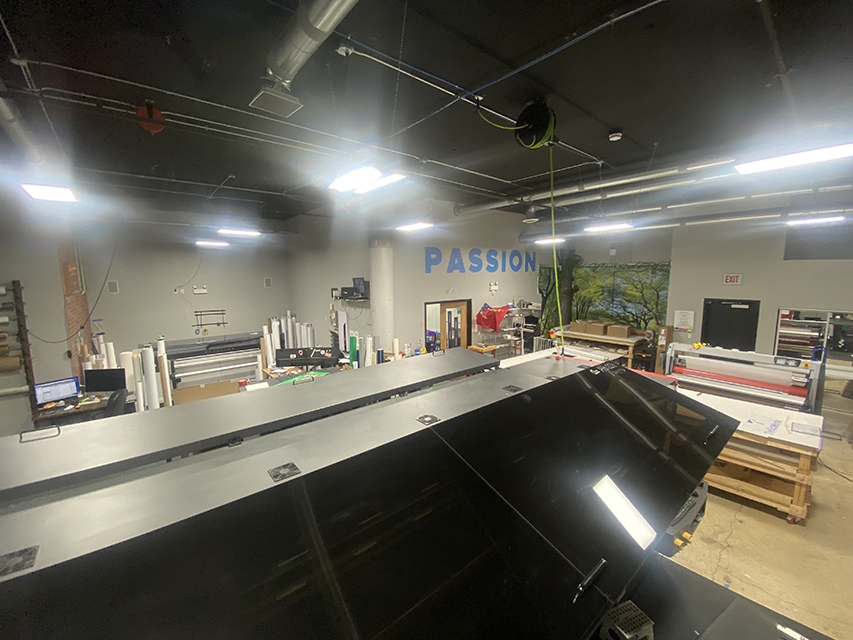 Outsourcing had climbed back nearly 30 percent of revenue, margins non-existent. After several months of this partnership, we were operating in the red—but this had the opportunity to be our golden ticket, if we could just take it all in-house.
But emerging from the pandemic made us extremely gun-shy about any additional investments. Our "build it and they will come" philosophy was clouded by "save it for a rainy day."
This was going to be a far more substantial investment than we had ever made previously, and there was no room for error in our analysis. We needed the biggest, most powerful punch-per-square-foot of production to fit within a small footprint, minding that our previous three-times throughput increase expectation wasn't going to be nearly sufficient.
To maximize our fullest potential, we were rumored to have been the first in the country last April to take possession of the EFI Pro30H ten-foot hybrid flatbed. It was rated to push over 2,700-square-feet per hour and only required a single 240V outlet. This was a seeming no-brainer.
After training and transitioning, the new EFI went live last July 1, the exact mid-way point through 2022. We immediately started running the numbers.
From January through June, we had been outsourcing 27.2 percent of our production revenue, but the back half fell to a mere 6.1 percent with our net margin climbing by a full 20 points. Our remaining outsourcing was devoted almost exclusively for products that we have no desire to fabricate ourselves.
In a year that recognized a achieved a 73 percent revenue increase from our previous best, this was a complete paradigm change—all without expanding our space or taking on a non-revenue-generating fixed expense.
Throughout the years, new franchisees and experienced owners looking to upgrade their shop have come to us asking about the decisions we've made. We have taken a uniquely aggressive posture towards equipment purchasing, helping transform the franchisor's previously held best practices of gradually building and amassing technology based on revenue.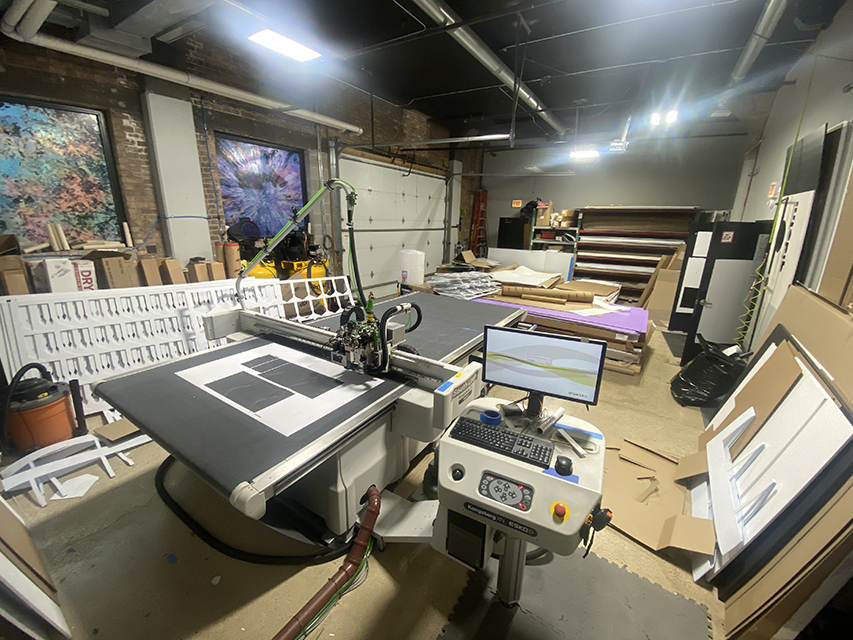 I do have to warn you: Ours is not a model for the faint of heart. The guidance offered here, as it pertains to equipment purchases, is grounded in a few key beliefs:
Data: The numbers don't lie. As you prepare to make a purchase, know your average monthly production per machine by quality mode, ink cost, labor, out-sourcing percent, etc., and be able to compare those to the equipment specs that you are considering.
From this information, you can quickly determine your ROI. It's completely objective, and you can weight the values according to your business needs.
Furthermore it helps eliminate biases about brands, personalities, or even how "sexy" that machine might look sitting in your shop.
Speed: If you focus on the rate of production, it allows you to pack more punch into less area—simply put, "production capacity per square foot." Doing so mitigates the need to purchase additional equipment sooner, reduces the necessity for outsourcing due to lack of production power, and decreases cost of labor for unnecessary over-time.
Subjectively be able to make intelligent, but conservative, assumptions about how your business is trending. Does the new machine create substantial additional bandwidth that will allow you to level up by at least two times?
It's very subtle, but it is incredibly empowering to begin asking clients 'how quickly would you like it?" versus "when do you need it?"
Innovation: There is something to be said for "tried and true." You know what you're getting because everyone already has it. However it's not a differentiator, and there is inherent risk with new technology.
Even as a first mover, we seek closely aligned improved capabilities for our core business as the primary focus and revolutionary developments secondary—but, finding both is always our objective.
Figure out how to do what you do better, faster, and cheaper, complemented by a few incremental supportive offerings.
Unless you are seeing a pronounced demand, it's probably not necessary to cultivate a new market or introduce a new product. Figure out how to what you do better, faster, and cheaper—complemented by a few incremental supportive offerings.
Someone must jump in first, and in addition to gaining valuable high-tech advancements, we've found that there are great deals to be had as an early adopter. The manufacturers want to get their new technology into the marketplace, create a buzz, build case studies, groom their influencers, etc. They will go to all lengths to make sure those new clients are completely satisfied so that you become a rabid ambassador for their latest creation.
Investment: We live by the adage, "Fear make you hungry; hunger makes you work." We all have just so much money at our disposal, so figure out what that is and stretch it beyond to the point of moderate discomfort—because this is the level of equipment that the bigger shops have and what you'll need to be competitive.
The math is really quite simple, and when you break it down, it becomes unexpectedly palatable.
Assume that, for every dollar you spend on a loan or leasing payment, you need to generate about three times that in revenue to achieve break-even. Do you not have confidence that you could produce $3,000 more per month if the cost delta between "basic machine A" and "power-packed machine B" is $1,000 per month?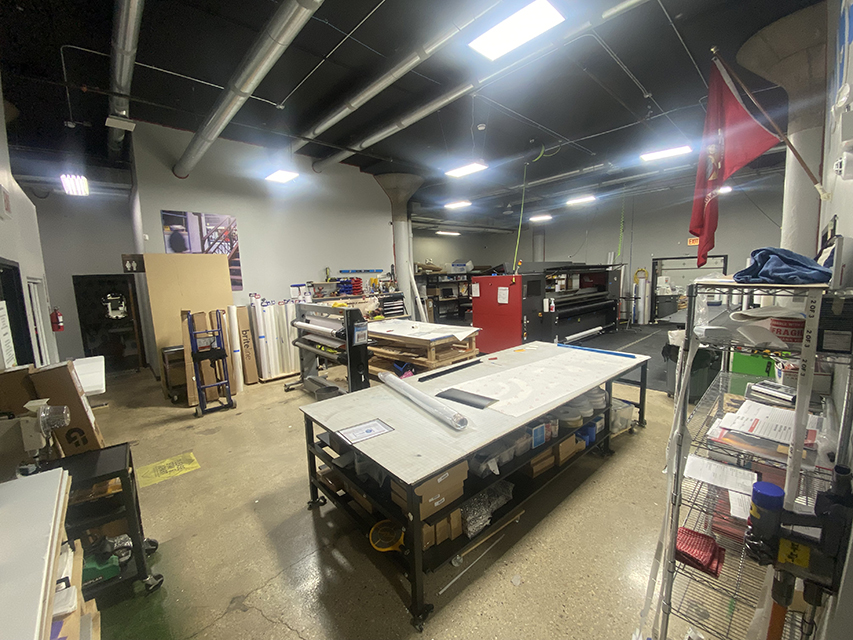 Conclusion
We are looking at new "toys" nearly every week. There are countless shiny objects to be enthralled with, if not distracted by, each bringing the promise of new revenue streams and higher margins.
As a small, growing business with a tiny wallet and a bad spending habit, we have learned to be very deliberate in our investments and take calculated risks.
As many local printing companies aspire, we want to serve our community by saying 'yes' to as many clients as possible, solving their problems and providing a great product, all while maximizing our financial potential.
All this can be accomplished if you are thoughtfully analyzing at the data, remain dead-eye focused on productivity, embracing of innovation and have the confidence, heck, the sheer audacity, to invest in your business and pack your print shop with production power.
Eric Lazar is a U.S. Marine Corps veteran and partner at SpeedPro Chicago Loop—the only two-time winner of SpeedPro's "Project of the Year" and six-time recipient of "3-Best Sign Shops in Chicago." SpeedPro Chicago Loop is currently a 2022 nominee for the International Franchise Association's "Franchisee of the Year." Join Eric for our latest SBI Webinar—"Connections: The Power of Networking"—at 7pm EST on Tuesday, March 21.