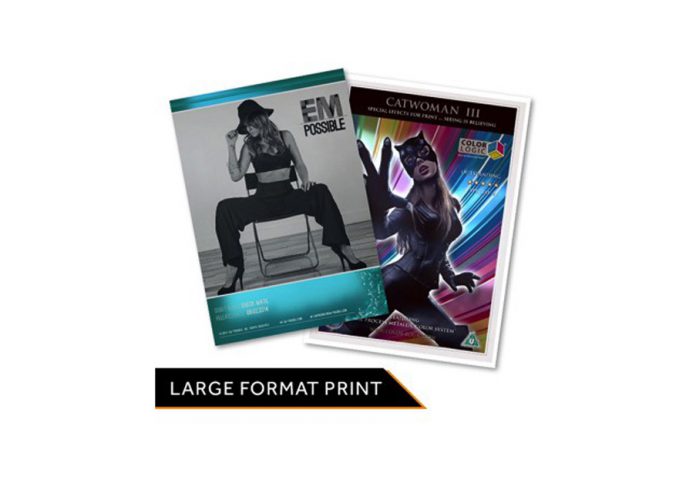 Canon Solutions America, Inc., a wholly owned subsidiary of Canon U.S.A., Inc., has announced its collaboration with Color-Logic, a leader in decorative and reflective color communications systems. As part of the collaboration, Color-Logic has certified Canon Solutions America's Large Format division for metallic effect printing with Océ Arizona printers.
"Océ Arizona users and prospective owners can now see firsthand how the Océ Arizona printers with white ink pair with Color-Logic software," said Color-Logic Director of Sales and Marketing Mark Geeves at the Canon Solutions America Itasca demonstration center. "Test samples produced at the center on metallic substrate yielded eye-catching point-of-purchase materials and signage, as well as provided the perfect solution for prototyping and short-run packaging with metallic substrates. These solutions open dynamic new markets with endless application opportunities for Canon Solutions America customers."
Océ Arizona series flatbed printers offer breakthrough performance that deliver "no compromise" printing for a large variety of applications ranging from rigid glass panels to raised dimensional images and braille. Now with the addition of Color-Logic special effects software, Canon Solutions America has again increased the number of applications these printers are capable of. The Océ Arizona printers are known for their bright white inks that are ideal for under or overprinting and their ability to use white as a spot color or as a flood layer, helping print providers vastly expand their application versatility. Perhaps most importantly, though, users can decide to print multiple layers of white/color simultaneously on the flatbed or on the Roll Media Option using one, two, or three layers of ink in total. Having high-quality white inks drastically enhances the print effects created with Color-Logic software—producing more eye-catching point-of-purchase displays, signs, and packaging customers have been striving for.
Every Océ Arizona model uses UV curable inks and Océ VariaDot® variable-sized droplet imaging technology to deliver finer details and smoother gradients creating near photographic image quality. Additionally, every printer is built on a true flatbed architecture to print on almost any rigid media or object, and most feature an optional Roll Media Option for printing onto flexible materials as well. With the alignment of Color-Logic metallic special effects software and the Océ Arizona printers, customers' ability to create is only limited by their imagination.
Color-Logic™ develops color communication systems and software tool sets for a variety of special effect printing applications. Color-Logic provides brand owners, product managers, corporations, and their advertising agencies the ability to differentiate themselves and their clients with a simple print production process that yields dramatic results. Color-Logic decorative effects utilize the existing workflows of printers and designers, yielding dynamic results without the use of special equipment. Color-Logic supports the value of print and works with designers and printers to enhance their printed media. For more information, visit http://csa.canon.com and in the search bar type Color-Logic.