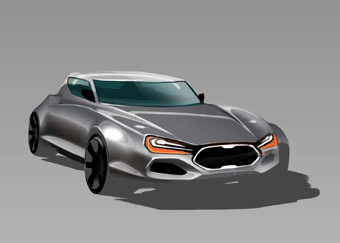 When education and practical application merge, the results can be astounding. That was the aim of the College for Creative Studies (CCS), Visteon, and OSRAM in their collaboration during the 2011/2012 academic year. As part of CCS's ongoing Corporate Sponsorship program, eighteen CCS Transportation Design Seniors researched areas of innovation focused on the development of new exterior automotive lighting and styling concepts with representatives from Visteon and OSRAM. These projects have taken on an added dimension because of the opportunities presented by OSRAM's LEDs technology and Visteon application knowledge.
"We often partner with automotive companies, but we are equally excited when we partner with automotive suppliers. It is important that our students understand all the elements that must be taken into account when creating outstanding designs," says Chairman of the Transportation Design Department Mark West. "We are training students in a new area of design development and new LED lighting technology for global vehicles."
CCS began partnering with Visteon in 2002. This year's project also included a major role by OSRAM with whom CCS has been partnering since 2010. Students are benefiting from first-hand accounts and hands-on direction by Visteon and OSRAM designers and engineers.
"Visteon is committed to innovation, and we believe CCS is an ideal place to find progressive, knowledgeable thinkers with a solid base in design," says Tim Yerdon, Visteon's director of global innovation and design. "Craftsmanship and perceived quality details start in the base design; these are the skills we need for the future to set our products apart and help our customers succeed. At the same time, students can use this experience to enhance their portfolios. We look forward to seeing the outputs of this project, as great ideas often come when industry and education work together on innovation."
"Over the past few years, LED lighting has been an auto industry breakthrough technology-overcoming design barriers in both aesthetics and safety," said Mike Martens, product marketing manager for OSRAM Opto Semiconductors. "The technology enables designers and students alike to activate their imaginations in a way that conventional lighting never could, making the results of this project even more exciting for us and the marketplace."
A glimpse of some of the preliminary work from the students proved the partnership is successfully leading students to think out of the box and to design in a way that brings both aesthetics and functionality to this new generation of automotive forward lighting. The class culminated in December with a formal presentation of the student's projects. The winning students are: 1st Place – Alexander Mcgowen, 21 (Houston, Texas); 2nd Place – Jae Han Song, 23 (Seoul,Korea); and 3rd Place – Dexter Carrie, 23 (Toronto, Ontario, Canada). The final student designs will be displayed at multiple locations in 2012 including Visteon and CCS. For more information about CCS's Corporate Sponsorships, visit www.collegeforcreativestudies.edu/corporate.
To learn more about Osram, check out www.osram.com.
For further details about Visteon, log on to www.visteon.com.