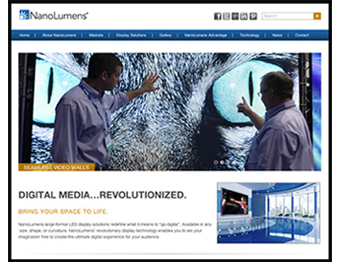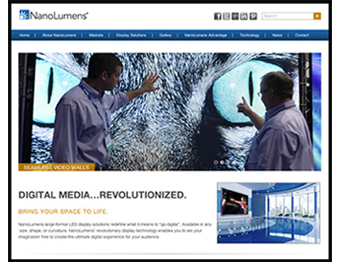 Underscoring its commitment to provide prospective customers with a maximum amount of information simply and efficiently, NanoLumens, Inc.®, has announced the launch of an entirely new and redesigned Web site that features a unique Design Specification Calculator that allows potential customers to plug in their desired model, size and pixel pitch and receive a full list of specifications for that unique display. In less than thirty seconds, a visitor to the site can enter their requirements, view the specifications and submit the specified design to a NanoLumens team member for a price quote.
"We are dedicated to revolutionizing every aspect of digital media, including the way prospective customers go about gathering information for their projects and initiate the process," said NanoLumens Director of Marketing Josh Byrd. "Available in any size, shape, or curvature, NanoLumens' large-format display technology enables customers to set their imagination free to create the ultimate digital experience for their audiences.
"Our new Web site now functions as a creative facilitator of their creative process. Visitors to the site can gather more information about how NanoLumens displays are uniquely suited to their industry and then use our new calculator tool to choose from a variety of display options, sizes and pixel pitches, calculate their own display specifications and submit it for an immediate price quote. This new functionality is a direct result of our commitment to helping our customers break free from the constraints of traditional large format display technology."
According to Byrd, the launch of the new NanoLumens web site comes as the company prepares to introduce its new NanoSlim DS and NanoFlex DS Series (Design Specific) LED displays at Digital Signage Expo 2013 in Booth #1042 in the Las Vegas Convention Center.
For more information, visit www.nanolumens.com.