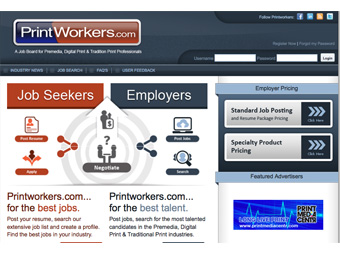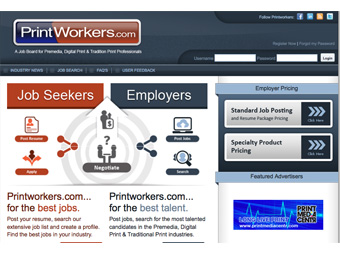 Printworkers, the premier niche job board for premedia, digital, and traditional print professionals, announces that it has launched a redesigned Web site. The goal of the site redesign was to streamline the user interface and improve options for both employers and job seekers. Sections for job seekers and employers are more clearly defined and mapped out for optimum use.
"A survey of our job seekers showed that a good percentage of users were struggling with some of the site's functionality. We took that feedback to heart. The new design is cleaner and features much more intuitive navigation," says Brian Regan, president of Printworkers. "We also improved the job searching functions to better serve our job seekers.
"Creating a design that meets the needs of two distinct audiences is a challenge for any Web site. "Our redesigned navigation is more visual. We used color and infographics to differentiate job seeker information from employer sections—and also where they intersect."
Other highlights of the new design include:
+ Specific pricing options to serve employers with a variety of budgets;
+ Improved product and service descriptions, based on feedback from employers; and
+ Automation of promotional codes.
"We hope that our new design will make it even easier for job employers and job seekers to work with Printworkers," adds Regan. "We consider it our obligation, particularly in tougher economic times, to make it simpler to do business and, for job seekers, trouble-free to find their next career opportunities."
Printworkers.com unites the best companies with the most talented employees in the print, copy, digital and web industries. Printworkers.com is a niche job board dedicated the recruitment of printing, copy, digital, and graphic professionals. The site offers employers the ability to post their available positions and also to access or resume database. Job seekers post their resumes and search for positions online. The company also powers many co-branded job boards throughout the county, including the Web site for Printing Industries of America, Printing Impressions, and many more. You can also follow the company on Twitter, LinkedIn, and Facebook