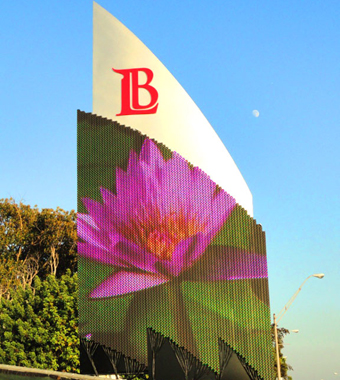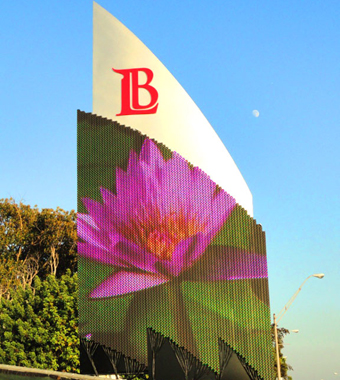 Daktronics (
www.daktronics.com
) recently installed a unique display at Long Beach City College using ProPixel freeform LED technology.
The two campuses of Long Beach City College (LBCC) in Long Beach, Calif., now feature new digital signage video and messaging displays designed, manufactured and installed by Long Beach City College Installs Unique Daktronics Brookings, S.D.-based Daktronics Inc.
"We live in a world where communication is the key," said Chi-Chung Keung, executive director of public affairs and marketing for LBCC. "These new Daktronics marquee displays will enhance our ability to effectively and attractively communicate with our students, faculty, staff and community. We are extremely thankful to have these marquees available as part of our communications mix now and for the future."
The marquee located on the Pacific Coast Campus is uniquely designed, featuring the LBCC logo above a curved LED video display made up of ProPixel freeform LED sticks. Designed to be incorporated into a structure of any size or shape with video, animation, color effects, text messages and live data, the ProPixel LED elements are designed for premium viewing, using ultra-bright LEDs to transform structures into vibrant displays. According to the company, this digital signage display measures more than 8 feet high by 7 feet wide.
A second marquee on the Liberal Arts Campus of LBCC will feature a two-sided Daktronics video display, each side measuring more than 5 feet high by almost 9 feet wide. With pixels spaced at 16 mm, this display will be able to show recorded video, animations, graphics, text and announcements.
Daktronics ProPixel freeform video elements are individually mountable direct-view pixels that deliver full-motion video, animation and special effects. Unlike the LED lighting products commonly found in the marketplace, Daktronics engineers its ProPixel elements on a video foundation to provide smooth motion reproduction, rich color depth and unequalled control. According to Daktronics, its LED video and messaging display technology offers a long lifetime with minimal maintenance and low power consumption.