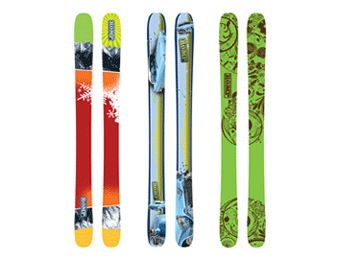 Wasatch SoftRIP has played an integral role in helping Romp Skis, a unique ski manufacturer in Crested Butte, Colorado, customize the production of their innovative handmade skis. With SoftRIP's tools for dye sublimation printing, ease of use, and multitude of customizable features, Romp Skis has been able to provide their customers with one-of-a-kind skis, reproduce great color, and save money on consumables.
Making it Easy
After starting off with another RIP and wasting thousands of dollars in consumables because the RIP couldn't do what Romp Skis needed, they knew it was time for a change. One of the features that made Wasatch SoftRIP such an appealing choice was its ease of use. Even with their limited printing knowledge, Romp Skis was up and running immediately after SoftRIP was installed.
"We had a lot of challenges when starting this business," notes Owner Caleb Weinberg. "Wasatch made it so printing wasn't one of them."
SoftRIP has been so easy to use that Romp Skis wants to use it to start producing their own t-shirts to add to their product line.
Color Profiling Success
Equipped with Wasatch SoftRIP and an Epson Stylus Pro 4880, Romp Skis gives their customers the opportunity to design their own skis. Customers can choose the shape and flex of their skis, as well as a unique image from Romp's extensive library of ski graphics. Customers also have the option of submitting their own design.
In order to accurately reproduce their graphics, Romp Skis needed the right imaging configuration. "Wasatch gave us a profile that produces great color," says Caleb. "That made our dye sublimation process fast and smooth."
SoftRIP's Precision Stochastic Screens provide high-quality output with smooth gradients that don't have stairstepping or rainbowing. And SoftRIP's Precision Stochastic Screens are optimized to eliminate the graininess typically associated with dye sublimation output.
Customizable Features
Using SoftRIP's multitude of features (including the rotate, scale, and mirror tools), Romp Skis has been able to customize their dye sublimation production process to fit the needs of their specific workflow. In SoftRIP Version 6.9, the Mirror option was added to the Print Setup window to address common issues facing users in the dye sublimation market.
Since the printer has to be configured for transfer materials in the first place, the ideal time to select the Mirror option is in the Print Setup window so the user doesn't have to worry about selecting this option later in the printing process and the user sees the finished work and not the transfer step. This helps reduce errors and minimize waste of expensive consumables.
And with SoftRIP's hot folders, users can print directly to a folder that will automatically mirror, rotate, or resize every file it receives. Users can even automate color processing by assigning color profiles to their hot folders.
About Romp Skis
Founded in 2010 by brothers Caleb and Morgan Weinberg, Romp Skis builds handcrafted custom skis in a variety of widths and lengths for skiers of all ages. Romp makes their skis with sustainable FSC Certified poplar cores that are vertically laminated in their wind-powered factory in Crested Butte, Colorado. With their innovative ski shapes and commitment to providing quality custom skis at an affordable price, Romp Skis is on the cutting edge of ski design. For more information, click here.