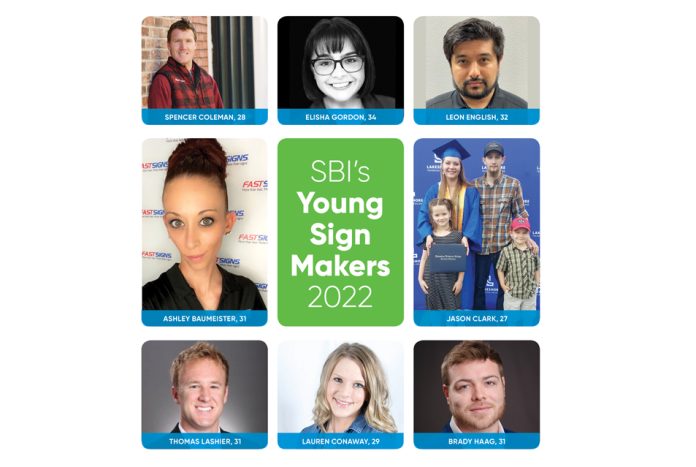 Welcome to our fifth-annual spotlight profiling sign makers and industry professionals thirty-five years old or younger who are enjoying their careers in the sign industry—whether through management, design, production, installation, or innovation.
Our branded articles not only highlight notable projects and accomplishments that this year's honorees have worked on but also present their thoughts on why the sign industry has been an attractive career choice for them as well as how shops can attract younger hires to their workforce.
Among this year's interview subjects are a couple of shop owners, a production team member who has advanced wearing many different hats, a field service engineer who left his home country of Columbia to reconnect with his mother and ended up also finding a solid career, a marketer who leads her team with heart, a production lead who has gained great traction using social media, and a search consultant who finds the right people for the right sign company job.
Click on the links below to read expanded profiles of our 2022 SBI Young Sign Makers honorees:
Ashley Baumeister
Production Lead, FASTSIGNS of Clearwater
Jason Clark
Cabinet Fabrication, Kieffer Starlite
Spencer Coleman
President, Wasatch Back Signarama
Lauren Conaway
Marketing Manager, Principal LED
Leon English
Field Service Engineer, CUTWORX USA
Elisha Gordon
National Search Consultant, MetroSeek
Brady Haag
Co-founder, Project Content, LLC
Thomas Lashier
President & Co-Owner, Lashier Graphics & Signs
Our SBI 2022 Young Sign Makers special appears in the January 2022 issue of Sign Builder Illustrated magazine.