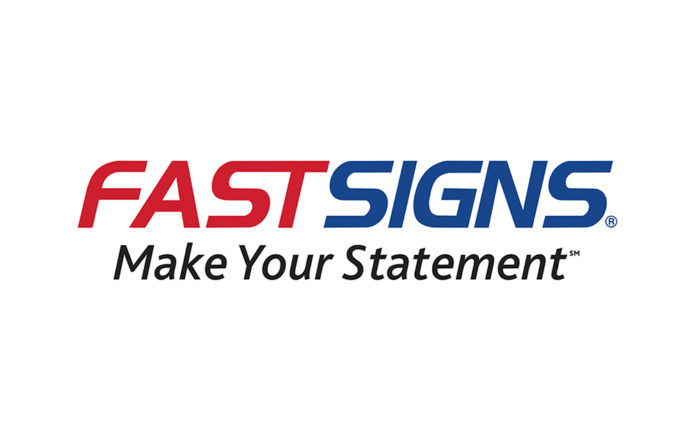 Sign, graphics, and visual communications franchise FASTSIGNS® will attend the 2023 ISA International Sign Expo (Booth #1871) at Mandalay Bay Convention Center in Las Vegas on April 12-14 to showcase upcoming franchise opportunities amid expansion of the brand's co-branding and conversion programs. The programs offer independent businesses in the sign or adjacent industries opportunities for expanded revenue streams and the support of an established network, while still maintaining their initial business.
"We're helping those who have experienced slow and steady growth reach a new level of success with greater revenues and profitability through our co-brand and conversion program," said Mark Jameson, chief development officer of Propelled Brands. "As the industry leader, we offer brand recognition, powerful local and national marketing, improved buying power and relationships with vendors, up-to-date technology and digital services, a nationwide network of franchisees, and top-of-the-line training and support."
Last year was the brand's most successful year-to-date with FASTSIGNS building on a growing sales track record and surpassing $700 million in network sales for the first time in company history. The impressive growth underscores FASTSIGNS' adaptability to a rapidly changing business environment and economy and the continued demand for signage and graphics making it a recession-resistant business.
"With an uncertain economic landscape, having the largest, most sophisticated and recognized brand by your side can be tremendously helpful navigating those challenges," added Jameson. "We're here to support our franchise partners at whatever level they desire."
FASTSIGNS co-branding program allows those in a complementary space, such as photo, promotional products, awards/engraving, and printing, to keep their independence and control of their existing business, while growing a whole new category to expand revenues with diverse product lines and services at a minimal cost. The owner's core business is exempt from royalty structure.
"Co-branding with FASTSIGNS has changed my business. As an independent entrepreneur in the photo business, coming into the sign business and seeing what FASTSIGNS provided for us is completely game-changing," said Gaby Mullinax, franchisee at FASTSIGNS of Fullerton, California. "When you become an entrepreneur, you are on your own, everything falls on your shoulders. FASTSIGNS takes that on for you in a sense and delivers opportunities."
The FASTSIGNS conversion program allows business owners to convert their existing sign shop and gain brand recognition and ongoing training and support from the franchise system for a $15,000 starting investment on franchise fee. FASTSIGNS offers support throughout each stage of the franchising process, including when it's time to sell the business or establish a succession plan.
"When FASTSIGNS pursued us to convert our business, we decided to make the leap after seeing what we could do and what potential support there was for our business growth," said Karrie Brock, franchisee at FASTSIGNS of Toledo and Maumee, Ohio. "The network of other FASTSIGNS owners has been the biggest key to our success. Being a part of a larger network that can share ideas, help with solutions and even help produce or install anywhere in the world is priceless."
The total investment for a FASTSIGNS franchise is approximately $233,555 – $307,308 including a $49,750 franchise fee. Additionally FASTSIGNS offers a special incentive for veterans and first responders, including paramedics, emergency medical technicians, police officers, sheriffs and firefighters, which includes a 50 percent reduction on the franchise fee—a savings of $24,875.
To date, FASTSIGNS operates more than 765 locations in 46 states and eight countries. Of these FASTSIGNS franchisees, around 14 percent are veterans.
—Press Release