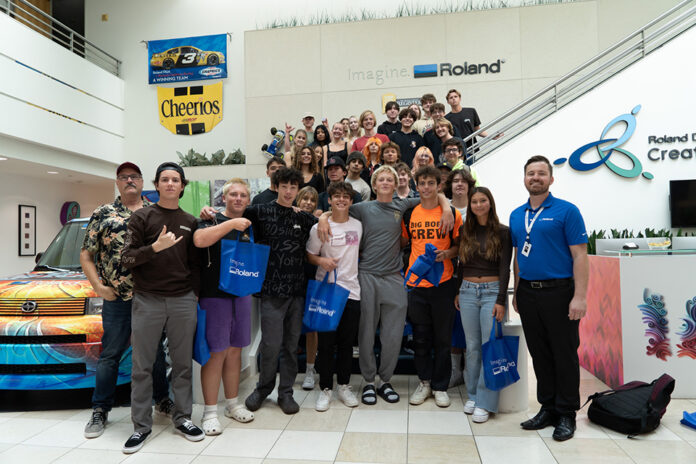 Roland DGA Corporation, a leading provider of wide format inkjet printers, vinyl cutters, 3D milling machines, and other innovative digital devices, held an open house event for students from Laguna Beach High School as part of National Manufacturing Day and ISA (International Sign Association) Sign Manufacturing Day.
The group of thirty-four Visual Arts students, accompanied by their teachers, toured Roland DGA's Irvine, California-based corporate headquarters, attended an informative presentation, and participated in live, hands-on product demonstrations. They also received inspirational giveaways to mark their visit, including digitally decorated yo-yos, customized leather notebooks, sticker sheets, and more.
After touring Roland DGA's lobby "Creative Center" gallery, which features various eye-catching projects completed by users of Roland DG technologies on display, the students moved on to the company's training room where product managers provided an overview of the sign and graphics industry, how Roland DG's digital imaging technologies are used in various markets, and career opportunities within in the field.
"We wanted to participate in National Manufacturing Day, and our own industry's Sign Manufacturing Day, by opening our doors to students interested in graphic design and digital printing," said Garrett Smawley, Roland DGA's sales manager for the Education market. "The open house was a great opportunity to familiarize them with the industry, jobs in the field they might want to pursue later in life, and the latest products available to print professionals.
"They were able to get a glimpse into the world of graphics production, learn a little bit about how Roland DGA operates, and see some of the amazing things our state-of-the-art machines can do."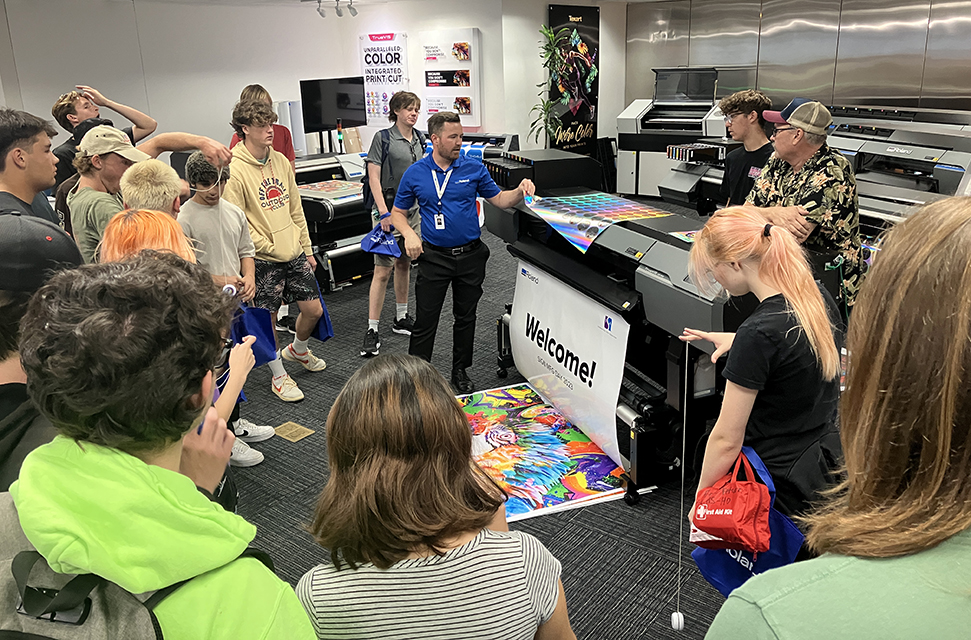 According to C.T.E Instructor Scott Wittkop, the visual and performing arts chair for Laguna Beach High School, his students greatly enjoyed their visit to Roland DGA headquarters.
"The students are already learning about the graphic arts through our school program, so being able to get a behind-the-scenes view of how a company like Roland DGA functions and how wide format digital printers work was invaluable," he said. "They came away from the event with some nice custom-printed samples, but more importantly with a better knowledge of the sign and graphics industry, an understanding of the tools of the trade, and some inspiration for career pathways that lay ahead."
—Press Release