Quint Creative Signs of Piqua, Ohio specializes in creating one-of-a-kind dimensional signs that help set businesses and organizations apart from others. Sometimes this can involve large amounts of custom signage for an order, which can require the need for extra detail in planning, scheduling, and logistics.
The shop is currently undertaking a series of sign projects for several Texas-based convenience stores, having already completed two locations at press time (with four to six more on the horizon).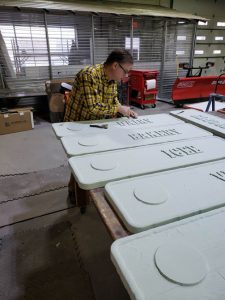 For the first location, Quint Creative Signs produced fifteen identification signs of one size and three double-sided signs of the same size, as well as ATM and large restroom signs. At the second store, they crafted twenty-five of the same size wall signs.
"We made every one of these signs unique; none have a duplicate frame or background," says Brian Quinter, owner of Quint Creative Signs. "I didn't want to see all these signs hung on the wall and notice a repeated pattern on them.
"While this took longer, I think making them unique is a much better result for this client."
Quint Creative first designed the 3D elements of these signs using Vectric Aspire. They then routed the signs out of DUNA-USA CORAFOAM® on their AXYZ CNC router. "After we finished routing them, we did a little hand-carving and sanding to each sign for a little more added effects," says Quinter.
The circular icons featured on each sign are made out of black PVC and feature printed vinyl faces on them.
The background and raised text on the signs were painted. "We primed all the signs and then applied a base color to each one," says Quinter. "Each sign went through two glazing steps, in order to achieve the wood-looking color. We sprayed the primer coat, but all the other paint was done by hand."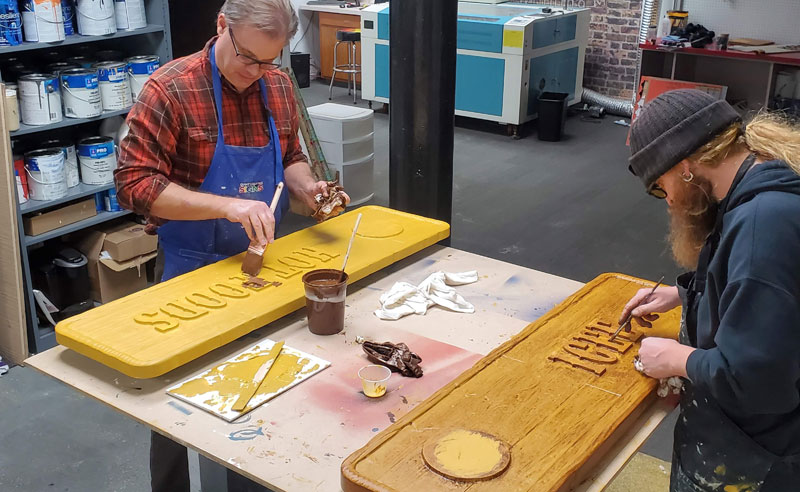 As you can imagine, dealing with a large order of custom dimensional signs necessitates a detailed production schedule.
Quinter says they broke the orders down according to size. "We first CNC-routed all the signs of one size," he explains. "While one group was finished and another was on the CNC, we proceeded to doing our sanding and hand-carved details and getting them ready for primer."
For the one-size signs, Quint Creative was able to get six sign CORAFOAM sign blanks on their CNC table at a time. "We ended up doing a lot of rotating of the signs, since there is only so much space," says Quinter.
After they got twelve of the signs primed, Quint Creative moved them into a room where they did hand painting while they moved more in for priming.
"We will wait for all the signs in the group to be primed then we move into doing the base color," says Quinter. "Depending on the quantity, this can be done in a day or a day-and-a-half. Then we plan a day for each glazing step and a day to paint the text and check for touch-ups."
Quinter says that one challenge of reproducing numerous, multiple types of similar dimensional signage is making sure that their vendor has enough HDU in stock to keep them rolling with the project. "On our newest order, we ended up having our distributor get us a skid directly from DUNA-USA," he says.
They also pay attention to paint supply. "We use Nova Color Paint for these signs. They have a shop in California," says Quinter, "so we need to make sure we have plenty of time for it to arrive before we need it."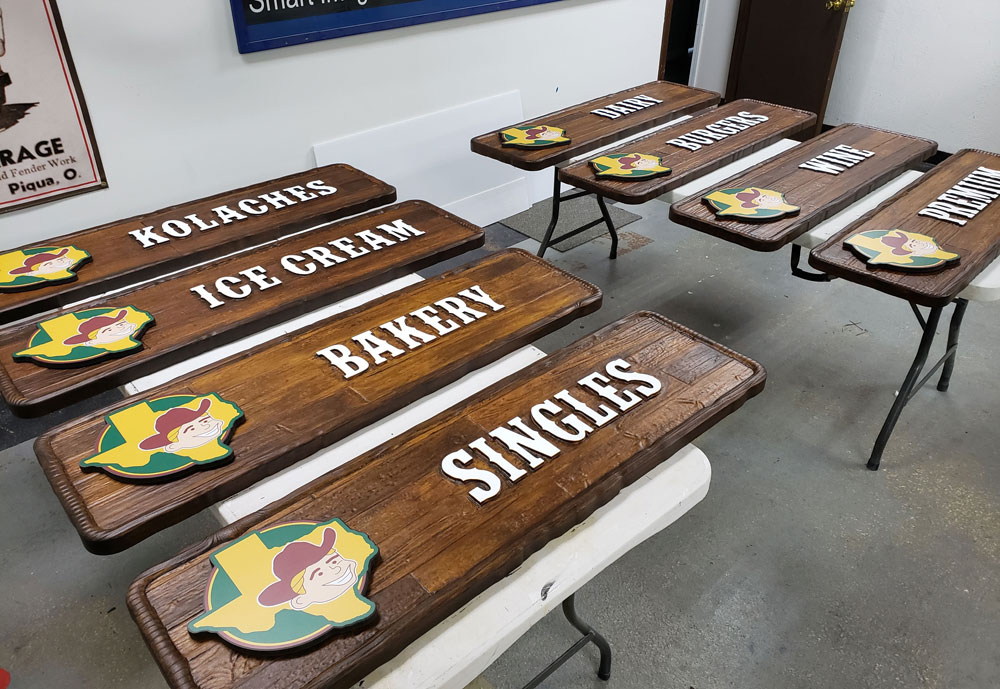 Quinter mentions that this client had a really quick lead time on their first order of signage, so they had to inform them of the steps required and the time it was going to take to make them. "We always try to lengthen the CNC lead time," he says.
For the first order, the sign shop shipped a batch of per-size signs back to their client as soon as they finished them. "On the current order (and going forward), we plan to ship everything at once to reduce shipping cost for the client," says Quinter.
Quinter says it can be challenging for smaller-sized shops to keep other projects rolling when working on an order requiring large amounts of signage. "Sometimes it works out okay in the end, because of paint drying or CNC routing time, where you can't really work on this project and have to do another," he says.
By Jeff Wooten