With ninety years under its belt, Chicagoland display graphics firm Cushing is no stranger to change. The company has dealt with changes from its inception, when it opened as a blueprint shop in 1929 one month before the stock market crash.
As reprographics evolved over the following years, Cushing invested in color and graphic imaging, digital presses, and finishing equipment.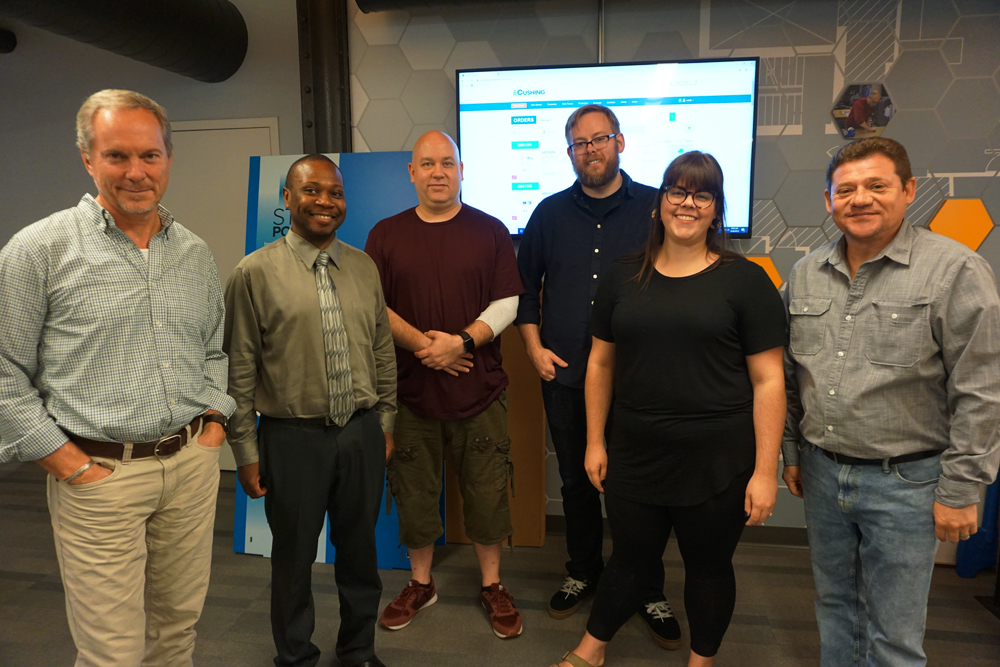 With projects becoming increasingly complex and technology constantly diversifying, Cushing sought to find a workflow software solution that would optimize production and project fulfillment. "We really needed something to create some standards within our organization, some workflows, some quoting standards, and also a way of making the easy jobs easier," says David Parkes, director of Information Technology for Cushing.
By automating the simpler tasks that require a minimal amount of attention, the company would be freed up to focus on the more complicated jobs that require closer attention. "A system like this really enables us to automate a lot of those processes so that we can do the easy stuff easily," says Parkes.
As Cushing began searching for a workflow software, communication and an engaging onboarding/training process were two of the biggest system requirements.
A workflow software that could specifically serve the printing industry was also important. "Obviously it had to be specific to printing because there's just a lot that an information system needs to know about the printing world to really accommodate those workflows well," says Parkes.
The system also needed the ability to adapt and grow with Cushing over the coming years. "The challenge was to find a product that was adaptable enough to a lot of different printing environments," says Parkes. "It has to also be adaptable enough [and] component-based enough to allow for a lot of different kinds of scenarios. We still don't always know what we're going to be when we grow up. Five years from now, who knows what kind of work we'll be doing. But we still want to be using this software, and we still want to be able to adapt it around whatever that next technology is going to be."
After reviewing a number of software systems, Cushing ultimately chose printIQ as their management workflow solution.
"[This software] offers robust tools that streamline the complexities and variables of customer work orders—from proofing and written installation details to third-party purchase orders," said Joseph X. Cushing, executive vice president at Cushing. "The platform includes functionality our production team is familiar with, and printIQ has an outstanding track record for APIs and technology."
Parkes also lauds printIQ's ability to connect the dots of the different variables that go into a job order. "The system has the intelligence to know where did this quote come from, who is it associated with, what are all the components that make up that quote, how does this relate to inventory, customer information, sales information, etc.," he says.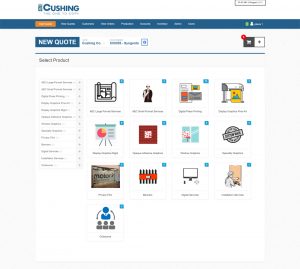 Once an order becomes a job, printIQ knows how it relates to various departments and roles involved in fulfillment, and the system is adaptable to changes that may occur over the course of fulfillment. "It's all got to hinge together," says Parkes. "If that hasn't really been thought out carefully in the beginning, you're going to end up doing a lot of customization somewhere down the road to make it work with your own environment, and that gets costly."
Once the software was chosen, Cushing started talking about it to employees to let them know it was coming. "You've got to have buy-in from everybody," says Parkes. "Everybody's got to recognize why this is important because obviously it's going to be a lot of extra time and effort on everyone's part. Change is always difficult. You have to be motivated to want to go through that change for it to really be successful."
In anticipation of implementation, the company put its inventory into databases, pulled together equipment lists, and reconsidered the verbiage it used to identify services. "It forced us to standardize a lot of things and put them all together," says Cushing.
Most importantly, the company put together a team of six people who worked on implementing the system over the course of four months. "The key thing was building a team that really encompassed all the aspects of our business—having people from sales, production, management, project management, accounting, customer service, and IT," says Parkes. "We had all of those people together in a room as often as possible so that everybody's learning from everyone else. And as decisions need to be made and new strategies develop, you've got everybody working together and looking at the same screen at the same time and collaboratively making those decisions.
"If anybody's thinking when they're wanting to implement something like this that it can just be one guy off in a corner somewhere, they're probably going to have a rough time of it."
Proper employee training was also a big part of the success of the workflow software. "It's a very different way of thinking about things, so the training was a big part of the implementation," says Cushing.
Even with months of preparation and training, when printIQ launched this past July, Cushing knew to expect some growing pains. "One of the goals was creating standards and ways of making it easy to quote products that sometimes involve a lot of different components and a lot of different pieces. So what we did as part of this implementation is we created these templates," explains Parkes. "We had to write all of those ourselves, and because there are so many possible combinations of materials and operations and devices and so forth, we're still wrapping our arms around all the possibilities of those templates and configuring them in a way that they account for, eventually, every single thing that we do.
"We're still very much configuring this system around our unique products, and we'll probably continue to play with those for weeks to come."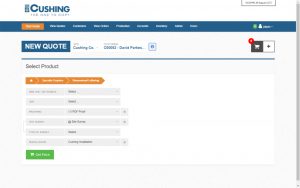 Aside from standardization and more efficient workflows, Cushing expects a number of benefits to come from implementing printIQ. "A key value out of this program was really being able to identify our costs," says Parkes. "A program like this really demands that you go in and say what are your ink, paper, and machine costs; what kind of contracts do you have with your vendors; click counts, etc.
"This is going to be an opportunity for us, in a way that we've never had before, to look at what our jobs are costing us so that we can identify are we charging appropriately, and where can we better manage our costs versus our charges?"
Another future benefit Cushing hopes to add is a customer-facing storefront where customers can use templates to create and order their own jobs, which will then come into printIQ ready to be fulfilled. "Those opportunities down the road are going to be hugely beneficial for us just to make it easier for people to do business with us," says Parkes.
Cushing has some advice for other shops considering workflow software. "Do your homework. Look at multiple systems. Talk to your customers," says Parkes. "At the end of the day, the software is not going to do everything you want it to, and at the same time, you don't want to have to completely re-architect your business to make it work with a piece of software.
"You know you're going to meet somewhere in the middle. Ultimately the decision is—is that middle place something you can live with? Take the time to understand how the program works and to really reevaluate your business."