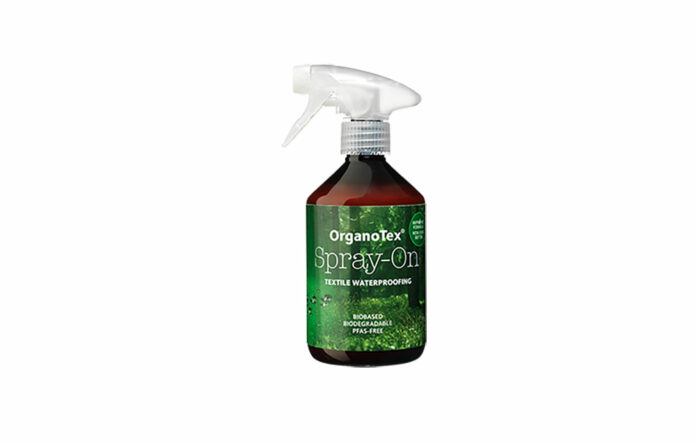 After several years of research and development, OrganoClick is now launching, within its brand OrganoTex, a newly developed and eco-labelled textile waterproofing with world-unique performance. Through green chemistry that mimics nature's own water repellency, an excellent environmental profile and high technical performance are achieved. The products are biobased, biodegradable, and eco-labelled and completely free of PFAS, fossil plastics and synthetic waxes.
The technology is based on combining the natural fatty acids of plants and the surface structure of leaves with the Nobel Prize-winning chemistry organocatalysis. The inspiration is the lotus leaf with its 3D structure and extreme water repellency. To succeed in this, the patented OrganoClick® technology is used to "click" the natural fatty acids on the textile fibers.
The result is a new generation of OrganoTex products that have improved water repellency and withstand more washing cycles. The products are biobased and biodegradable, and contain neither PFAS, fossil-based plastics nor synthetic waxes.
First out are the products OrganoTex Wash-In Textile Waterproofing and OrganoTex Spray-On Textile Waterproofing.
Thanks to their excellent environmental profile, they have received the environmental label Oeko-Tex Eco Passport and USDA BioPreferred Certified Biobased Product. The products are also verified to be readily biodegradable according to the high requirements of the OECD 301F test.
"After more than four years of research and development work, we can finally present this breakthrough in textile impregnation," says Mårten Hellberg, CEO of OrganoClick "A world-unique product that both combines high performance and at the same time is biobased, plastic-free, biodegradable, and, of course, PFAS-free. "This innovation is fully in line with OrganoClick's overall mission to accelerate the phasing out of plastics and fossil chemicals towards our overall vision of a nature free of plastics and toxic chemicals."
"We are very proud to have a new, even better textile waterproofing, which meets our high environmental goals," adds Susanne Karlsson, sales manager at OrganoTex. "With this product, consumers can care for and extend the life of the garments they already have without spreading plastic polymers, fossil-based waxes or PFAS in nature.
"These products make us unique in the world and pave the way for our continued expansion."
—Press Release