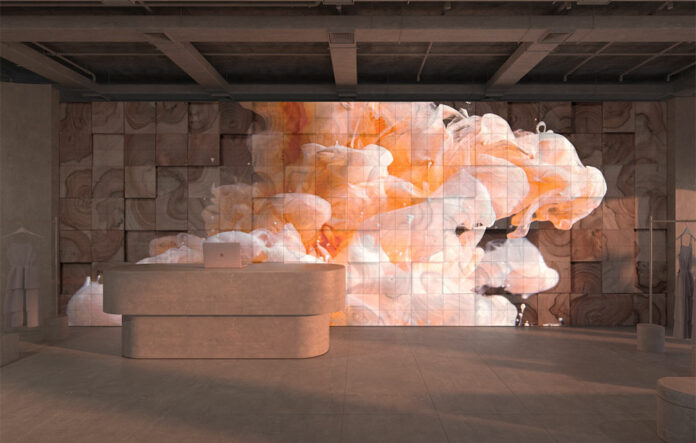 CECOCECO, an innovator in the lighting and display industry, announces ArtMorph, a luminous wall panel that harmoniously combines advanced lighting and display technology with captivating textures. ArtMorph is designed to seamlessly integrate into diverse environments including, retail, cultural and public spaces, restaurants, hotels, offices, and more, providing a perfect synergy of aesthetics and functionality.
Designed to redefine aesthetics in various settings, ArtMorph promises to illuminate environments, taking the visual experience to an unparalleled level.
Key Features of ArtMorph include:
Premium Texture Collections: Featuring over 150 texture collections. Effortlessly adaptable and infinitely customizable, the luminous wall panels blend seamlessly into any environment, offering a truly bespoke experience. A few of the stylish options include wood, stone, textile or metal.
Stunning Video Display: High-resolution LED boasting 25,600 pixels per sqm or 2,378 pixels per sqft, ensuring immaculate clarity and vibrancy.
Patented Excellence: Unique and patented designs that ensure top-notch quality and seamless user experience.
Unified Control Experience: ArtMorph's control system effortlessly bridges the gap between complex LED operations and user-friendly interfaces. Whether you're utilizing our ready-made light effect templates or diving deep with advanced functions for professional designers, ArtMorph ensures a seamless blend of art and technology at your fingertips.
Hassle-Free Installation: Simplified processes combined with lightweight materials and modular designs ensure ease of installation for all.
ArtMorph is more than a visually appealing design; it represents cutting-edge technical prowess.
With its radiant and adaptive LED colors, it ensures seamless color transitions. Notably, at a brightness level of 700 nits when covered, ArtMorph surpasses its competition by offering three times the illumination. Its robustness is evident with features like an IP54 rating, fire resistance, and a scratch-resistant surface.
ArtMorph prides itself on an intuitive installation process and an effortlessly user-friendly control system. Users of any technical proficiency can confidently manage and customize their displays, cementing ArtMorph as the go-to choice for a wide range of individuals.
CECOCECO further simplifies the ArtMorph experience by connecting users directly with certified installers, ensuring a seamless transition from purchase to installation, and guaranteeing the envisioned aesthetic is flawlessly realized.
"ArtMorph is not just a product; it's a revolution in how we experience and interact with spaces," said Jason Lu, founder of CECOCECO. "We've meticulously combined the essence of aesthetics with cutting-edge technology to redefine visual storytelling. With ArtMorph, every wall becomes a canvas and every room a story.
"Our commitment at CECOCECO has always been to push boundaries, and with ArtMorph, we believe we're setting a new benchmark for the future."
ArtMorph is currently on display at the Brooklyn Navy Yard in New York and will be showcased at Chatsworth in Los Angeles starting this November. Viewings can be arranged at either location.
—Press Release