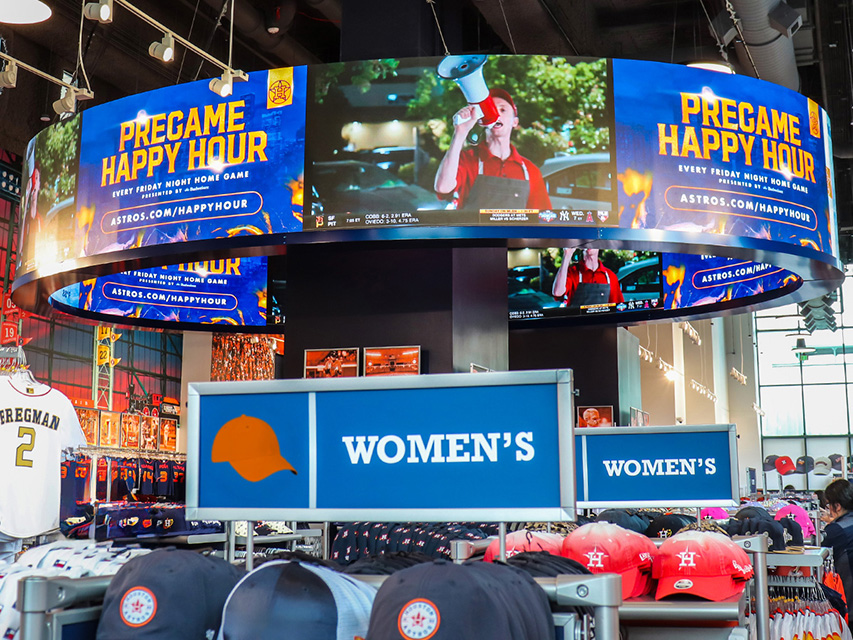 Watchfire, a leading provider of premium LED displays, was selected by the Houston Astros to deliver a unique dual-sided LED halo display suspended from the ceiling in The Astros Team Store at Minute Maid Park. The display is designed to attract the attention of customers and entertain fans with captivating visual content as they shop.
Measuring an impressive 5 feet tall-by-29 feet wide from ellipse to ellipse, the display is a first-of-its-kind creation by Watchfire.
The custom-designed oval-shaped display features inner and outer rings with continuous Watchfire S-Series 2.4mm LED displays that showcase engaging content, including seamlessly stitched-together videos, live game feeds, and social media posts.
Serving as the centerpiece of The Astros Team Store, the display was a collaboration of the Astros management team, BrightSign, Wallboard, Datapath, Humble Sign Company, and Watchfire's own service and engineering departments.
The Astros Team Store at Minute Maid Park recently underwent renovation and expansion, making it an ideal location for installing the new display.
"Watchfire collaborated with an exceptional team of partners to bring the display to life," said Kyle Dines, vice president of sports and indoor at Watchfire. "I'm not aware of anything like this in any other major league ballpark. It's a showstopper."
BrightSign, of Los Gatos, California, a global market leader in digital signage media players, contributed its cutting-edge technology to create immersive and captivating experiences for Astros fans to stay connected to events while shopping in the retail store.
BrightSign deployed two XT1144 players, which combine powerful 4k video and graphics and can play live TV from any broadcast channel.
"When you pair best-in-class hardware with engaging content you create an experience that truly takes the retail environment to a new level," said Misty Chalk, vice president of sales, North America, at BrightSign.
Wallboard, of Carrollton, Texas, an enterprise-grade digital signage content management system (CMS), ensures seamless content management and scheduling for the display. Challenged by varying resolution requirements of different sized displays, Wallboard ensures that content looks great, syncs together, and can be easily scheduled across an entire screen network.
According to Rod Roberson, CEO of Wallboard, the company has worked with the Astros since 2019. It has provided close to 200 screens throughout the stadium used for digital menu boards, stadium advertising, and internal communications.
"This project was a natural fit for us based on Wallboard's capabilities to adapt to the unique requirements of this project combined with the Astros' comfort level with using a CMS that they already knew," said Roberson. "By collaborating with the other partners we were able to expand our capabilities and the result is a unique and dynamic display."
Datapath, of Norristown, Pennsylvania, a leading video processing and control solutions provider, contributed their expertise with the Datapath VSNMicro 600-RPSU system, enabling seamless control and overlay of content zones.
Humble Sign Company, of Humble, Texas, a renowned sign dealer, played a vital role in the successful execution of the project.
"This groundbreaking collaboration has transformed The Astros Team Store at Minute Maid Park into an immersive retail environment that brings the excitement of the stadium inside," said Dines. "Many partners worked together to ensure that Astros fans could visit the team store without missing a minute of the excitement."
—Press Release