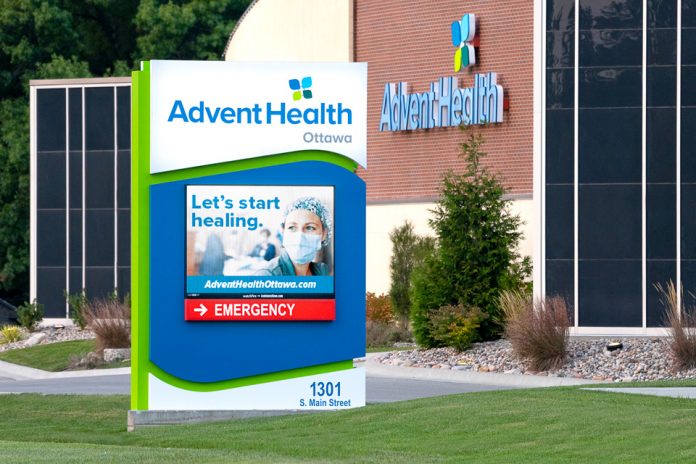 AdventHealth Ottawa is a forty-four-bed hospital and outpatient facility that serves the community of Franklin County, Kansas. Previously known as Ransom Memorial Health, the system was incorporated into the AdventHealth network of care in 2019.
During the transition to AdventHealth, the campus underwent a rebranding, which included revamping or replacing all the Ransom Memorial signage. This included the original entrance sign, an oversized monument structure with a low-resolution digital message center.
Instead of incorporating the old message center into the new signage, AdventHealth officials decided to look for a higher resolution LED sign that provided more flexibility in the content that could be displayed and was easier to program.
Located on the main road through Ottawa, officials envisioned using the sign to let residents know about services and programs, while also supporting the community with public service announcements.
AdventHealth tapped Luminous Neon Art & Sign Systems of Olathe, Kansas, to design the new 17-by-11-foot entrance sign, an aluminum structure with an internally illuminated cabinet and acrylic face. Luminous specified a 5-foot-5-inch-by-7-foot-3-inch 8mm LED display manufactured by Watchfire Signs.
"AdventHealth provided sign and branding standards, but the standards didn't address a main building sign with a digital message center," said Shelly Poppelreiter, senior account manager at Luminous. "We were able to conform the new sign to fit their branding standards, and the result is a sign that functions as the main campus identity as well as a directional sign."
The LED sign was an important part of the new entrance sign, according to Brenda Pfizenmaier, director of Diabetes & Nutrition Care, Wellness and PR at AdventHealth Ottawa.
"We invested in a Watchfire message center to communicate about our hospital, and engage with the community," said Pfizenmaier. The health system displays important health reminder messages, promotes classes and events, and highlights departments and physicians.
"In addition, the sign can be used for community notices, such as blood drives and health awareness months. Our Watchfire sign helps us engage with the community in a meaningful way."
Using Ignite OPx, the Watchfire sign also is a breeze to program. "It is easy to upload and schedule slides, and we can even do this using our phones," said Pfizenmaier. "It's much easier to program than our previous sign.
According to Poppelreiter, Luminous has been specifying Watchfire Signs for more than twenty years.
"Watchfire's signs are reliable and their customer service is outstanding. If we need parts, the turnaround time is very fast," she said. "We rarely specify any other manufacturer."
—Press Release