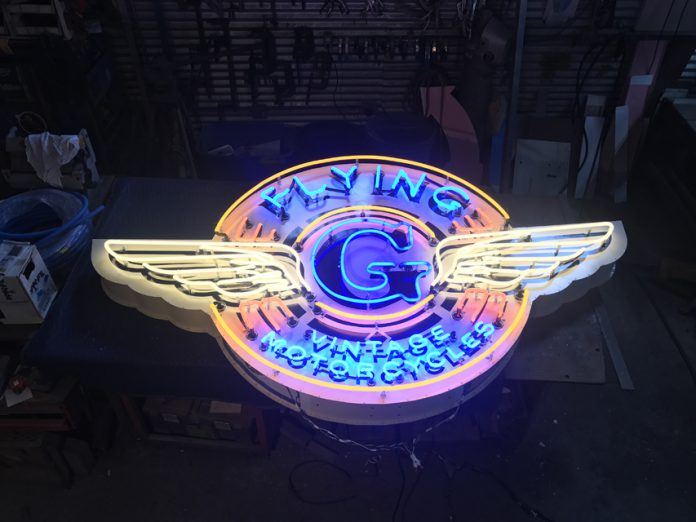 Some of the most passionate people out there are those who love their classic motorcycles and those who love their classic signs. Combine these two interests, and to quote a vintage candy bar adage, you've got two great tastes that go great together.
Flying G Vintage Motorcycles in Joaquin, Texas specializes in classic motorcycles. Owner Luke Garrett collects, rides, and restores vintage motorcycles, particularly those in the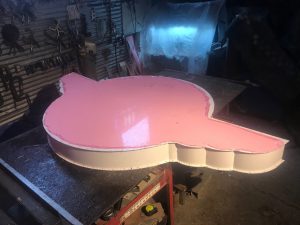 Indian® lineup (Chief®, Scout®, etc.). When Garrett needed a new sign to place above the front door canopy at his shop, he wanted something colorful that would stand out, something iconic that is associated with motorcycles, and something classic-looking that emphasizes the past.
Garrett hooked up with Jay Gordon, owner of Blackout Signs & Metalworks in San Marcos, Texas, for this sign request. When it comes to custom signage, Gordon's shop does it all—conception, design, hand painting, fabrication, install, etc.
It really helped that Gordon is a die-hard fan of classic signage, particularly the "old-school method" of sign making. Blackout Signs & Metalworks eschews technologies like computers and CNC routers when it comes to production. "Most everything we do is done by hand—using tools like grinders and welders," he says.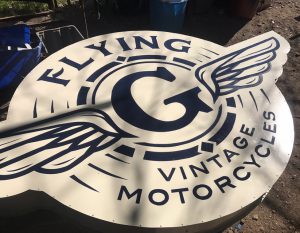 His shop favors creativity and artistry over cookie-cutter jobs, which is one of the reasons they enjoy working with the classic style of neon for their clients. This aspect was also one of the things that attracted Garrett to reach out to Gordon.
Gordon is a self-professed "gearhead" as well, so he approached this project as if it was something that he would hang on the front of his own shop.
"I love all things old and engine-driven," he says. "And it really helped that [Luke] came to us at the start with a great-looking logo for use as the centerpiece of this sign."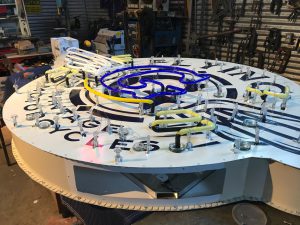 Gordon and his crew at Blackout Signs and Metalworks (Gabriel Hedrick, Jason Lambert, and David Perez) used plenty of neon colors for this project—Novial Gold, Horizon Blue, Cobalt Blue, Orange, and Off-White.
While the art for the logo was one pre-selected color, Garrett gave the shop free rein on which other neon colors they could use for the sign. "We wanted the wings and outline of the sign to 'pop' and draw one's eye inward," says Gordon.
The sign features an inner-welded one-by-one-inch aluminum frame. The faces and returns were built out of .063 aluminum. "We used One-Shot lettering enamels, spraying the can and hand-lettering the logo," says Gordon.
The finished neon sign consists of roughly sixteen to eighteen units. It measures five feet tall, nearly seven feet wide, and six inches deep.
Blackout Signs & Metalworks was able to knock this project out within five weeks. Gordon says that the biggest challenge wasn't the build but rather the delivery and installation. "It was a five-hour drive from our shop to his, and the whole backseat of our truck was stacked with glass," says Gordon. "The drive out there was nerve-wracking."
Gordon says that for nearby installations, they'll leave the glass on the sign for these short trips. "However because of the long drive we were facing, the risk really wasn't worth it," he says. "So we attached the glass pieces out at the Flying G motorcycle shop. But other than that, everything about this project was pretty straightforward."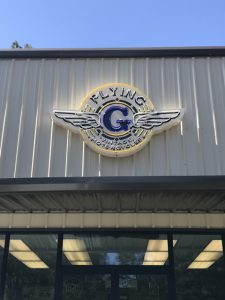 For this storefront wall-mounted sign, Gordon and his installers used ladders to climb up onto the metal canopy, where they bolted to the building a bracket they had fabricated. "On that bracket, we had threaded 1/2-inch studs that line up with the frame of the sign," he says. "Doing this makes mounting easy, as long as the frame is square in the sign and you level out the bracket."
No exposed clips or brackets can be seen by onlookers. "We fed the wire through the building with weather-tight conduit and tied it into a junction box that was already in place," says Gordon.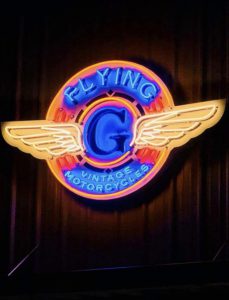 Garrett found Blackout Signs & Metalworks via their Instagram page for this job. Gordon shares that their photo- and video-sharing Instagram account has proven a boon to business. "We like its 'gallery'- style layout and its ease of use," he says. "You can write as little or as much as you want about the project, but visually, it's always very effective."
The timing of the install was perfect, as the client was hosting a big party at his shop later that day. "[Luke] told us how happy he was with the sign and showing it off to his guests," says Gordon. "I imagine having that warm neon glow lighting his shop really makes him smile."
—Jeff Wooten