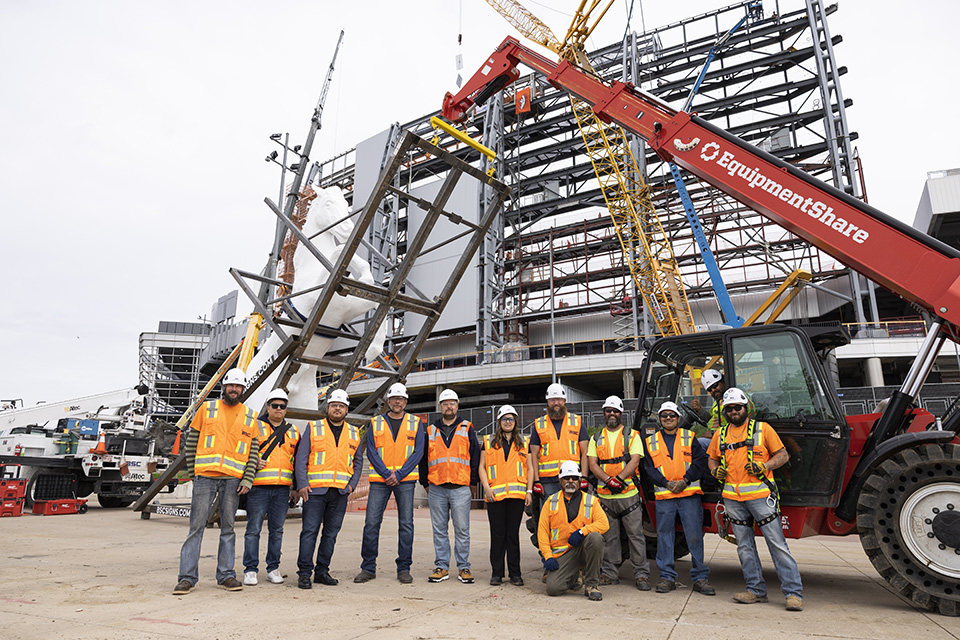 When the NFL's Denver Broncos organization entrusted them to complete a refurbishing project for an "irreplaceable" and "priceless piece of history" of their home stadium, BSC Signs huddled with their in-house team of managers, designers, fabricators, and installers. They developed a winning game plan that would employ extra care and caution and provide a highlight-worthy result for not only the Broncos but also themselves.
In January of 2022, Broncos ownership started $100 million expansion/upgrades for their home stadium, Empower Field at Mile High. Part of these plans included updating and doubling the height of the stadium's scoreboard to seventy feet tall.
The organization decided it was also an ideal time to renovate the bold, white fiberglass horse sculpture—"Bucky"—that has reared atop the scoreboard since 1975.
(Note: Fiberglass Menagerie of Alpine, California, re-used the mold for the full-scale replica they created a decade earlier of Roy Rogers's palomino horse co-star, Trigger, for the Roy Rogers-Dale Evans Museum in Apple Valley, California. Rogers approved this on two conditions—the new horse not be called "Trigger" and the mold to be destroyed immediately afterwards. The equine's moniker actaully came from a radio station contest—the originally picked "Bucko" transitioning to "Bucky.")
The Broncos hired Mortenson Construction as general contractors for the scoreboard renovation. In turn, the construction company handed off the Bucky refurbish to BSC Signs, a multi-million-dollar, full-service custom sign company in nearby Broomfield, Colorado.
There were a couple of "home field advantages" for BSC Signs acquiring this project. For starters, they have experienced a good working relationship with Mortenson Construction for several years now, collaborating on prior big projects.
"They typically come to us when they need something that's complex or is super custom," says BSC Signs Owner Joe Landin, noting that his company has also had indirect discussions with some Broncos personnel in the past. (Note: Since being profiled in our "SBI Young Sign Maker 2021" special, then-CEO Landin took over ownership from retiring John Dobie back in early 2021.)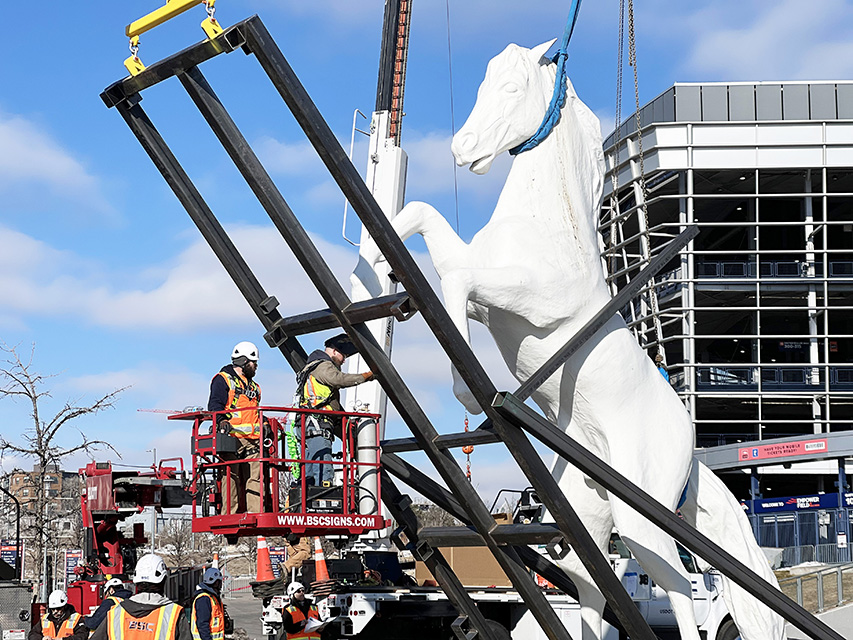 Another advantage is that BSC Signs had already built and installed a mini-Bucky piece back in 2015 that stands atop the smaller-scale replica Mile High Monument in the Lot J parking area of Empower Field at Mile High.
Some bigger differences with this project: The to-be-refurbished Bucky sculpture stands nearly twenty-five feet tall and then weighed nearly 1,300 pounds.
The Game Plan
The first thing to determine was just how much work going to be needed to bring Bucky up to date.
It was difficult to fully gauge the full extent of Bucky's condition while it was up on the scoreboard. A ground-level review would better determine how much fiberglass repair was going to be needed.
The company erecting the steel for the billboard renovation went up in the air via a boom lift to attach a harness to the white fiberglass statue, detach it from its bolts, and lower it to the ground with a crane.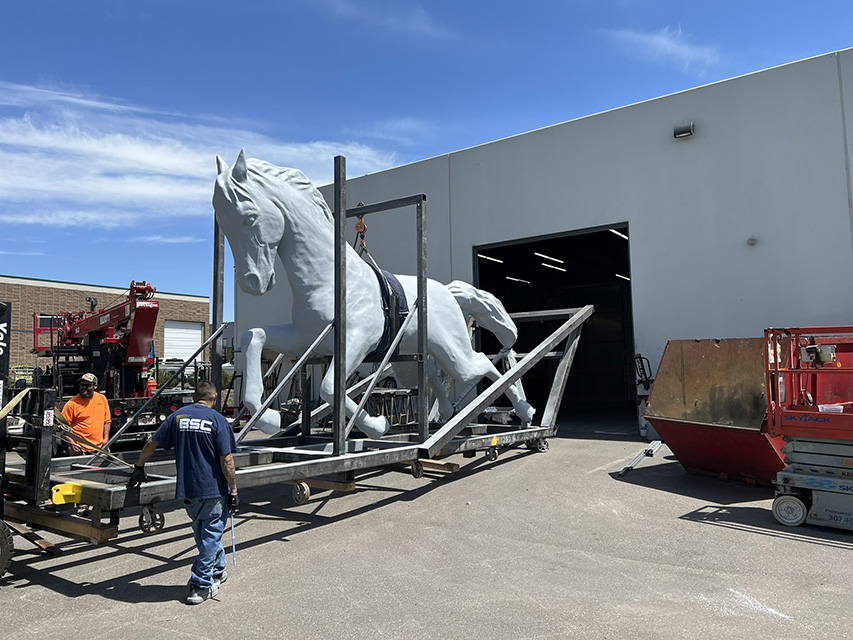 Bucky was then placed on a specially built mounting structure that BSC Signs had built. It was then loaded onto a flatbed truck for transportation to the sign company's facility for further inspection.
(Note: BSC Signs originally planned to move Bucky around their facility with a large telehandler but realized early on this was going to prove cumbersome. So, for easier mobility, they welded twelve large, high-capacity steel wheels to an oversized steel custom frame they had built.)
Landin says you could immediately see a few damaged areas as soon as the sculpted horse landed on the ground, as well as some paint chipping here and there around those areas.
It was while BSC Signs started sanding away in those spots that they were able to see that the damaged areas were a little more extensive and concerning than first thought. "Once we sanded away a two-inch crack, the paint underneath turned out to be a six-inch crack that had been filled in with paint or coating," explains Landin.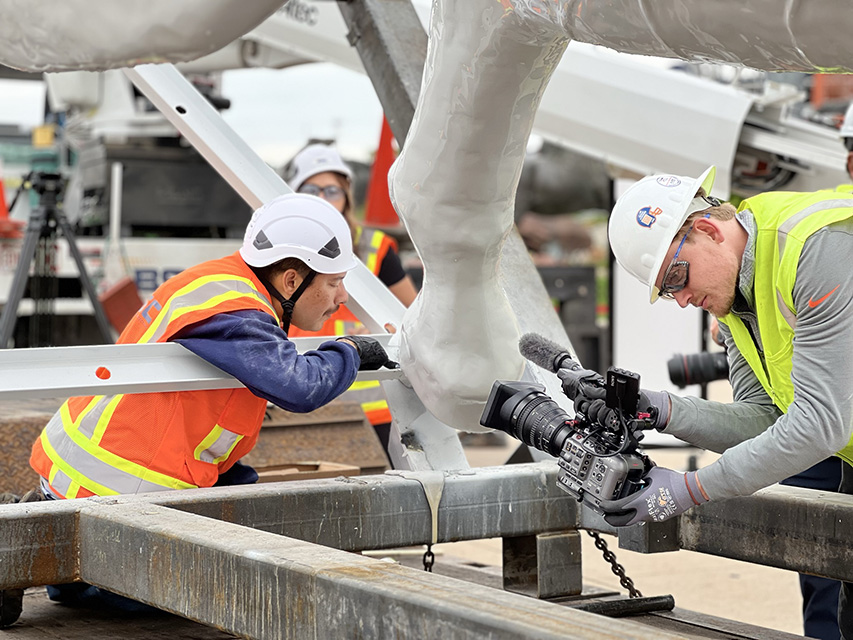 After complete sanding, a fiberglass engineer arrived to further evaluate the structural integrity of Bucky. They drilled holes at the mounting points and inserted cameras to look inside; they also conducted sonic testing for wall thickness.
The recommendation to the Broncos organization and Mortenson Construction was to remove all the coating via media blasting, to fully see any underlying issues with the fiberglass.
"He had several layers," says Landin. "It looked like he had one really good coating of paint that had probably been brushed or rolled on at some point."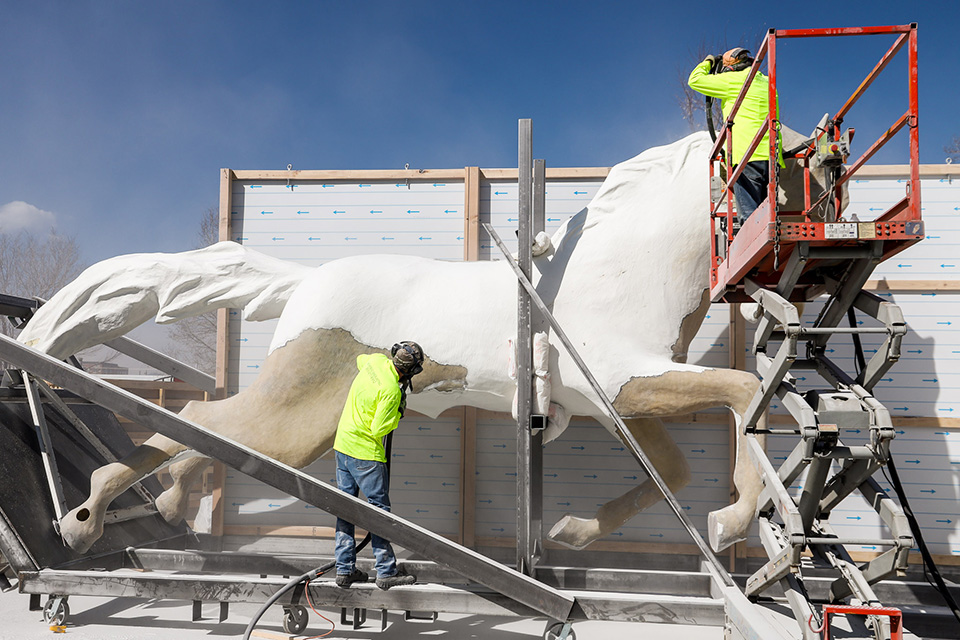 It was determined that the quickest way to remove the existing coating without damaging the fiberglass was using powdered glass media for the sandblasting.
BSC Signs had H&S Sandblasting handle the fiberglass sandblasting. In the "backyard" outside their facility, BSC Signs built a three-sided custom modular wall that attached to Bucky's steel structure; this would conceal Bucky and protect him from the elements while being media blasted.
The media blasting process lasted a week. "We would move Bucky out of the shop to have him blasted," says Landin, "then move him back in at the end of the day."
The first coating came off easily. Landin reveals the original gel coat took more time to remove—requiring two blasters, bigger nozzles, and more powdered glass.
When all the blasting finished, they found Bucky was a little transparent in places. "We noticed, in some areas, that he had thinner walls than expected," says Landin. "We were thinking he had a 3/16-inch coat all the way around, but in some parts, it was a little lighter than that."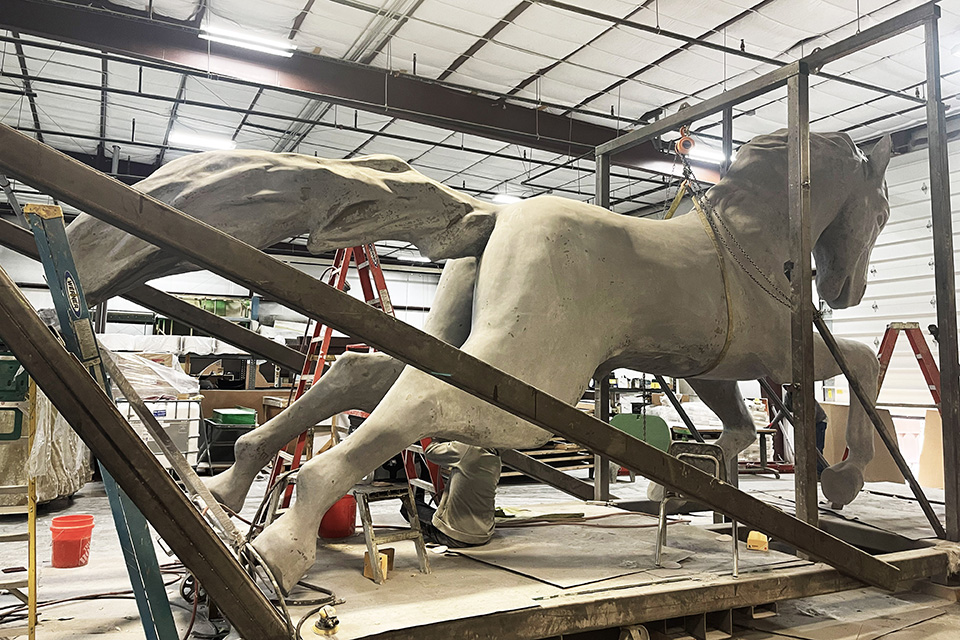 Meanwhile some damaged areas proved a little more extensive than originally thought. At this point, the fiberglass engineer recommended a full 3/16-inch layer re-coat with fiberglass to double the original thickness. He also advised adding a structural foam inside of the horse's hind legs and tail area, where the mounting is located, for further reinforcement.
E&J Fiberglass did the full fiberglass recoat on him. They drilled holes into those areas then injected the foam. "I was told that it hardened within minutes," says Landin. "Afterwards they patched up those areas where they'd drilled."
In-shop Action!
The original timeline was to remove Bucky from its scoreboard stable in late January and have him back up in mid-June. However BSC Signs encountered a kind of "hurry-up, two-minute drill" when they were informed midway through the project that the install date was now being pushed up to mid-May!
This gave BSC Signs about eight weeks to conduct the full fiberglass, the full coatings, the transportation logistics, etc. "Dry times, warranties, support, and responsiveness played a major role in how we were going to do this in the shortened timeframe," says Landin, noting that Denco Tubelite served as their distributor for this project.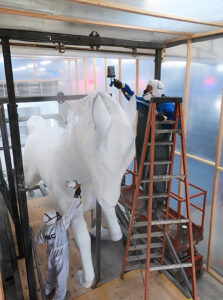 For the coatings choice, Landin says he was impressed with the support AkzoNobel promoted, even offering to send some of their team members out to help with the painting process.
Even though their 21,000-square-foot manufacturing facility can handle most projects with ease, Bucky's enormous size necessitated BSC Signs creating a temporary paint booth outdoors. This took about a week to produce (procuring the lumber, bolting the frames to the ground, and putting up all the sheeting).
"We wanted it to pull air and create suction," explains Landin. "We built a custom door that opens and closes, with real paint booth filters in it, to pull clean air. We essentially extended our existing booth as best we could to create the optimal paint booth effect."
The team of AkzoNobel employees flew out to supervise the mixing and give the BSC Signs internal paint team some product pointers.
There were four painters (two from AkzoNobel and two from BSC Signs) in the paint booth—three guns spraying Bucky at the same time. Due to a tight schedule, AkzoNobel had to fly out after helping, alongside the BSC Signs paint team, to apply the undercoat, the basecoat, and the first two coats of clear; BSC Signs performed the final two coats of clear and the final polishing.
Between the sealer, the base, and the clear, the actual painting process took about three days.
Polishing lasted about a week because they had to do a wet sand of Bucky after all the clear was put on. "It was a two-step polishing phase—we went over him with the first round of polish and then another one to blend everything in," says Landin.
Bucky now features a 3/16-inch epoxy resin fiberglass coating, a fiberglass gel coat primer, an Evercoat Feather Fill® coat (to fill any imperfections from the gel coat primer), and two applications of AkzoNobel sealer coat.
Two coats of white AkzoNobel and four coats of clear AkzoNobel were added for additional appearance and protection. "Then he was buffed and shined," says Landin.
The expectations are that the coatings on the refurbished Bucky will allow it to last at least a minimum of ten years but most likely longer.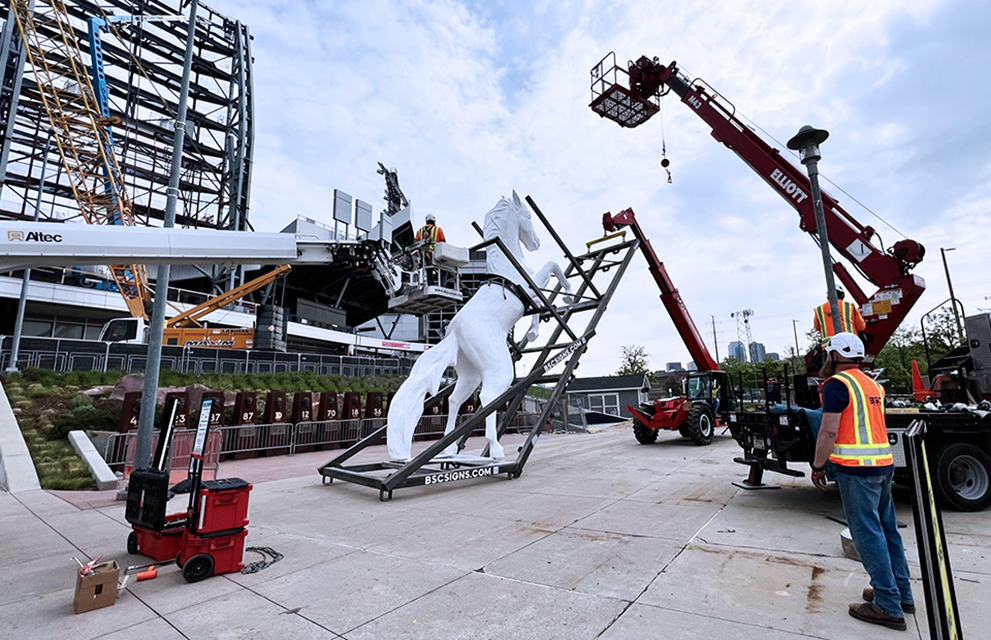 Members of the Denver Broncos organization arrived at the facility during the polishing phase to give a thumbs up on their inspection. "When they asked if we were still on schedule, I responded, 'It felt like we were ahead of it!'" proudly recalls Landin.
After polishing, BSC added steel bracing to Bucky, put the walls back onto the mounting, then moved and loaded him onto the flatbed trailer for its trip back to Empower Field at Mile High.
After meticulous staging and preparing for Bucky's release by the BSC Signs install team, Bucky was crane-lifted back up by the steel erection/crane company and moved into a steel mounting area atop the video scoreboard then secured with three tightened bolts.
Due to the scoreboard expansion, the now-reinforced Bucky stands 31 feet taller than before—161 feet above the field. Meanwhile the structural foam and extra coatings have added somewhere between 500 to 800 pounds to Bucky's original, unofficial 1,300-pound weight.
Post-game Recap
Both the Broncos organization and Mortenson Construction were extremely satisfied with how the refurbished Bucky turned out. "The team president told us he looked great up there, and I told him, 'Yep he's the icing on the cake,'" says Landin. "He's the prize piece up there!"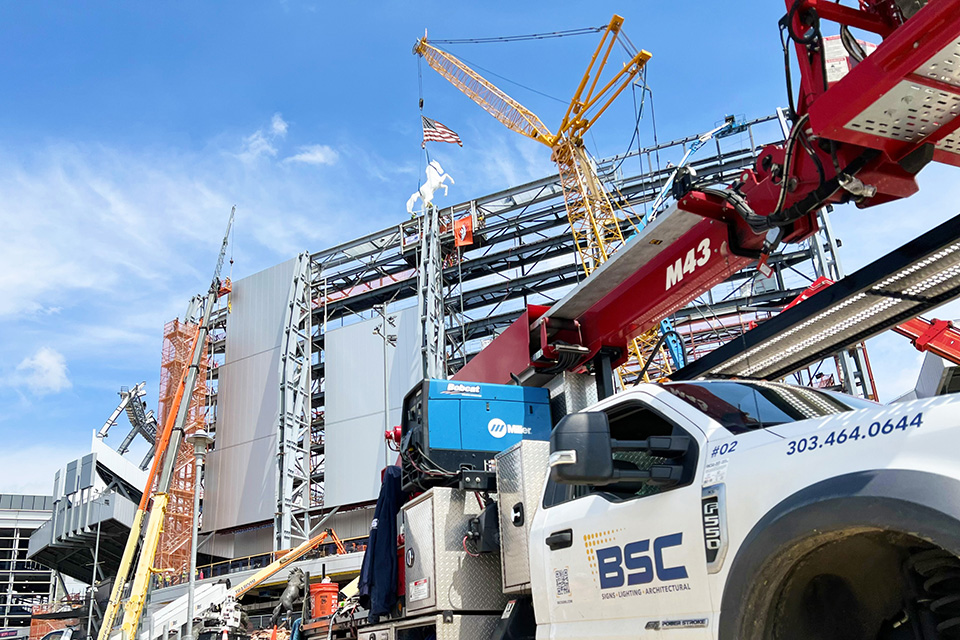 Landin knew the Broncos and Mortenson Construction had implicit trust in his company. "We had all of our plans and answered all of their questions. They made site visits to see if we were on schedule and to check progress and workmanship," says Landin. "They weren't having to tell us how to do things. They knew we weren't cutting corners or doing anything like that.
"So over time, they built trust with us and made less and less site visits."
Landin was excited and honored that his company was chosen to bring Bucky back to majesty. "We're in a growth phase now and starting to land bigger projects like this one," he says. "I'm sure we'll continue to see more as word spreads."
In the end, Landin credits his vendors and sub-contractors for really coming through for his company on this project. "It was great to see everybody rally around and want us to be successful," says Landin. "It's super important to have great relationships with your vendors, suppliers, and distributors. Take care of them and they'll take care of you."