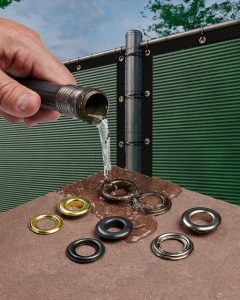 A new line of heavy-duty solid brass rust-proof grommets and washers that come in a variety of sizes and finishes for use in privacy screens, wind screens, sunscreens, and related outdoor products has been introduced by METALgrommets.com of Dighton, Massachusetts.
ClipsShop® Self-Piercing Grommet Sets include grommets and washers made from non-rusting solid brass for withstanding rain and the elements. Offered in #2, #3, #4, and #5 (3/8" to 5/8" I.D.) sizes, they come in nickel, brass, antique brass, and black oxide weather-resistant finishes that are especially designed for outdoor applications.
Available in 500 set packages of rust-proof grommets and washers, ClipsShop Self-Piercing Grommet Sets can be attached using the firm's manual and pneumatic grommet presses. Typical uses include outdoor screens that attach to chain-link fences for privacy, or to provide a wind screen or shade in nurseries, construction sites, playgrounds, and more.
ClipsShop Self-Piercing Grommet Sets are priced according to size and quantity. Samples are available upon request, and dealer inquiries are invited.
For more information, call (508) 802-6024, email Jo Ann Reynolds at [email protected], or visit www.metalgrommets.com.