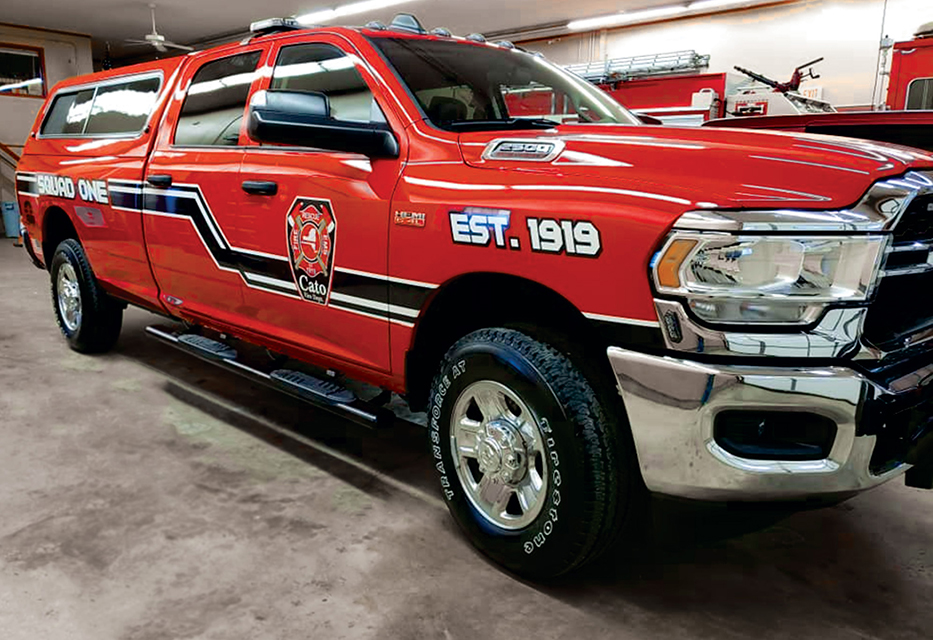 What do you do if you're a print specialist with a limited staff but a high demand from potential clients in your area for vehicle wraps? Instead of telling customers you don't have the availability to handle a full vehicle wrap project, you can always pivot toward selling and producing partial wraps.
That's the situation that Kathy and Derrick Stewart, co-owners of Mad Moose Designs in Cato, New York, encountered and the solution they implemented.
The couple had worked at several graphics shops for years before deciding to start up their own print shop, Mad Moose Designs, in 2015. (Note: The shop name was inspired by the couple's late dog, Maximus, whom they nicknamed "Max A. Moose").
They began out of an inactive storage building behind their home; however they soon proved successful enough at increasing their customer list and refining and deepening their product assortments that they were able to move into their current 1,860-square-foot facility that was once a Rochester Gas & Electric building.
There are two sides to Mad Moose Designs—the company screen prints apparel, and they print vinyl for decals, signs, and vehicles. This split actually afforded the owners the opportunity to keep their business going during the pandemic.
"A lot of places that put all of their eggs in one basket didn't survive," says Co-owner Kathy Stewart. "Our t-shirt production, which was probably the biggest part of our business at the time, dropped off completely. There were no sports, no events, nor very little business happening in general.
"But we were able to keep the lights on and stay open because of the print side. We created signs for the kids in school who weren't able to have a graduation. We also printed signs for teachers, nurses, and other essential workers, as well as informational signs for doctor offices, stores, schools, restaurants, etc., that had new rules in place."
Community is very important to Mad Moose Designs. Their very first job involved a benefit for a friend with breast cancer. "To see people come together and support her was amazing," says Kathy.
Because of this, Mad Moose Designs also sets up online shops that allow people to set up fundraisers. "We give a predetermined percentage to the organizers for their cause at the end of their sale," says Kathy.
Today Mad Moose Design has a small showroom where customers can come in and review examples of their work and a large production area housing a Roland DG CAMM-1 cutter and a TrueVIS™ VG3-540 fifty-four-inch printer/cutter. "We get asked for brighter colors by some of our customers who really like their vehicles to stand out. Whether it be an ATV, racecar, or a construction business, being able to provide our clients with a vibrant range of colors has been great," says Derrick.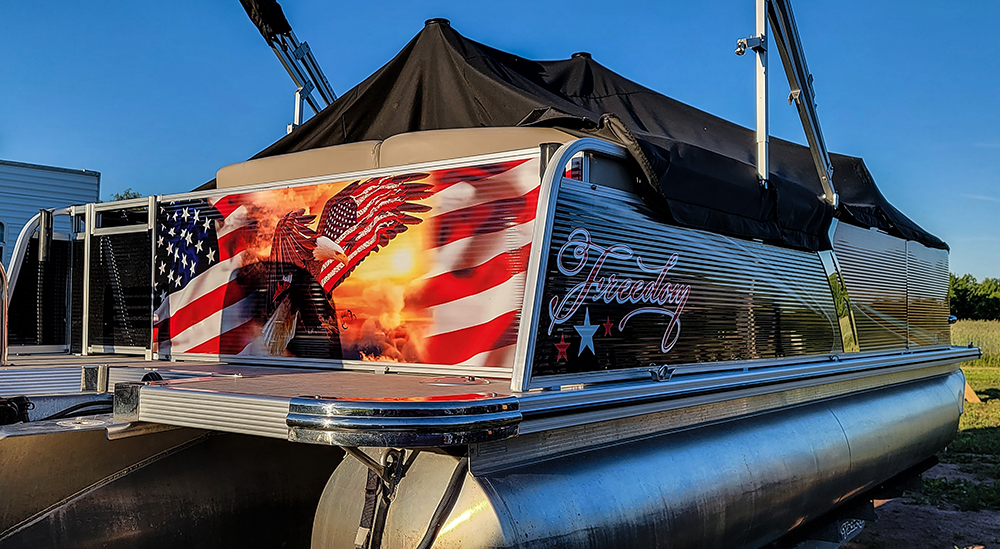 The shop has one 16-by-35-foot garage bay used for vehicle wrap installs. "For anything larger than that, we typically go directly to the customer," says Derrick.
At the moment, Mad Moose Designs is a two-person operation—just Derrick and Kathy. Derrick is the designer and handles most of the vinyl production when it comes to signs, decals, banners, and vehicle graphics. Meanwhile his wife Kathy handles the remainder of the production as well as all the paperwork.
Even as a two-person shop, Mad Moose Designs is able to turn projects around quickly—from decals and shirts to signs and vehicle graphics.
"The printer allows us to add extra colors or textures within the prints that otherwise would need to be done by layering vinyl," says Kathy. "Not having to keep as many color options on hand for vinyl has been great. Not only does that save us money, it also saves us space—which can be just as valuable."
The Stewarts have discussed bringing someone else onboard their staff but have yet to find the right person to fit their needs. "We work many long days to make sure we meet deadlines and get things out in a timely manner," says Derrick. "It can be hard to find someone who shares the same level of work ethic and dedication that you have for your own business."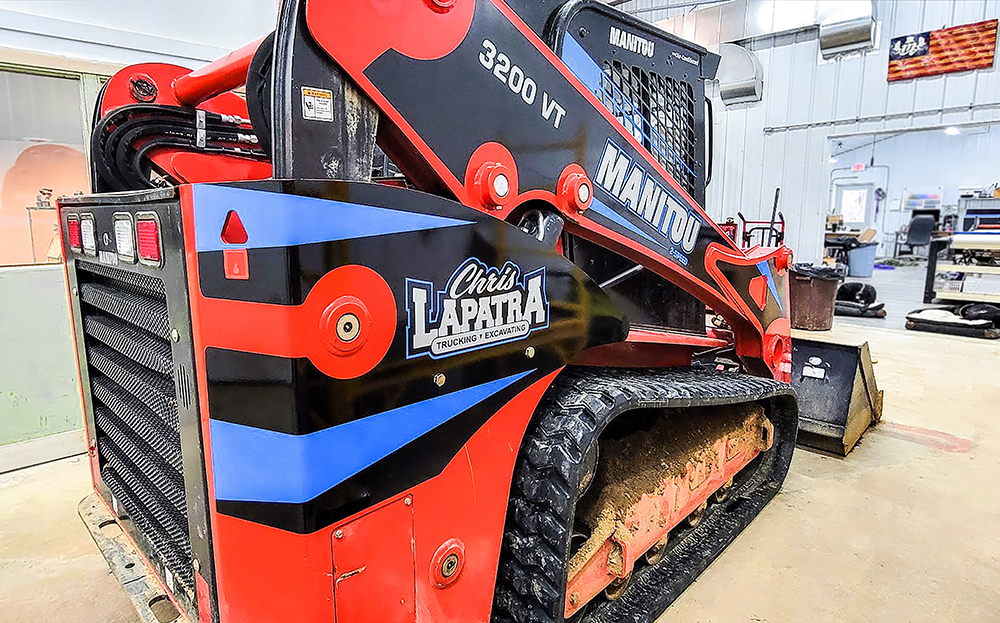 "Convenience" and "customer service" are two key selling points for Mad Moose Designs, which is located in a "go-between spot" for the bigger cities in central New York. "Many people couldn't believe we would open a shop here," says Derrick, "but the people in this area have the same graphic needs that people in larger areas have—everyone needs signs, decals, and graphics. Believe it or not, we also have people traveling to us from those larger cities over thirty minutes away."
Right now, their biggest clients are in trucking, construction, forestry, and farming and farm production. "Many of these types of clients need projects done yesterday," says Kathy. "For example, we deal with a lot of truck drivers who need DOT numbers before they can get on the road legally."
Mad Moose Designs receives a lot of requests for vehicle graphics, but because of their aforementioned staffing situation, the shop currently offers only partial wraps—which their clients have enthusiastically embraced.
Location has played a role in this acceptance. "We live in Central New York, and wraps do not hold up here," says Kathy. "The abuse from the salt on our roads and the harsh winters are not your friend.
"Also full wraps are expensive. Partial wraps are a good 'bang for your buck.' They're eye catching and wallet friendly!"
Design-wise, the couple have found that truck doors are the number-one spot for visibility when it comes to partial wraps.
"We've started doing partial wraps on double- and single-door pickup trucks mostly," says Kathy. "We also wrap tailgates, though the newer tailgates are a bit of a headache. The additional bodylines and the steps within the tailgates are limiting space for our customers that like to use that space to advertise. It not only breaks up the designs in weird places but it also affects readability."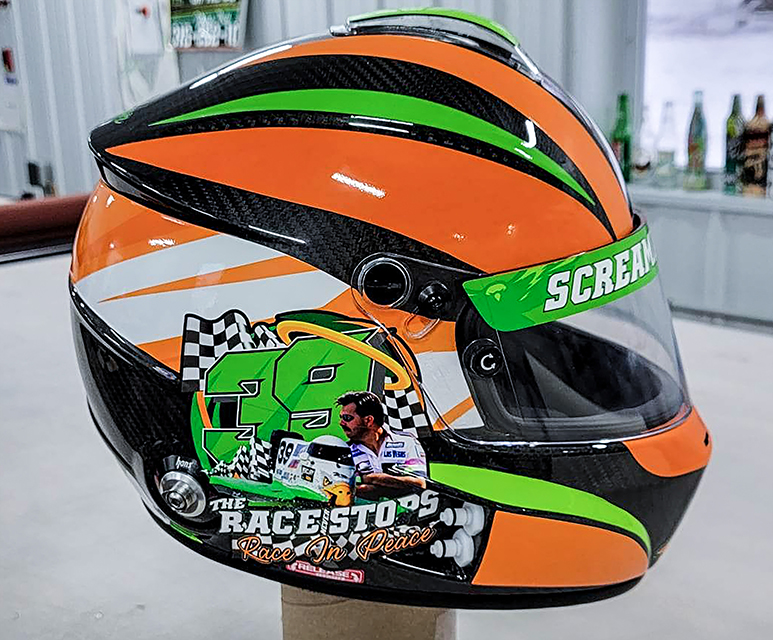 When it comes to designing effective partial wraps, Kathy advises to keep them simple. "I don't mean in the manner of 'don't make it exciting,'" she says, "but rather you don't need a ton of text."
After all, you only have a short amount of time to grab someone's attention and let them know who you are and what you do.
"Include the name," recommends Kathy. "And if the name doesn't include what they do, provide a brief description of what they're trying to advertise—whether through words or graphics.
"Everyone just hops on Google these days to find someone. Just make it easy for them to remember."
Mad Moose Designs wants to continue growing the partial wrap side of their business. However, when they're able to do so, they'd like to start offering full wraps.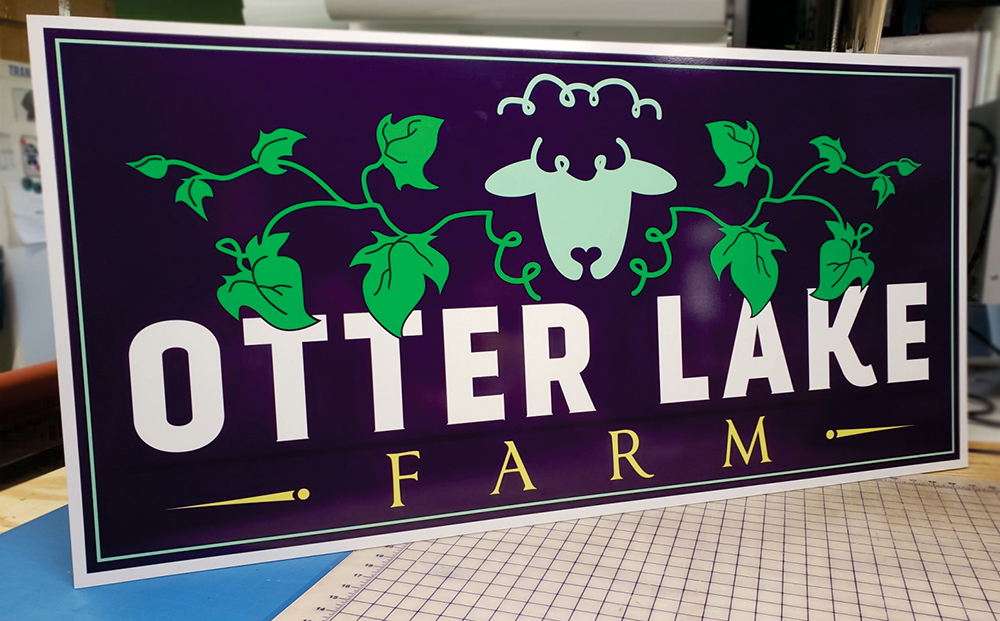 The print specialist actually has taken on some unusual full wrap projects, just on a smaller scale. These include wrapping model trucks to make them look like the full-sized versions and wrapping a child's Power Wheels ride-on vehicle to make it look like his dad's police car.
For the latter, the shop found that the biggest challenges involved some of the body lines and angles that these vehicles have—sometimes curving in multiple directions in one area—which can make applying graphics a big challenging.
"The majority of the smaller projects face the same issues you have with the bigger versions," says Kathy. "The only difference, specifically with the model trucks that we have done, is working with tweezers to apply graphics instead of using just your hands.
"You just need an extra bit of precision to help apply them in such small and tight spaces."